Trusted home loans
Free credit report
Get the best deals
In-page navigation
---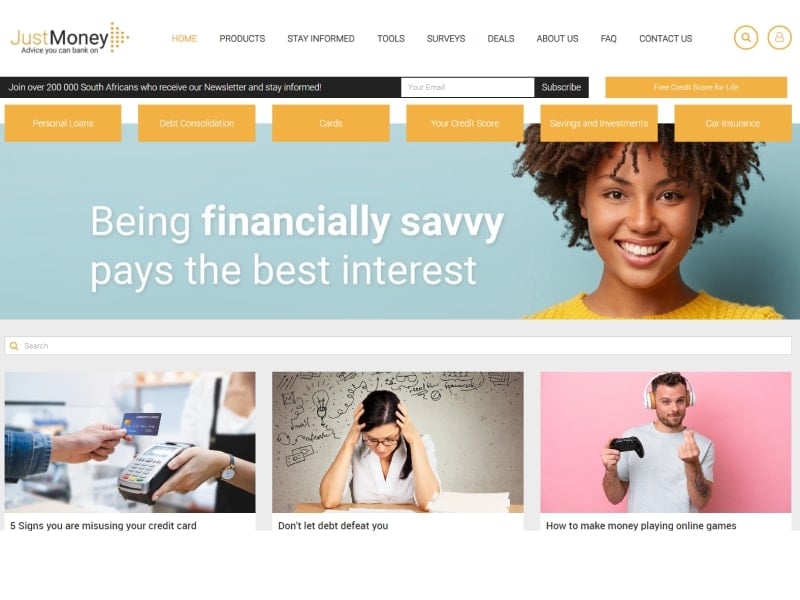 Author Justmoney. Screenshot of Justmoney website.


[Accessed August 31, 2021]
About Justmoney
Just Money is a home loan specialist with a large number of clients from all over South Africa.
Their advisory and quote service is professional, unbiased, and completely free of charge. Just Money gives you access to the best mortgage products available from the leading lenders in the country. All you have to do is to make a choice.
Just Money helps you with more
Just Money offers advice that you can bank on. They offer guides on how to make your money work for you and expert advice from their panel of experts. Just Money's advice can help you switch between loan options to help you save money.
They help with so much more than home loans. If you are looking for a low-interest credit card, need help managing your debt or you need assistance managing a deceased loved one's estate they will be able to assist you.
Get expert advice on home loans
The Just Money home loans are offered in partnership with Nedbank which is one of the leading lenders in South Africa. You will receive professional advice and assistance with everything that you require from deciding on the right product to making the application. You can select from three main home loan options.
A home loan with advantages
The ordinary home loan is designed for financing the purchase of an existing property. Select between variable and fixed interest rates depending on your level of risk tolerance. One of the special advantages of this simple home loan option is that you can redraw any additional amounts which you have used for repayment.
Justmoney Services
Just Money provides full assistance with choosing the right options.
Take advantage of their free online guides and tools and home loan calculators. They provide full individual assistance through every step of the process. Simply contact them via telephone or via their website. You will receive assistance with absolutely everything you need to get personal finance for purchasing or building a new home.
Fast and easy home loans for everyone
Justmoney.co.za helps you find the best personal finance deals in South Africa. Their service is simple, fast, and easy. Just Money has a large number of product categories including bank accounts, credit cards, savings accounts, and of course, home loans. Simply select a category and they will provide quotes from the top companies in the country.
Some helpful tools from Just Money
You will get all the information, tools, and assistance that you require for a property finance comparison. Save money, time, and effort by using the Just Money service. Their products are the cheapest on offer so you will have peace of mind about your money and about your financial stability.
Be sure about your home loan
Just Money's lifestyle options cover all forms of insurance products and extend to both household cover and funeral cover. To help you know where you stand financially, you can apply for a credit check from their website. This is a free service and should be used before you apply for a home loan so that you know your credit score and if you will qualify for a home loan.
Benefits of Justmoney
Trusted home loan products
Get a free credit report
Competitive interest rates
---
Turn to Justmoney when you are looking for a home loan with a difference
Getting a home loan does not need to be a dreaded process.
Owning a home is one of the most important milestones in your life. Knowing this, Just Money has gone above and beyond to make the process super easy and as convenient as possible. Make the right choice today and choose Just Money for the home loan you deserve.
The documentation you need to apply
A valid South African identity document.
Proof of your income.
A complete list of all your expenses.
Now that you know what you will need in order to complete your home loan application you can make use of the home loan calculator. This will give you a clear picture of what your borrowing power will be. Knowing what you qualify for before you apply for your home loan gives you the confidence to apply without stress.
Steps to apply for a home loan
The home loan application at Just Money is easy and convenient. You simply give them all your information and they do the rest. Here is a basic rundown of what you can expect when you apply for a loan online with Just Money:
Step One
You go to Simply Money's well laid out and easy to use webpage. From there you will choose the home loan option. Be sure to have all the required documentation on hand.
Step two
Before you jump to the application you can use their handy home loan calculator to establish your borrowing power. You will at this point also subject yourself to a credit check. Once you have done this you can now go ahead and apply for your home loan.
Step three
The home loan application process is quick and easy. Complete the application form and together with your credit check results.
Just Money will search their database. They will find the options that are best suited to your need. You choose the home loan option that you find best suited. Just Money now does the rest.
Step four
You can now sit back and relax while Just Money does all the daunting work for you. Once everything is in place they will provide you with the documentation for you to sign. Simply sign and submit and you are on your way to becoming a brand new homeowner.
Benefits of a home loan from Just Money
You get access to the best home loans.
They offer free credit checks.
They are a trusted home loan
They offer competitive interest rates.
Customer Reviews & Testimonials
"
April 2021
Just Money was wonderful in helping us acquire the home loan we needed to buy our first home. They handled everything on our behalf and they were extremely professional during the whole process.
Johannes T
— Germiston —
November 2021
We did not know where to even begin when we decided to buy our first home. A friend had recently obtained a home loan from Just Money. We were very impressed with how professional they were handl...
Amanda S
— Heroldsbay —
August 2021
After deciding to get a home loan we opted to get it through Just Money. It was the easiest process ever. They did everything for us and handled us like family. They helped us to get the best dea...
Thuli M
— Sebokeng —
Justmoney Contact
Contact Number
E-Mail
Website
Physical Address
186 Loop St, Cape Town City Centre

Cape Town

Western Cape

8001

South Africa
Opening Hours
Monday

08:00 – 17:30

Tuesday

08:00 – 17:30

Wednesday

08:00 – 17:30

Thursday

08:00 – 17:30

Friday

09:00 – 17:30

Saturday

– Closed

Sunday

– Closed