Trusted home loans
Free credit report
Get the best deals
In-page navigation
---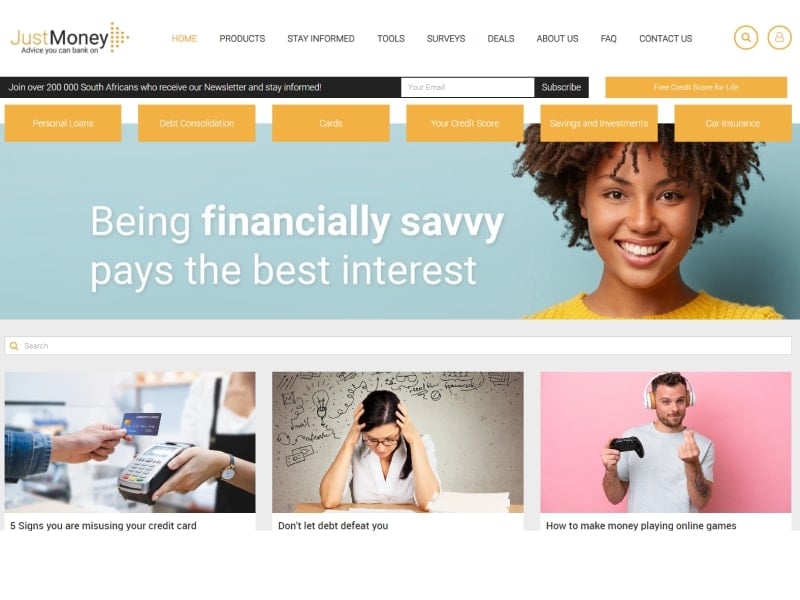 About Justmoney
Justmoney is a home loan specialist with a large number of clients from all over South Africa.
Our advisory and quote service is professional, unbiased and completely free of charge. We give you access to the best mortgage products available from the leading lenders in the country. All you have to do is to make a choice.
Competitive interest rates
Justmoney offers advice that you can bank on, we offer guides on how to make your money work for you and expert advice from our panel of experts. Our advice can help you switch between loan options to help you save money. If you are looking for a low-interest credit card, need help managing your debt or you need assistance managing a deceased loved one's estate we will be able to assist you.
Our lifestyle options cover all forms of insurance products and extend to both household cover and funeral cover. To help you know where you stand financially to apply for a credit check from our website, this is a free service and should be used before you apply for a loan so that you know your credit score and if you will qualify for a loan or not.
Justmoney Services
Justmoney.co.za helps you find the best personal finance deals in South Africa. Our service is simple, fast and easy.
We have a large number of product categories including bank accounts, credit cards and savings accounts. Simply select a category and we will provide quotes from the top companies in the country.
Tools and assistance
You will get all the information, tools and assistance which you require for the property finance comparison. Save money, time and effort by using our service. Our products are the and cheapest on offer so you will have peace of mind about your money and about your financial stability.
Our service is run entirely online and can be accessed from any place at any time. Other product options include life cover, hospital cover, home and car insurance options, funeral cover, disability cover and medical aid options. Sign up to receive our free newsletter that will keep you up to date on everything that is related to your money and your financial wellbeing. We offer special deals and offers via our newsletter so it is a good option to sign up for.
Benefits of Justmoney
Trusted home loan products
Get a free credit report
Competitive interest rates
---
Turn to Justmoney when you are looking for a home loan with a difference
It is great to own your own home where your children can grow up. The first step towards buying your dream house is securing finance to purchase it.
This Justmoney home loans review will evaluate these finance options to help you determine their quality and decide on their usefulness to you.
The home loans experts
Justmoney is a leading provider of financial services in South Africa. Our job is to match home buyers to lenders. We have a dedicated online service that features some of the most comprehensive guides and advice articles. You can also ask a question and get a direct expert to answer online.
Our service is completely free of charge and is an excellent choice for all those who have little knowledge in finance and want to ensure that they will get the best possible mortgage deal in terms of interest rate and repayment schedule.
Absolutely everything that you need
We provide full assistance with choosing the right options. Take advantage of our free online guides and tools. We provide full individual assistance through every step of the process simply contact us via telephone or via our website. You will receive assistance with absolutely everything which you need to get personal finance for purchasing or building a new home.
Offered in partnership with Nedbank
The Justmoney home loans are offered in partnership with Nedbank which is one of the leading lenders in South Africa. You will receive professional advice and assistance with everything that you require from deciding on the right product to making the application. You can select from three main options.
The Ordinary Home Loan is designed for financing the purchase of an existing property. Select between variable and fixed interest rates depending on your level of risk tolerance. One of the special advantages of this simple home loan option is that you can redraw any additional amounts which you have used for repaying it.
Obtain a building loan
You can obtain a Building Loan which is designed to provide finance for building a house. Again, you can choose either a variable or fixed interest rate. You will have the opportunity to pay off the loan sooner and save on interest.
The HomeVision loan allows you to register a bond for a larger amount than the needed loan amount. You will be able to access the extra funds at a later stage. This gives you maximum flexibility. You can choose the type of interest rate which you want.
This review's conclusion is that the Justmoney home loans are a great savvy choice for virtually all home buyers.
Customer Reviews & Testimonials
"
It was through Just Money that I finally got a loan I could afford to pay off in easy affordable installments.
James N
— Port Elizabeth —
Applying for a Just Money home loan was the best decision I made for my budget.
Fred B
— Vanderbijlpark —
Justmoney Contact
Contact Number
E-Mail
Website
Physical Address
186 Loop St, Cape Town City Centre

Cape Town

Western Cape

8001

South Africa
Opening Hours
Monday

08:00 – 17:30

Tuesday

08:00 – 17:30

Wednesday

08:00 – 17:30

Thursday

08:00 – 17:30

Friday

09:00 – 17:30

Saturday

– Closed

Sunday

– Closed