Car Pawn up to R500,000
Low-interest starting from 36%
Repayment up to 90 days
In-page navigation
---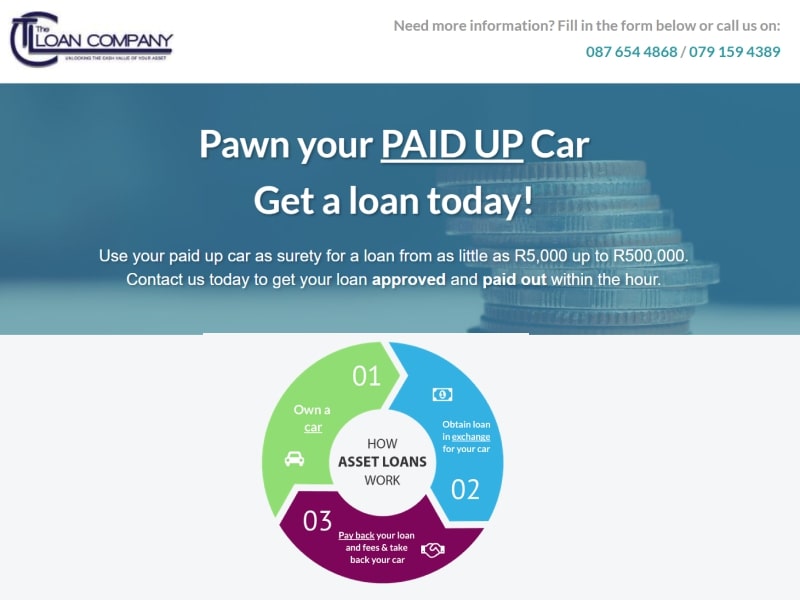 Author The Loan Company. Screenshot of The Loan Company website.


[Accessed July 9, 2021]
About The Loan Company
With The Loan Company, you can actually take out a loan and use your paid-off vehicle as surety.
They are a financial credit provider predominantly engaged in the business of providing finance to the public against their fully paid assets. Assisting individuals and companies with immediate and flexible short-term loan solutions or bridge finance is their main goal.
This can help you out of a tight spot when something unforeseen happens like a car breaking down, medical costs for a parent or a child, plumbing costs due to a burst pipe, loss of income. The benefit here is that they will assist you to make your asset work for you during this time to secure a loan and protect your livelihood in the meantime.
You will then get your asset back once the loan is paid off again. The Loan Company is a privately owned and registered credit provider. It is highly unlikely that you will find a better offer elsewhere as they have years of expert experience and have been assisting clients in the most prompt, confidential, and hassle-free manner possible.
Car pawn loans with a difference
The Loan Company's staff are well-trained and experienced, they are always ready to assist clients and will gladly discuss your unique situation and come up with solutions perfect for you. You will experience straightforward, trustworthy, and discreet service. With them, it is as easy as giving them a call or completing their contact form and they will directly get back to you. They take care of all the details.
The Loan Company Services
The goal is to make your hard work for assets work for you. Loans are secured based on the value of your car, your car will serve as surety for the loan.
The higher the value of the vehicle the higher the loan amount will be approved. Once the money is paid back, they will return your car.
The Loan Company assists clients in avoiding having to sell their assets quickly and receiving significantly less value than they should, or wasting hours attempting to get a bank to sanction a loan. This company strives to provide clients with the most generous loan offers possible. They will also assist with the valuation of your car and, based on this valuation, you will be given an amount you can qualify for.
Types of vehicles you can pawn
Cars, motorbikes, bakkies, other assets like boats, caravans, trucks, all-terrain vehicles. As long as you don't have any outstanding debt on the car, and it is outright owned, it can be pawned for cash. A loan can also be obtained against an owned title deed or business property.
Applying to pawn your vehicle for a loan
Make sure you have the following documents at hand when you apply: ID, driver's license, proof of address, original registration document, service book, keys. In just a few hours your paid-off asset can be transferred into cash. It is extremely simple and hassle-free to apply, with a quick turnaround time. A minimum repayment period of 61-90 days is requested. APR (Annual Percentage Rate) of 36% - 60% / Monthly Interest Rate of 5%.
If you want to settle your loan before the contract end date you will be offered discounted pro-rata rates. Flexible, short-term loans are available. Your loan repayments can be tailored to meet specific requirements. Within hours, you can be accepted and paid for a loan sum ranging from R5,000 to R500,000!
The Loan Company – Car Pawn
Loan Type

Car Pawn

Interest Rate

36 – 60% p/a

Loan Amount

up to R500,000

Repayment

61 days to 90 days
Benefits of The Loan Company
No penalty charges for early repayment
Easy loan application process
Immediate cash solution
---
Get a loan against your vehicle at The Loan Company
You can expect to be dealt with in a private, confidential, and respectful manner. Settling the account before the contract end date is fully permitted without any penalties being applied.
Your asset will be safely stored away in a secure, locked up storage facility with 24hr security, CCTV cameras, etc.
How you will benefit
Short-term borrowing options that are quick and flexible
Your car will be stored in a safe facility with 24hr security, CCTV cameras, etc.
Protection of your livelihood
Free valuation of your car
Quick and easy assistance
Straightforward, trustworthy, and discreet services
You don't necessarily have to sell as you can pawn your car for cash
Custom solution for your specific needs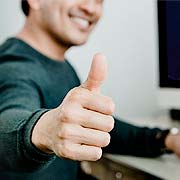 The Loan Company is a trusted & reliable provider of car pawn
In our review, The Loan Company adheres to the compliance criteria in accordance with the National Credit Act, where the granting the loan will not cause financial distress to the consumer.
The Loan Company is a registered credit provider in South Africa: NCRCP 9054
Customer Reviews & Testimonials
"
July 2018
When you have a financial crisis, it is very important to find a company you can trust and I would recommend The Loan Company
Lee J
— Hatfield —
June 2019
I never knew that everything could be done in less than an hour. Great service!
Seymore A
— Queenswood —
April 2019
I just paid off my loan earlier than I was supposed to and they did not even penalize me, in fact, they gave me a huge discount and on top of that, they took extremely good care of my car.
Makula J
— Menlo park —
The Loan Company Contact
Contact Number
E-Mail
Website
Physical Address
Office 2, DGE Building ,90 Sovereign Drive, Route 21 Corporate Park, Irene

Pretoria,

0157

South Africa
Opening Hours
Monday

08:00 – 17:00

Tuesday

08:00 – 17:00

Wednesday

08:00 – 17:00

Thursday

08:00 – 17:00

Friday

08:00 – 17:00

Saturday

08:00 – 13:00

Sunday

– Closed