Quick loans up to R8,000
Low-interest up to 60%
Repayment up to 6 months
In-page navigation
---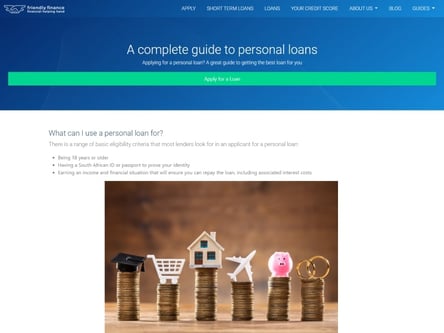 Author Friendly Finance. Screenshot of Friendly Finance website.


[Accessed December 9, 2022]
About Friendly Finance
Friendly Finance's mission is to offer its South African customers all the data they need to make better financial choices.
Consider this lender as a company offering a helping hand when you need to choose between financial products. They assist you to make better financial decisions and ensure you can access fast loans online.
A wealth of experience
Friendly Finance is confident that their experience in the industry will work in your favour as you get the best out of every service they provide you.
Their ability, skills, and experience have made them a trusted source for consumer finance comparisons. They know and can give you the best advice and tips.
They're not a lending firm, but help find you the loan you need through their loan comparison platform. They have decades of financial service experience. Additionally, they have negotiating strength and the capability to find the best provider to support your lending needs.
Different loan types are available
Friendly Finance helps you find all kinds of loan products, including quick loans, car and home loans, credit card options, and more. Regardless of why you need the cash, you can get the right service provider through their loan comparison platform.
Compare quotes, rates, and terms. Friendly Finance has hundreds of suppliers on its system, allowing you the convenience of choice. You have the power to choose the option that best suits your needs. Friendly Finance's processes are simple, and all online, making life easier for you from beginning to end. Register online now, and find a loan today!
Friendly Finance Services
Friendly Finance is a trusted name in the South African market - a platform known as the loan comparison site of choice.
Friendly Finance has already succeeded in developing a strong customer base and provides services to thousands of clients in the country monthly. By taking all the work out of your hands, they simplify the search for the best lender to meet your borrowing needs.
Loans for bad credit
With their relationships with major lending firms, they're able to access deals and online loans for you that you cannot access on your own. You can get the benefits of using their reputation in the market to get the best loan products available.
Friendly Finance uses its knowledge, vast experience, and leverage in the industry to assist all clients, even those with bad credit to get cash in their pocket in the soonest possible timeframes.
Don't wait a minute longer to get your quick loan for those little financial emergencies. Friendly Finance is your go-to lender when you need a loan – FAST!
Short-term loan options
Get a short-term loan from Friendly Finance today! There's always something that requires us to pay up a little extra cash to resolve.
We don't all have the financial means at the specific time we need it, and getting cash quickly is not easy for everyone.
Friendly Finance – Quick loan
Loan Type

Quick loans

Interest Rate

60%

Loan Amount

up to R8,000

Repayment

1 month to 6 months
Benefits of Friendly Finance
Apply for a loan in 2 minutes
Lending is safe and secure
Friendly Finance is your go-to lender when you need a loan – FAST
Get the quick cash you need, when you need it!
There are many circumstances that can lead to financial stress and the need to find a loan. With Friendly Finance assisting you to source the right lender for your needs, you no longer have to worry about such situations.
With their user-friendly platform, you can register, and get more than you thought possible when looking for a quick loan.
You can get access to a loan ranging from R100 to R4 000, which can be paid off in up to 6 months. Returning and existing clients have the benefit of borrowing a larger amount of up to R8 000, to use as they please. Friendly Finance's services are so easy to use!
Friendly Finance's loan requirements
Be a South African citizen
18 years or older
Earn a regular income
Have a bank account
Simply apply online
All Friendly Finance's applications are processed online, allowing you to register your personal details on their website and complete your specific request. From there, they'll conduct a thorough search from hundreds of lenders in the country to find the best option for you.
Once you're happy with the lender they've suggested, you can go forward with your loan application. You'll have the cash in your bank account either on the same day or the very next day.
Responsible lending service
Before applying, you'll need to know just how much you want to borrow. Friendly Finance encourages you not to borrow more than you can afford to pay back.
Lending in a responsible manner will prevent you from becoming over-indebted, something that could occur from taking on too much credit.
Friendly Finance will provide you with full details on the terms and conditions of the contract. They'll also let you know what your premiums will be each month or week, depending on what payment plan you opt for.
Customer Reviews & Testimonials
"
May 2019
Without Friendly Finance, I wouldn't have been able to settle my loans.
Luther F
— Sasolburg —
June 2019
Applying for the Friendly Finance loan was fast, easy and convenient.
Mogoshadi S
— Glen Vista —
Friendly Finance Contact
Contact Number
E-Mail
Website