Quick loans up to R150,000
Low-interest up to 27%
Repayment up to 60 months
In-page navigation
---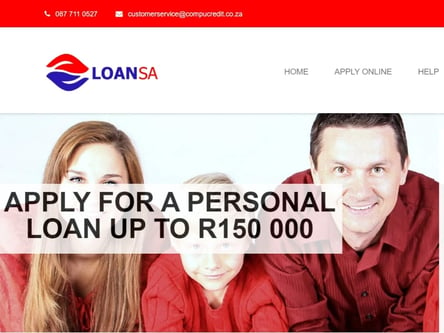 Author Loan SA. Screenshot of Loan SA website.


[Accessed December 9, 2022]
About Loan SA
Loan SA is one of the most innovative lenders in South Africa.
Through the development of an online platform, which streamlines and speeds up the entire lending process, and you can get a loan in the fastest time possible.
A fast and dynamic loan service
Loan SA has been assisting clients for many years with financial services and products, which is why they have a strong base of thousands of happy customers.
Loan SA uses the approach of being fast and dynamic to offer quick loans at competitive rates and impressive turnaround times.
This lender can help you get the money you need when you need it without having to leave the comfort of your home or office.
Loan SA lends responsibly and ensures that they don't put you into any more debt than you cannot afford.
A 100% online loan service
With a totally paperless process, Loan SA offers an effective way to save time and money when it comes to getting a loan.
This lender has a positive reputation for client satisfaction and quick delivery and also assists clients that have a bad credit rating.
Loan SA Services
Loan SA's lending platform offers more than fast cash loans.
You have the freedom to choose the loan you want without all the hassles and wasted time spent waiting in queues and taking time off work.
With Loan SA's paperless process, you can access an easy-to-complete application form and get the cash you need on the same day.
All-inclusive loan packages
Loan SA offers a package that consists of four benefits, an assist program, a complimentary loan finding service as well as a free credit report.
You also get free legal assistance if you come into any legal problems. This package is offered for as little as R359 which is a once-off fee but there's also a membership fee, which will be discussed in detail upon application.
You'll get more than a loan comparison provider; you'll get access to a team of experts in the financial industry, who truly care about your financial well-being.
All Loan SA's quick loans are safe, and affordable, with customised solutions that are designed to fit your budget.
No matter what you need a cash loan for, they can help you today. Go to their website and simply follow the easy instructions to apply for a loan!
Loan SA – Quick loan
Loan Type

Quick loans

Interest Rate

up to 27%

Loan Amount

up to R150,000

Repayment

6 months to 60 months
Benefits of Loan SA
Legal advice assist available
Comprehensive credit reports
Your loan delivered in 3 minutes
Loan SA is your trusted partner when it comes to personal finance
Loan SA is a fast, friendly, and effective partner in the lending industry that offers the fastest processing times.
They have assisted thousands of clients in finding the best quick cash loan that meets their requirements and they pride themselves on their ability to process applications in record time.
Loan SA sees every application as an opportunity to help you with your financial needs. They strive to put your needs first.
Loan SA provides you with the cash you need fast
You can access their application by registering on their website and following the subscription information will enable you to apply for a loan within a matter of minutes.
Loan SA can assist you if you're 18 years or older, reside permanently in South Africa, and earn a monthly salary.
They may require that you provide proof of income via your bank account and salary with three months' recent bank statements upon application. Unfortunately, they cannot assist clients who are currently under debt review or under administration because the law prohibits this.
How to apply for a loan
Do you want a fast turnaround time on your loan application with no credit check and no hassles?
With a minimal membership fee of R310, you can enjoy the services of Loan SA, providing you with more than the right loan for your requirements. You can also cancel your service within 7 days of your application if you wish to do so.
Simply follow the prompts on their website to activate your registration, apply for your loan amount, and complete the personal information form.
With this information, Loan SA can submit your application to their preferred list of lenders, where you'll automatically get feedback on your quick online loan, and money will be directly deposited into your account either on the same day or the following day.
No need to wait for your loan
No more filling in of forms with endless reams of paperwork, no more standing in queues, and no more hassles. Loan SA has one of the most streamlined processes in place and can assist you today with getting a loan quickly.
Their consultants are available at any time to assist you with any questions you may have during your registration and application.
Customer Reviews & Testimonials
"
May 2019
Loan SA ensured that I get my money on the very same day I had applied for credit.
Mbulelo J
— Cape Town —
June 2019
Loan SA will never approve your loan application if you not going to be able to pay for it.
Sam J
— Krugersdorp —
Loan SA Contact
Contact Number
E-Mail
Website
Physical Address
28-30 Siphosethu Rd, Mount Edgecombe Country Estate 2

Durban

4300

South Africa