Low-interest up to 27%
Repayment up to 60 months
In-page navigation
---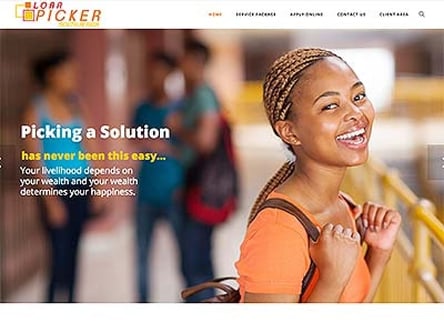 Author Loan Picker. Screenshot of Loan Picker website.


[Accessed December 9, 2022]
About Loan Picker
Loan Picker acts as a resource for the South African public, offering access to information and preferred quick cash lenders.
They aim to deliver a service that you can benefit from and rely on. Because they're a family-owned business, they take extra great pride in their company and create long-term relationships with all new and existing clients.
Online loan applications
Although Loan Picker is based in Cape Town, their digital platform allows you to enjoy their top-class online loans no matter where you're located.
They boast a highly trained and knowledgeable team, who care a great deal about helping you find what you need. They offer versatility and exceptional service delivery.
A wealth of knowledge and passion
Loan Picker has the staff, the knowledge of the financial industry, and the passion to ensure their service stands out from others.
They believe in helping clients when they need assistance with their finances fast. Not only do they have a proven track record of consistency, but they have the ability to assist clients with their direct online loan needs faster than other lenders.
Loan Picker Services
Loan Picker provides South Africans with a range of loans to help them meet their financial needs.
They deal with civil and labour law, personal injury, motor vehicle accident claims, criminal law, harassment, will and testament, domestic violence, matrimonial law, litigation, and last but not least a complimentary loan finding service.
A full-service package
With an affordable premium, Loan Picker offers clients a full package covering all the above-mentioned areas.
When it comes to finding a fast online loan, to cover those unexpected bills, this lender can provide you with credit that comes with easy repayment terms and benefits that will have you smiling.
Loan Picker uses processes that are simple, and offer turnaround times that will have you approved in the quickest possible time frame.
Tailored loan packages
There will be a time in your life when you don't have enough cash to cover those unexpected bills. Don't let this overwhelm you. Loan Picker has the resources and the innovative processes to assist you with a tailored package to help you get the cash you need fast.
Register online through their website and get the loan you need. Get an all-in-one package solution that will help you with all your day-to-day needs, and more with a simple online loan application.
Loan Picker – Quick loan
Loan Type

Quick loans

Interest Rate

27%

Repayment

3 months to 60 months
Benefits of Loan Picker
QUICK Loans
PERSONAL Cash Loans
FAST Cash Loans
Pick the right quick cash loan with Loan Picker
Loan Picker SA offers a convenient way to get cash loans in a hurry.
By signing up for their services, you can get a financial solution, which attends to a range of your financial and legal needs at a minimal charge. The services offered can cost you thousands of Rands, should you seek them out individually or directly through respective providers.
Loan Picker has made it easier and more affordable to repay your debt by combining their services into one complete package. Clients who use these services can find quick loans through a reputable and easy-to-use platform and get the best possible deals.
Different loan types
Loan Picker works with offer convenient repayment terms of between 3 and 60 months, depending on the amount of cash you need to borrow, with an average APR of 27%.
Loan Picker offers clients assistance in securing several loans, this includes secured and unsecured loan options as well as loans for personal use, vehicle loans, debt consolidation, and bridging cash.
Fully transparent services
With staff capable of handling all client's requests, Loan Picker has the capacity and the experience in the lending industry, to provide a fully transparent service delivery that meets all your needs.
To get started, you can register online through their website and get all the information you need every month. Their fees are highly competitive, considering all the information you're able to access.
Reputable & reliable
These value-added services can save you a lot of time and money long term. All Loan Picker's loan options are in line with the National Credit Regulations, which give you the peace of mind that you are partnering with a reputable and legitimate company. As a registered lender, you know you're in safe hands.
Simple online platform
All Loan Picker's services are provided through an online loan application platform allowing you to access whatever you need in the comfort of your home or office and not have to worry about getting to a branch.
Loan Picker believes in providing fast and valuable solutions and allowing you to easily access all their services.
Customer Reviews & Testimonials
"
May 2019
Loan Picker is my preferred loan of choice because they prioritize your credit application as soon as they receive your request.
Boitumelo M
— Rustenburg —
May 2019
All it took was one business day for me to get my money after applying..
Quinton M
— Alberton —
June 2019
Loan Picker took only one business day to get back to me after I applied for credit.
Ashely W
— Lenasia —
June 2019
Considering the fact that there are so many scams happening lately, it is good to find that Loan Picker is still trustworthy credit provider.
Daniel T
— Witbank —
Loan Picker Contact
Contact Number
E-Mail
Website
Physical Address
N Bank Ln

Cape Town

Century City

7441

South Africa
---
Postal Address
PO Box 569, Century City, 7446, South Africa
Opening Hours
Monday

08:00 – 17:00

Tuesday

08:00 – 17:00

Wednesday

08:00 – 17:00

Thursday

08:00 – 17:00

Friday

08:00 – 17:00

Saturday

– Closed

Sunday

– Closed