Quick loans up to R50,000
Low-interest starting from 63%
Repayment up to 36 months
In-page navigation
---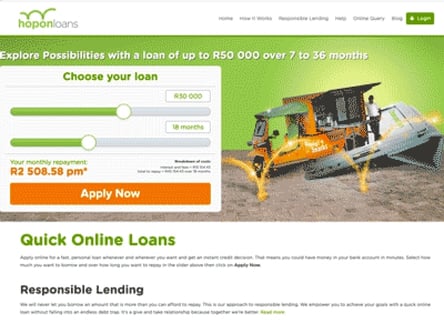 Author Hopon Loans. Screenshot of Hopon Loans website.


[Accessed December 9, 2022]
About Hopon Loans
Instant loans were designed to get you the cash that you require very fast. Design your own loan terms for maximum control and flexibility.
Hopon is a responsible lender
As a responsible lender, Hopon will only lend you as much as you can easily afford to repay without pushing yourself into more debt or straining your budget.
Receive your funding in minutes
Hopon's loans are exactly that, quick! Once you've applied and they've verified your details and granted your request, you can expect the money to be paid into your account instantly.
Expert consultants are available to offer assistance and guide you through every step of the quick loan process. Make sure that you never borrow more than you can afford to.
Join the Hopon Loans family
When you apply for a loan through this lender, they'll invest in you as a person and help you succeed. You're not just another contract number, instead, they want you to become part of the Hopon Loans family.
Forming a partnership with you is very important to them as they want you to be happy and successful and turn to them again if the need for a loan arises.
Their experienced consultants offer support and guidance throughout the duration of the loan agreement.
Hopon Loans Services
The cash you need could be in your pocket in minutes with Hopon Loans!
Their online application form gives you access to an online payday loan in minutes - perfect for emergency expenses or time-sensitive deals. Complete the online application form to get started.
Access up to R50,000
Choose the amount that you'd like to borrow, amounts range between R5,000 and R50,000. All loans offered by Hopon come with flexible, easy-to-manage loan terms of between 7 and 36 months, depending on how much you borrow and the terms you're offered.
Use Hopon's sliders to decide
Hopon's sliders take the guesswork out of applying for a loan so you can easily see at a glance how much your repayments will be. Select the amount of money that you'd like to borrow and how long you need to repay the loan. The calculators will then give you a basic idea of the cost.
A speedy loan service
Getting you the cash you need as quickly as possible is what makes Hopon Loans so successful. Their low-interest rate personal loans are paid out instantly. The reason they're able to grant your loan so quickly is because they use the latest technology enabling you to apply online and receive an outcome within a few minutes.
Applying is very easy. Simply decide how much you'd like to borrow and find out in seconds if your loan is approved or not.
Hopon Loans – Quick loan
Loan Type

Quick loans

Interest Rate

63 – 112% p/a

Loan Amount

up to R50,000

Repayment

7 months to 36 months
Benefits of Hopon Loans
A quick and paperless application
Online loan calculator
Hop on board and get the cash you need with Hopon Loans
Applying is very easy. Simply decide how much you'd like to borrow and find out in seconds if your loan is approved or not.
Once you've submitted your application their system will check your affordability and verify your details in a flash. If your application is successful the money will be deposited into your account instantly.
The quick Hopon loan application process
Applying for a quick loan in the past meant completing piles of paperwork, trying to convince a loan officer to take a chance on lending you money and then waiting around for days.
Using Hopon Loans' system eliminates the need for all that and there's no paperwork involved. Complete the online electronic application form, select the terms of your loan and submit any supporting documents that may be required.
If your loan is approved they'll deposit your money directly into your bank account within an hour.
Figure out how much your loan will cost
To figure out how much an instant cash loan will end up costing you, use Hopon's online calculator. These instant cash loans allow you to borrow a small amount of money for a short period of time.
A final decision will be made once Hopon has verified your details and your supporting documents. If everything is in order, you'll receive your cash instantly!
Visit your nearest ATM
Once they've deposited your short-term or bad credit loan into your bank account you'll be sent a notification, simply visit your nearest ATM (or use your debit card) to withdraw your money and spend it on whatever you like.
View your loan agreement and access your account via Hopon's website 24 hours a day. Once you have an account it'll be much easier to apply for an instant cash loan the next time that you need one.
Take control of your own account
The "My Account" section allows you to update your personal details, apply for additional long or short-term credit, make payment arrangements or request a statement. You can also view the terms of the loan agreement or use our chat function to speak to a consultant directly.
Once payment for your loan is due, the full amount will be deducted automatically from your account. This is to ensure that you never miss a payment.
Credit check criteria
In order to qualify for an instant cash loan, you'll need to consent to a credit check and demonstrate your ability to repay the loan. If you're able to afford the payments then your loan application will most likely be approved.
Customer Reviews & Testimonials
"
May 2019
With Hopon Loans, I was able to get my money on the very same day I had applied for credit.
Natalie J
— Brits —
June 2019
There is always something good that comes from applying for a Hopon Loan.
Sizwe K
— Badplass —
Hopon Loans Contact
Contact Number
E-Mail
Website
Physical Address
Aloe Grove, Houghton Estate Office Park 2 Osborn Road, Corner Terrace Rd, Houghton Estate

Johannesburg

Gauteng

2198

South Africa
---
Postal Address
P.O. Box 31841, Braamfontein, 2017, South Africa
Opening Hours
Monday

08:00 – 17:00

Tuesday

08:00 – 17:00

Wednesday

08:00 – 17:00

Thursday

08:00 – 17:00

Friday

08:00 – 17:00

Saturday

08:00 – 17:00

Sunday

08:00 – 17:00