Quick loans up to R5,400
Automatic loan transfers
Repayment up to 35 days
In-page navigation
---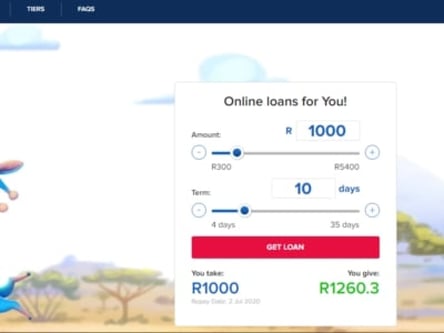 Author Konga Loans. Screenshot of Konga Loans website.


[Accessed December 9, 2022]
About Konga Loans
Konga Loans has always done its best to help the people of South Africa reach their goals, and achieve their dreams. They continue to strive toward these goals every day, and always will.
A fully automated quick loan service
They pride themselves on being fully automated, and this makes them much faster than any other finance company you may try to deal with.
They provide their simple and lightning-fast loans online to all the people of South Africa, with pride, integrity and due diligence.
Who is Konga?
They have 3 missions, that they're constantly striving to uphold. First: they aim for integrity. Their most important goal is, to be forthcoming with all information about the financial process you'll undertake with them. This can help you better understand the process.
Secondly, they aim to innovate the finance industry. They do this with their fully automated instant loan system.
This system has proven time and again to push the boundaries of online finance through its innovative approach. They're constantly rolling with the times, keeping their company and services relevant and helpful.
The final mission: To uphold their dependability
All of this sounds wonderful, but clients must be able to depend and rely on their services with full trust. This is why they're always doing what they can to improve their personal loans for you. They also want to ensure that their clients return satisfied and happy with what they received, time and again.
Reviews that will put you at ease
From their client's overwhelming and positive responses, they must be doing something right. But don't take their word for it, by heading to their site and checking out their gleaming reviews, you'll be put at ease.
Konga Loans Services
Konga has a tier system in place.
The way you're assigned a tier is by repeated use of their service, and repeated repayment of loan amounts.
So, essentially, the more you use and take advantage of their service, and by completing your loan repayment terms without any hassle or defaulting, the better your tier. When this happens, the loan size and the benefits you gain access to increase as well.
How the tiers work
As you continue to use their service and grow in their company's standing, you'll be rewarded through a set of four tiers. The tiers themselves consist of a beginner tier, a silver, gold, and then finally a platinum tier.
The first three tiers comprise similar rules and benefits, with your loan always receiving a 0.16% interest rate on a daily basis during your loan term. The quick online loans you take out are paid between 4 and 35 days, and this is done in a one-time repayment, with early repayment options allowed.
The platinum tier
The final tier offers the most benefits and deals on interest rates, loan amounts, and repayment terms. The loan amounts you'll have access to are increased, your interest rates lowered, and you can claim other smaller benefits that Konga provides to their regular users.
If that's not motivation enough, the ease of use is another driving factor, with their online loan application and approval process leaving you with cash in your account in as little as five minutes.
Their system has been designed to shortlist and provide you with quotes from various lenders. All you have to do is pick and the short-term loan tailor-made for you will be on its way to your account!
Konga Loans – Quick loan
Loan Type

Quick loans

Loan Amount

up to R5,400

Repayment

4 days to 35 days
Benefits of Konga Loans
Apply for a loan up to R5400
24/7 loan applications
Automatic loan transfers
The kinds of loans you'll have access to
Konga provides a wider variety of short-term loans, with various interest rate points, repayment terms, and amounts.
Each customer is treated uniquely and their state-of-the-art system ensures that this is upheld. All you have to do is pick the amount you're hoping to be eligible for, and they'll get back to you.
What you need for a Konga loan
All they need is a bank statement that shows us the last 3 month's activity and a copy of your RSA ID.
What Konga do to keep you safe
They understand that lending money from an online company can be stressful and online lenders tend to have a bad rap. Not them, however. Their systems and the actions of their staff alone are already enough to prove this point.
They also implement the service of a DebiCheck system, as a further precaution. This is a uniquely South African service, which enables you to approve or disapprove of any debit orders on your account on a month-to-month basis.
Why they do what they do
Konga use this system to not only give you extra peace of mind but to avoid all instances of fraud. In the modern age where fraud, hacking, and scams run amok, they feel taking extra precautions is the least they can do.
Security and comfort are guaranteed with Konga Loans, as they continue to provide you with only the best online loans in the business.

Konga Loans is a trusted & reliable provider of quick loans
In our review, Konga Loans adheres to the compliance criteria in accordance with the National Credit Act, where the granting the loan will not cause financial distress to the consumer.
✅ Konga Loans is a registered credit provider in South Africa: NCRCP10807
Customer Reviews & Testimonials
"
December 2019
Konga had me hopping and skipping all the way home, the deal I got was unbelievable!
Mary R
— Mpumalanga —
October 2019
I trust Konga to give me the loan I deserve like they always do.
Beauty Q
— Cape Town —
Konga Loans Contact
Contact Number
E-Mail
Website
Physical Address
30 Lucas Ln, Bedfordview

Johannesburg

2007

South Africa
Opening Hours
Monday

08:30 – 17:00

Tuesday

08:30 – 17:00

Wednesday

08:30 – 17:00

Thursday

08:30 – 17:00

Friday

08:30 – 17:00

Saturday

– Closed

Sunday

– Closed