Quick loans up to R2,000
Low-interest up to 60%
Repayment up to 30 days
In-page navigation
---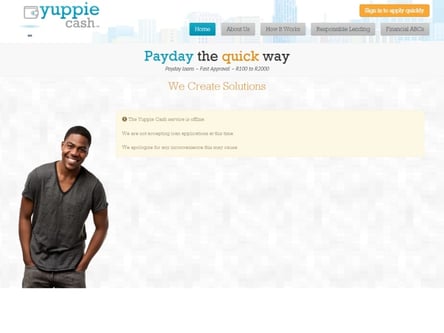 Author Yuppie Cash. Screenshot of Yuppie Cash website.


[Accessed December 9, 2022]
About Yuppie Cash
Yuppie cash has a wealth of experience with online loans in South Africa.
They're professionals in the industry that strive to keep all their customers happy by delivering their financial solutions with consistent quality and excellence.
Together with superb customer service, they offer you the opportunity to receive and easily get financial assistance online with their quick loans.
These loans are affordable and simple options that meet the needs and requirements of customers on an individual basis.
Yuppie Cash prides itself on furnishing you with the most affordable and modern loans, building trust and guaranteeing repeat business.
Yuppie Cash is committed to you
With their extensive experience and high level of responsibility, they strive to deliver on your loan requirements.
Their easy loans online are tailored to suit each of their customer's unique circumstances and they aim to make you feel at ease.
When you work with this lender you can enjoy having the confidence of knowing that it's their job to listen, assist and advise you on which option is best suited to your needs.
Quick cash solutions you'll love
The process of applying for and receiving your loan is extremely fast and efficient. It takes no longer than a couple of hours to get your loan approved, and you'll have cash in your account within 24 hours.
Yuppie Cash Services
Yuppie Cash in South Africa offers a convenient & simple solution to getting quick loans when you need them.
Their easy and affordable fee structure makes getting a loan of between R100 and R2,000 simple.
You can apply through their online platform, or through a consultant who will be readily available at all times to assist you.
A loan term that suits your budget
Payment terms will be customised according to your budget. This will allow you to afford your loan repayments easily. You also won't be left with an overwhelming amount of debt at the end of each month.
Costs of a Yuppie Cash loan
Interest rate per day of 0,1644%
Monthly interest rate of 5%
R57 monthly service fee
R45 initiation fee on each new loan granted
Comfortable repayments that won't cause strain
They believe that you should still be in a position to enjoy the little things life has to offer after repayments have been made.
Yuppie Cash offers quick credit that will ensure you're able to make your repayment and have enough left over for all your other expenses.
Yuppie Cash – Quick loan
Loan Type

Quick loans

Interest Rate

60%

Loan Amount

up to R2,000

Repayment

7 days to 30 days
Benefits of Yuppie Cash
Quick online loans
Apply for payday loans quickly
Improve your credit score
Yuppie Cash offers quick cash loans and a convenient online application
Yuppie Cash offers quick cash loans and a convenient online application.
Minimum requirements to apply for credit
You're permanently employed
Ensure your salary gets paid into your bank account monthly
Have no judgements against your name
Yuppie Cash is a reputable online lender that delivers quick, simple loans to your account when you need them the most.
They offer you financial help through short-term loans that address every one of their needs and budget concerns.
They offer customers quick, reasonable, and simple loan products that address financial shortages and needs with grace and accuracy.
Yuppie Cash follow responsible lending practices
As part of being a responsible lender they offer their first-time clients a maximum loan amount of R1,000.
Yuppie Cash prides itself on outfitting you with the best interest rates and terms on loans, building trust and ensuring a long-term relationship is developed.
With their experience and dedication, they stand out among other micro-lenders in the industry and have secured their staying power. In accordance with the National Credit Regulaltor, they ensure all customers are vetted in terms of affordability and approve applicants who meet their minimum requirements.
Reliable financial solutions
Yuppie Cash encourages responsible lending. As an NCR registered lender they encourage responsible lending and adhere to the NCA. Their vision stands at the centre of their operations; to provide straightforward and transparent microfinance to customers needing quick access to cash.
Dedication to providing you with only the best quality products by leveraging their team of experienced consultants. When you need cash in a hurry, there's no need to look further than Yuppie Cash for all your financial requirements.
Fast approval & turnaround times
With their vision at the centre of their everyday operations, they will deliver your loan quickly and without any unnecessary paperwork or waiting periods.
There's no reason to look anywhere else than to Yuppie Cash for all your financial requirements.
Their simple and reasonable rates make getting a loan of any sum worth it. Loans are easy to apply for through their online platform, or through a consultant and check are completed automatically.
Staying in touch
You'll be updated on your application regularly and Yuppie Cash will stay in touch with you throughout the term of your loan.
It takes no more than a few minutes or hours to get your advance approved, and have cash paid into your account in record time.
Yuppie Cash should be your one-stop quick loans supplier when you need a little extra cash and don't want the hassle and stress of a long and drawn-out application process.

Yuppie Cash is a trusted & reliable provider of quick loans
In our review, Yuppie Cash adheres to the compliance criteria in accordance with the National Credit Act, where the granting the loan will not cause financial distress to the consumer.
✅ Yuppie Cash is a registered credit provider in South Africa: NCRCP708
Customer Reviews & Testimonials
"
April 2019
Yuppie Cash gave me a credit deal I couldn't refuse!
Natalie W
— Newtown —
May 2019
Applying for the Yuppie Cash was a monetary decision that changes my finances for the better.
Mpho L
— Midrand —
Yuppie Cash Contact
Contact Number
E-Mail
Website
Physical Address
Quantum Street, Carpe Diem, Office C3 & C4, Technopark

Stellenbosch

Western Cape

7600

South Africa
Opening Hours
Monday

08:30 – 16:00

Tuesday

08:30 – 16:00

Wednesday

08:30 – 16:00

Thursday

08:30 – 16:00

Friday

08:30 – 16:00

Saturday

– Closed

Sunday

– Closed