Quick loans up to R9,000
Low-interest starting from 10.5%
Repayment up to 65 days
In-page navigation
---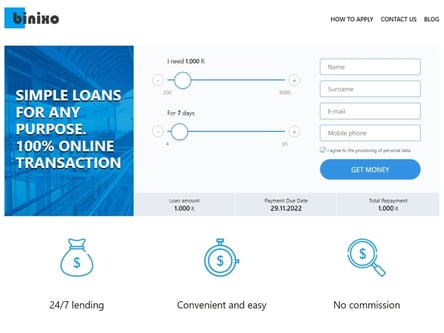 Author Binixo Loans. Screenshot of Binixo Loans website.


[Accessed December 9, 2022]
About Binixo Loans
Binixo Loans is a uniquely South African company, and since the beginning, they've always done what they can to reach out and help everyone with quick, affordable short-term loans.
South Africa is constantly evolving, building on a difficult past and working its way to a brighter future, bit by bit, until the day we can unite as a country and prosper as a people.
This road has never been easy, but Binixo feels that they've done their part to make it that much more manageable.
Binixo Loans empower people
As our country grows, so does Binixo, but growing can be a costly endeavour. In modern South Africa, we often find ourselves falling behind in the race of life. Emergencies arise, things break, and unforeseen circumstances can lead to our downfall.
With getting ahead being so difficult, and help so hard to come by, what can one do?
Fear not, as Binixo is here to help you escape your financial difficulties, and get you on the road to financial freedom and strength.
What Binixo does to alleviate the difficulties of life
Binixo provides short-term finance in various ways and by several means. This includes clients that are in a lower income bracket and need a short-term loan to assist in their day-to-day lives.
These people can find securing loans difficult, and this can often lead to a knock-on effect where their problems are only made worse.
Luckily, Binixo has special payday loans online that can benefit lower-income families and boost their finances. All you need to do is apply and see what you're eligible for!
Binixo Loans Services
Binixo provides loans of between R100 and R9,000, which can be repaid over a period of between 4 and 65 days.
These quick loans in South Africa can be approved in a matter of hours. This means that emergencies that one may encounter, or other dire monetary needs can be dealt with quickly.
Loans come with a reasonable repayment rate that won't destroy your pocket. Binixo has always aimed to alleviate poverty, rather than contribute to it.
What's at the heart of Binixo's ideals
By keeping you at the heart of what makes Binixo great, they earn your trust and offer the repeated use of their services. As you pay off loans, you can unlock the special benefits they reserve for their returning clients.
This is not the only incentive they offer. You can even gain a better understanding of the financial world by lending and working with them. Their blog contains regularly updated content about who they're working with, what they can offer you and any deals and incentives that may appear along the way.
The lenders Binixo use are trustworthy and reliable
Binixo is not a lender, no, they're a brokerage company with many years of experience. They use their talents and industry know-how to put you in touch with lenders that have been doing the work they do for decades.
The lenders they use are responsible, and reliable and have ideals and goals that mirror those of Binixo: your well-being, and the improvement of your financial health.
Binixo advertises who they work with openly on their site, and you can take a look through their catalogue of lenders at any time.
Binixo Loans – Quick loan
Loan Type

Quick loans

Interest Rate

10.5 – 71% p/a

Loan Amount

up to R9,000

Repayment

4 days to 65 days
Benefits of Binixo Loans
Easily compare loan options
Our service is free
Choose between trusted lenders
What you'll need to become part of the Binixo family
As with all brokers and lenders, Binixo has a set of rules and requirements you'll have to adhere to, however, these aren't anything too difficult to provide, don't worry.
What you need to apply with Binixo
All you'll require in addition to your completed online loan application is a copy of your ID, proof of address, a bank statement with the last 3 months of transactions listed on it, and finally, an internet connection.
They need this to communicate with you, of course, considering that they're an exclusively online short-term lender. From this point on, it's a piece of cake!
Quick loan approval in minutes
Getting a quick loan with Binixo is as easy as ever in the modern, digital age! You can have money in your account in a matter of minutes. You can also repay it comfortably with their flexible loan repayment terms. All you need to do to get started is give Binixo the details they need, which are as follows:
Your full name
Your email address
Your contact number (cell phone)
Next, you undergo a brief credit check which will give them an idea of what you are eligible for. They'll get back to you in a matter of minutes with a list of quotes from various lenders, and what they require from you. All you have to do is pick which of their short-term loans suits you best, and off you go!
The lenders and how they differ from each other
All of their lenders have similar requirements to each other, and all cater to the mid to lower-income bracket who need finance the most. Some have different policies and requirements than others.
Any extra information they may ask for is usually to keep the security of the transaction maintained. In today's day and age, cybercrime is rife online, and lenders will take the precautions necessary to protect not only themselves but you, from awful fraudulent activities.
Binixo has your best interests at heart and is ready to help you step into a brighter future with its quick loans.
Customer Reviews & Testimonials
"
September 2019
Getting a small loan to help you through the month is really easy when you loan through Binixo.
Terrence Q
— Jeffreys Bay —
June 2019
If I need money in a flash and I don't want to break my budget taking one out, Binixo's quick loans and payday loans are my go-to.
Nkosinathi F
— Port Shepstone —
Binixo Loans Contact
Contact Number
E-Mail
Website