Nationwide Delivery
On-the-Spot Finance
Quality Used Cars
In-page navigation
---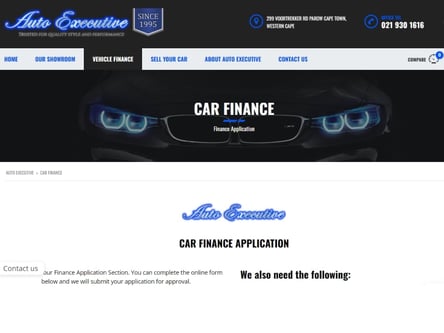 Author Auto Executive. Screenshot of Auto Executive website.


[Accessed April 14, 2023]
About Auto Executive
For the past 28 years, Auto Executive has served South Africans with top-class customer service.
They're located in Parrow, Cape Town but deliver a nationwide service you can count on. You can rest assured that all your automotive needs can be addressed under one roof.
A service you can count on
Its continuous strive for excellence sets Auto Executive apart from others in the vehicle industry. They go above and beyond to ensure they deliver outstanding customer service and offer you quality products you can count on.
Their continued success can be attributed to how they conduct business as well as their dedication to improvement. They're always finding ways to make your experience an unforgettable one.
Offering you nationwide delivery
Auto Executive has made shopping for your next vehicle super easy and convenient. From the comfort of your home, you can browse through their online showroom. There you'll find the vehicles they have available and see a detailed report on each. There's no need for you to drive anywhere as they offer you a nationwide delivery service.
Your one-stop vehicle shop
When it comes to buying your next vehicle, Auto Executive has you covered. For people wanting to sell their vehicles, they can provide assistance and help you get the best price on your pre-loved car. They pride themselves in being your one-stop vehicle shop and offer you in-house financing to get you going.
An accredited vehicle dealership
Auto Executive is an accredited automotive dealership. They've partnered with all major banks to make applying for vehicle finance that much easier. Whatever your needs are, you can rest assured that you're in capable hands with Auto Executive.
Auto Executive Services
Apart from offering you outstanding customer service and top-class, quality products, they can assist you with vehicle finance when you're looking to obtain a vehicle on hire purchase.
Their staff are highly trained and ready to assist you with completing the documentation for financing your newly acquired vehicle.
What to know about vehicle finance
Vehicle finance comprises various fees that make up the total cost. These fees can include things like delivery fees, roadworthy certification, licensing and registration, and number plates. When applying for vehicle finance, these fees are included in the total financing amount.
How vehicle finance works
When choosing to purchase a vehicle through hire purchase, it's a good idea to familiarise yourself with the process before you start your journey.
The first aspect of financing is the deposit – Usually, a deposit of between 10 and 20% of the total cost of the vehicle is required.
Interest rate – There are two types of interest rates to choose from, a fixed rate which is a set monthly amount for the duration of the loan, or a variable rate which varies with the current prime interest rate.
Loan duration – This is the agreed-upon time period that you choose to pay off your vehicle finance loan. The repayment terms can vary between 12 and 72 months, depending on your preference.
Things to keep in mind when choosing a new vehicle
When you choose a new car there are certain things that you need to consider. Purchasing a second-hand vehicle can save you a lot of money but might end up costing more to maintain. Educate yourself on parts availability and the cost thereof.
Also bear in mind the depreciation value of the vehicle. Something else to consider is fuel consumption. Make sure you read up on all aspects of buying a vehicle so that you can make a well-informed decision.
Auto Executive – Car finance
Benefits of Auto Executive
Sell your car
Find quality used cars
Nationwide delivery
On-the-spot finance
Your guide to vehicle finance from Auto Executive
At Auto Executive, you can rest assured that you're in good hands.
Their staff is expertly trained and will help you every step of the way. Being partnered with all the major banks in South Africa makes applying for vehicle finance a breeze.
What you'll typically need for the application
When applying for financing, there are some documents that you'll need to provide. These documents allow for verification and affordability purposes. The documents typically include:
South African ID/Smartcard
Proof of address not older than three months
Three most recent payslips
Three months' bank statements
A complete list of all monthly income and expenses
Eligibility criteria for vehicle finance
For vehicle finance to be approved, apart from affordability, you need to meet certain basic criteria.
You need to be at least 18 years old
Be permanently employed
Earn a steady income
Be a South African citizen or have a valid passport
Provide proof of address
The quick and simple online application process
The loan application process is quick and easy. A trained, friendly consultant at Auto Executive will handle all the paperwork for you and explain anything you might not understand.
Your consultant will complete one application for the total amount required to purchase the vehicle of your choice. They'll then submit the application to all the banks.
Once the application is approved, you'll be presented with the options available. You can then decide on the offer that suits you best. The loan amount is paid to Auto Executive after you accept, agree to the terms and conditions, and sign the documentation.
What happens when the financing is paid in full?
You'll repay the institution that borrowed you the money on a monthly basis until the financing is paid in full after which you'll receive the original registration paper stating that you're the rightful owner of the vehicle.
6 Reasons to choose Auto Executive
They've been in the business for 28 years
Offer nationwide delivery
Online showroom for your convenience
Friendly, well-trained staff
They assist you with financing applications
Partnered with all major banks
When you need reliability, choose Auto Executive
When a car dealer's been in the business for 28 years, you can rest assured that you're dealing with a reliable dealership. Auto Executive always puts you first and strives to provide you with sound advice and friendly assistance when you're looking to buy a new vehicle.
Customer Reviews & Testimonials
"
September 2022
I had my heart on a new car but could not purchase the vehicle in cash. I decided to purchase a vehicle and apply for financing through Auto Executive and I was surprised at how quickly I got my ...
Joseph M
— Port Alfred —
February 2023
I was searching for a new vehicle and the car salesman suggested that I try to apply for vehicle finance through Auto Executive. He helped me complete the application form and I was soon driving ...
Andre M
— Cape Town —
October 2022
I would like to take this opportunity to thank everyone at Auto Executive for making my dreams come true. Thanks to vehicle finance they helped me get it, I'm the owner of my first vehicle. They'...
Sarah P
— Mosselbay —
Auto Executive Contact
Contact Number
E-Mail
Website
Physical Address
299 Voortrekker Rd, Fairfield Estate, Parrow

Cape Town

7500

South Africa
Opening Hours
Monday

08:00 – 18:00

Tuesday

08:00 – 18:00

Wednesday

08:00 – 18:00

Thursday

08:00 – 18:00

Friday

08:00 – 18:00

Saturday

08:30 – 13:30

Sunday

– Closed