Making life easier
Low-interest up to 27%
Repayment up to 60 months
In-page navigation
---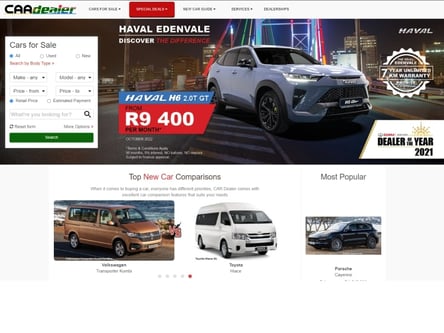 Author CARdealer.co.za. Screenshot of CARdealer.co.za website.


[Accessed December 9, 2022]
About CARdealer.co.za
CARdealer is one of South Africa's largest online auto dealerships, making life easier for clients who like to shop online.
Shopping online saves time and effort and you often find the best deals.
CARdealer helps save you time, by adding new and used vehicles onto their trading site, for easy access and comparison. You can apply for vehicle finance even if you're blacklisted.
Staying ahead in the industry
With the busy lifestyle and hectic schedules we face these days, you may find that when you need vehicle finance, be it a new or used vehicle, using an online platform can make the world of difference.
With everything moving towards online technology, it makes more sense to follow the trends and CARdealer provides a service that makes applying quick and simple.
The benefits of CARdealer are that they can provide the finance and the car, an all-in-one spot!
Fast turnaround times
They're the leading motor advertising website that also provides vehicle finance and so much more.
They've assisted thousands of clients to find a loan for the car of their dreams.
If you're selling your used vehicle they'll assist you to sell it and make sure that you have the cash you need to purchase your new vehicle.
CARdealer.co.za Services
CARdealer offers the best online platform that helps you apply for vehicle finance, buying a new vehicle, and selling your old vehicle, all under one roof.
Expert technology helps provide an instant decision on your loan application. This allows you to start searching for the vehicle you like immediately and know how much you have to spend from the outset.
Endless car financing options
The perks of using an online platform are that you get more information regarding loan options.
Get repayment terms of between 6 and 60 months
Their annual percentage rates are extremely low, with unsecured credit transactions available.
Their maximum APR rate of 27% is appealing to all motorists needing finance to purchase their next vehicle.
You're able to apply for a second loan after making 3 payments on your initial loan.
Own the car of your dreams today
By following a few simple steps you can drive off in the car of your dreams with affordable car finance. Be it a bakkie, 4x4, convertible or car, they have it all.
Simply apply online with your personal details and the details of the vehicle you're looking for, or browse through the vehicles online.
24/7 online website
For added convenience, CARdealer's service is available 24/7 and allows you to keep updated on new and used cars anytime every day of the week, with finance available at your fingertips!
CARdealer.co.za – Car finance
Loan Type

Car finance

Interest Rate

27%

Repayment

6 months to 60 months
Benefits of CARdealer.co.za
Blacklisted or Bad credit welcome
Finance for vehicle models 1999 - 2014 or later
Apply for instant decision
Application only takes 5 minutes to complete
Available countrywide
Fast, secure and confidential
Buying & selling your car online is easier with CARdealer.co.za
CARdealer's service offers convenience, safety, and faster processing of your car loan - so you can get behind the wheel even faster!
User-friendly online service
With all the information you need at your fingertips, you don't even need to leave your home or office to get the car finance you need. Use their website to apply, it's simple to use, user-friendly and, anyone can apply in only a few short minutes. Register by completing the application form and one of CARdealer's consultants will contact you to help.
Find a car anywhere in SA
You receive full access to a detailed overview of thousands of used and new vehicles, which are divided based on location. Cars are listed nationwide. They'll assist you with the vehicle financing that you need all you need to do is complete their simple 5-minute application form.
CARdealer provides you with everything you need on one platform and helps save you time and money.
A world of choice at your fingertips
Search by car model, make, region, or pricing bracket. Their financing options will allow you to access to cash for any vehicle models from 1999 and older.
Their vast library of cars is updated continuously, and you can create a wish list, which will update you on new cars that match your needs as they're listed. This ensures that you'll be the first to hear of a car within your requirements.
Pick any type of vehicle
Options include sedans, hatchbacks, SUV's, bakkies, coupes, and convertibles. Everything and anything you could possibly want is available on CARdealer.
Are you looking to sell?
They have the added option that allows you to advertise your vehicle online should you want to sell it. If you want a versatile low-cost vehicle, they have a specials section, where cars are sold at the lowest prices.
Simpler quick finance
Don't waste any more time driving around looking at every dealership in your neighbourhood than having to make an appointment at your bank to get the finance.
Don't settle for second best; get a loan and buy the car you want today through CARdealer.
Register and search, apply for a loan, add it to your wish list, and drive off in style!
Customer Reviews & Testimonials
"
March 2019
They helped me to sell my car and get a loan for a new car as my family got bigger. Great service and my wife is super happy with the mommy van.
Jacob C
— Johannesburg —
June 2019
I love this company not only do they make sure you get your car loan but they also help you get the Insurance that I will need to protect your car.
Jason B
— Cape Town —
CARdealer.co.za Contact
Contact Number
E-Mail
Website
Physical Address
93 Mill Street, Strand

Cape Town

Western Cape

7139

South Africa