Car finance up to R250,000
Low-interest starting from 16%
Repayment up to 72 months
In-page navigation
---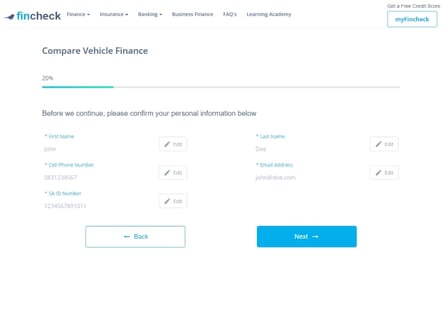 Author Fincheck. Screenshot of Fincheck website.


[Accessed December 9, 2022]
About Fincheck
When it comes to securing vehicle finance in modern-day times, you've probably heard it all.
Fincheck however is different, they care more about the client in need of vehicle finance than their own company needs. Most of the vehicle finance offers out there are misleading and can push you even further away from your dream vehicle. Because of this, Fincheck decided to step in and provide a more comprehensive version of car loans online.
The kind that you can trust and that can get you rolling in style. Be it vehicle finance for a family car, a simple car, or the hot-rod you've wanted all your life; they've got what you need. With personalized services and bank-level security, who could ask for more?
Vehicle finance you can trust
With the difficulties and threats to the economy increasing every day, they understand how frustrating it can be to worry about transport, especially if you don't own a car. Fincheck can help you secure the vehicle finance you need to get on the road and get moving in life, no matter what your goals are. Their lending partners and their attractive offers are all you need.
Fincheck`s approach to vehicle finance
Life is a highway – you have to just get out there and drive. They can step in to help you do that, with comprehensive vehicle finance in these challenging modern times. As an efficient and responsible brokerage company, they've gathered and worked with some of the best vehicle finance lenders in the business.
They're reliable and trustworthy, and can offer you the quick vehicle finance you need at fair and flexible repayment terms, and more so at reasonable rates. All you have to do is apply and compare their offers.
Fincheck Services
Fincheck has a vast selection of capable, responsible vehicle finance lenders ready to deliver their services.
They provide you with these services because they care about you and your wellbeing. On top of putting you in touch with these companies, they offer services such as free credit score checks. This is done via a transparent process that will help you as a client to understand how the vehicle finance lenders measure your financial health.
Fincheck does this because they're a brokerage company that cares about you, your pocket, and your understanding of how the vehicle finance process works. It's the least they can do for your ongoing support.
Fincheck`s popular loan options
Payday loans
These loans cover the gaps in your salary from paycheque to paycheque. Usually smaller, short-term loans, at a higher APR, between as little as R100 and as much as R8000.
Personal loans
These are often a little larger. Ranging from R8000 upwards, the total is really what you can afford to pay off every month at the designated rates. How you spend this money is up to you. With even just these two on offer, you can see that they like to extend a helping hand to their customers, keeping them financially secure. Your happiness and security are something Fincheck holds in high regard.
Access to their services at your fingertips
They also offer additional free resources you can take advantage of, aside from credit score checks. They have a regularly updated blog, which can be used to keep you updated on current affairs.
Fincheck – Car finance
Loan Type

Car finance

Interest Rate

16 – 28% p/a

Loan Amount

up to R250,000

Repayment

3 months to 72 months

Decision

Same day
Benefits of Fincheck
Easy online application
Bad credit loans available
Affordable instalments
24/7 access
What it takes to get behind the wheel
Their vehicle finance comes with its terms and conditions, and their lenders will usually make you aware of them in advance.
They have their reasons for asking for the information they do, to ensure that the lending process is safe and easy. The vehicle finance lenders usually ask for these details, as in today's day and age, many new obstacles are in place for the modern man.
Terrorism, cyber theft, fraud, and money laundering are all things that can happen through lending companies. The precautions lenders take care of not only for their good but for yours as well.
Details required for your application
Your full name
Your phone number
Your email address
Your full RSA ID number
Once they have these details, they can begin the online car loan application process, which is simple and easy. Fincheck takes the process over from here on out. They search their database for companies that have the car loans you need and put you in contact with them. You can compare which vehicle finance quote suits you best and sign the contract with that company.
And yes, this is all free
Fincheck prides itself on keeping its services free and fair, and available to all those in need. Why should you pay for the help they can provide for free?
The only fees you may be charged during this process will be from the vehicle finance lender you choose to agree with, and they're almost always the following
Your initiation fee – kind of like a deposit, to activate the car loan you've taken out.
A monthly service fee – this is a small amount you'll pay along with your monthly Installments for the service you are receiving.
Interest rate – also included in your monthly costs, this is simply the interest rate on a car loan.
Your new ride awaits
Nothing is keeping you from finally getting the shiny new ride you've been dreaming of for years. Get your vehicle finance right away!
Benefits of Fincheck
Access easy car loans online
Bad credit car loans are available
Affordable instalments and low-interest rates
24/7 access
Great customer service
Documents required to apply for vehicle finance:
South African ID document/Smart card
South African driver's license
Proof of your income
Your current proof of address
A roadworthy certificate
Customer Reviews & Testimonials
"
April 2021
I applied for vehicle financing at Fincheck and I must say their customer service is of exquisite quality. I am so happy with their service.
Axton M
— Port Elizabeth —
January 2021
From experience with Fincheck, I can say that they are trustworthy and transparent. The application process went by speedily and I walked away with the finance for my dream vehicle.
Clemmie V
— Sheffield —
September 2021
I am a very nervous person, but Fincheck's friendly and polite staff quickly made me feel at ease and I was done with the application before I knew it. Give Fincheck a try!
Rose S
— Pretoria —
Fincheck Contact
Contact Number
E-Mail
Website
Physical Address
Illovo

Sandton

South Africa
Opening Hours
Monday

Open – 24 hours

Tuesday

Open – 24 hours

Wednesday

Open – 24 hours

Thursday

Open – 24 hours

Friday

Open – 24 hours

Saturday

Open – 24 hours

Sunday

Open – 24 hours