INSTANT online approval
Affordable car finance
Get approved instantly
In-page navigation
---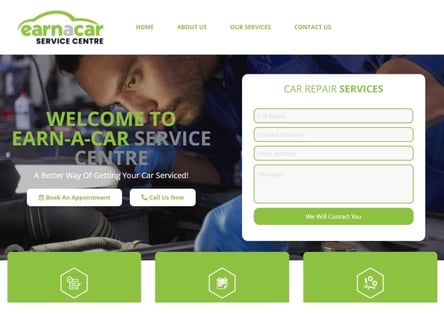 Author Earn a Car. Screenshot of Earn a Car website.


[Accessed December 9, 2022]
About Earn a Car
Earn a Car is different from other vehicle finance providers in SA because they reward you for paying back your loans on time!
They don't just provide you with the cash you need to buy your vehicle; they pay you in rewards for paying on time! Their aim is to have you driving your new vehicle as quickly as possible without causing you any extra hassle.
Drive off in the car of your dreams
Earn a Car is proud to be part of a team that is known for their quality services and excellent customer service in the finance industry. Their staff are positive and have a passion for helping people get in the driver's seat of their dream cars!
As they grow and adapt to change, they strengthen the benefits they offer and their approach to business.
When the economy looks grim, Earn a Car make sure to bring you the vehicle finance options that will make all the difference in the world!
Strong competitors in the industry
When you apply for a loan online with Earn a Car you'll be one step closer to driving away in your new vehicle! They'll offer support throughout your application process as well as afterwards!
Earn a Car offer ongoing support
Knowing you have a financial team on your side can be a massive plus when searching for your new vehicle. Earn a Car provide many value-added services because you're important to them and they want to see you find what you're looking for.
Earn a Car Services
All South Africans are welcome to apply for car finance with Earn a Car.
Clients who are blacklisted, or have bad credit are also able to qualify for finance through this flexible lender. All you need is the minimum deposit of R16 500.
You'll need to prove that you have the ability to pay off the rest of the loan over the agreed monthly terms. When deciding if you qualify for a loan they'll have a look at your budget and affordability.
What does Earn a Car offer?
Added benefits include up to 54 months to pay back their vehicle loan and ongoing support. They also provide accident cover, car insurance, and support should you break down!
Value-added benefits from Earn a Car
Receive R300 cash back on every payment made towards your vehicle loan
Accident and roadside assistance and support
They pay a portion of your car service cost
They provide a temporary vehicle should yours be damaged in an accident
Vehicle warranty throughout your loan period
Up to R500 paid should you need your vehicle towed
Vehicle tracker
Accident cover
All this is included to your value-added services stipulated in your loan contract. Get the best from Earn a Car by taking advantage of their special offers.
They'll help you finance a vehicle and get the most out of your car and loan. Their services are quality guaranteed!
Benefits of Earn a Car
Get approved instantly
Affordable car loan options
Accident and roadside assistance
Earn a Car's unique approach to vehicle finance
Take full ownership of your vehicle within 54 months!
Earn a Car provide a secure method and an easy platform to allow our clients to reap the benefits of their affordable repayment plans. They offer a range of flexible deals that can assist you to buy the vehicle of your dreams and so much more!
Pick your dream car
You can choose from upcoming and continuous deals that are offered on a daily basis through their competitive car loan options. Every car you could possibly think of is available!
How it all works
Apply online through their website. Complete the application form with your personal details, and become a client. You'll have immediate access to all the updated special deals which are advertised daily.
Complete the section in regards to what you're looking for. If you know the car model, make and colour etc., you can choose these options.
Select the price range you're interested then click the search button and you'll receive information based on the specific criteria that you're searching for.
Choose the car that you're interested in and they'll assist you further. Once you've agreed to the terms of the vehicle finance you can set up a customized repayment plan structure.
They'll then forward you a contract to sign, and organize to have your payments directly debited of your banking account. It's as easy as that!
Earn a Car will reward you
For every payment you make on-time you'll receive a cash-back reward. Their value-added service will help you ensure that your vehicle is roadworthy before you take possession of it, as they take their client's safety very seriously!
Get everything you need and more when you partner with Earn a Car as they really look out for their clients. Apply for a loan today!
Customer Reviews & Testimonials
"
June 2019
Thanx to this company I was able to get a loan for my car even though my credit score was low I was still able to get my car.
Dwayne M
— Port Elizabeth —
June 2019
I will be going back to them for another car loan once i have paid my car off they have truly helped me and their professionalism is great.
Johnny D
— Cape Town —
June 2019
Fast service truly appreciate you guys and all the help you have given me,
Mel B
— Johannesburg —
Earn a Car Contact
Contact Number
E-Mail
Website
Physical Address
8 Jubilee St, O.R. Tambo, Kempton Park

Johannesburg

Gauteng

1619

South Africa
Opening Hours
Monday

08:00 – 16:30

Tuesday

08:00 – 16:30

Wednesday

08:00 – 16:30

Thursday

08:00 – 16:30

Friday

08:00 – 16:30

Saturday

08:00 – 12:00

Sunday

– Closed