Car finance starting from R20,000
Asset based bridging finance
Low-interest up to 60%
In-page navigation
---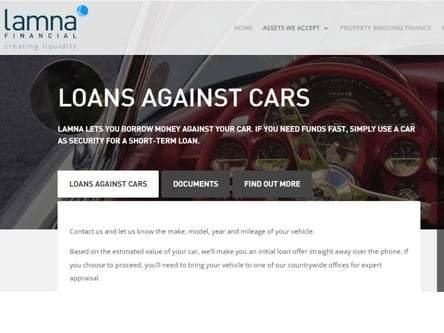 Author Lamna. Screenshot of Lamna website.


[Accessed December 9, 2022]
About Lamna
Lamna offers clients the opportunity to invest through asset-backed transactions and get the vehicle finance they need to buy a vehicle.
A responsible, regulated lender
Lamna works in line with the National Credit Act of South Africa and is compliant with the regulations in regard to the financing offered to clients. They've been assisting clients with car finance for many years by enabling them to buy a vehicle when they need one.
Secured vehicle loans
They offer secured loans which use your assets as security to guarantee a loan, and they're flexible enough to assist with any assets of value that may be worth the collateral for the amount of cash you need.
Highly skilled team
Lamna boasts a team of qualified financial advisors, accountants, lawyers, and appraisers all trained to assist you with any financial services. Their focus is primarily on high net worth South Africans who require flexible, short-term finance.
Their staff understands your needs and work hard to assist you in getting a positive end goal. By going the extra mile for you they've made their mark in the industry as a service provider of choice.
They offer competitive rates and suitable financial help that delivers the cash you need to purchase a vehicle.
Lamna Services
Lamna are no ordinary financial provider; their aim is to provide an uncomplicated way for you to affordable finance for purchasing a vehicle.
No credit check required
By borrowing against your assets on a short term basis, you can afford the vehicle you want. Lamna can assist clients with no credit checks, no documents or financials, and no paperwork. All you need is to complete a simple online application. Your assets act as security against the loan amount, if you default on loan payments you may be at risk of losing your collateral.
Simple convenient service
Applying online is very simple and quick and you can get a loan of R20,000. This convenient service will help save time so you can get an answer immediately.
If you don't have time in your busy schedule to stand in queues and fill in reams of endless paperwork, this is your ideal lender. When you need a vehicle in a hurry and you need some assistance with vehicle financing Lamna will deliver!
Secure lending solutions
We'll offer you secured vehicle finance against your current vehicle. Provide Lamna with the specific details of your current car. You'll need to provide the make, model and age of the vehicle, they'll provide an evaluation on what they can offer you on it, and you can then use this amount as collateral. Once they've provided an appraisal and you accept it, they'll transfer the cash to your account on the very same day.
What you can expect from Lamna Vehicle Finance
Lamna's loans carry fixed rates that range between 36% and 60% APR and the repayment terms are between a minimum of three months and a maximum of 24 months. You're required to pay credit life insurance apart from your monthly instalments.
Lamna – Car finance
Loan Type

Car finance

Interest Rate

60%

Loan Amount

from R20,000
Benefits of Lamna
Short-term bridging finance
Secured bridging finance
Lamna helps clients get the car finance they need to drive off in style!
Lamna can assist you with a short-term cash advance on your current vehicle. This money can be used as collateral for your next vehicle or as a general-purpose loan.
To apply, you can submit an application by following some easy steps on their website. If you prefer to speak to someone you're welcome to use their telephonic option where a consultant can assist you in real-time. They'll assist you by guiding you towards the best possible solution to meet your needs.
How to apply for a vehicle loan
The first step is simple and the process is completely paperless. Simply apply for a loan at your convenience from any device with internet access. The second step is to visit Lamna in person so that they can have a look at your vehicle in order to provide an accurate appraisal.
They'll then provide you with an offer and you can decide with no obligation, whether or not you want to accept it. Should you agree to the amount offered, they'll draw up an agreement contract for you to sign and accept.
Required documents
You'll then need to provide proof of residence and your ID document; once you've signed the loan agreement they'll immediately transfer the funds into your banking account. It's as simple as that!
What happens to your collateral?
When you apply for a personal loan, your assets will be stored safely over the short term of your loan agreement. Your collateral will be kept safe for you until your loan term is concluded. You can apply using any asset of value as collateral. This includes jewellery, vehicles, the artwork of value, watches, and gold.
Low-interest rates on loans
Lamna charges a very low monthly interest rate which will all be included in your loan agreement. Their terms and conditions are transparent so there are no surprises along the way.
Repayment terms can be customized to meet your needs and will need to be agreed upon and finalized in your contract. If you have any queries in regards to your loan speak to one of Lamna's consultants to assist you.
Customer Reviews & Testimonials
"
March 2019
Thank you for assisting me in getting my car loan and also helping me find a cheaper loan and thank you for making me feel secure enough for me to take my loan.
Jack L
— Port Elizabeth —
June 2019
Great service and Thank you for helping me get the car of my dreams I never thought I would be able to get My BMW M 3. I am super excited.
Sarah C
— Cape Town —
March 2019
With all the advise I have been Given They hve helped me to understand my loan better and find the loan that suits all my needs. Great company
Egbert P
— Johannesburg —
Lamna Contact
Contact Number
E-Mail
Website
Physical Address
128 Strand Street, Soho On Strand Building, Office 201A

Cape Town

Cape Town City Center

8000

South Africa
---
Postal Address
PO Box 50798, Waterfront, 8002, South Africa
Opening Hours
Monday

08:30 – 17:00

Tuesday

08:30 – 17:00

Wednesday

08:30 – 17:00

Thursday

08:30 – 17:00

Friday

08:30 – 17:00

Saturday

– Closed

Sunday

– Closed