SA's #1 vehicle finance
Refinance your vehicle
Pre-approved in 5 seconds
In-page navigation
---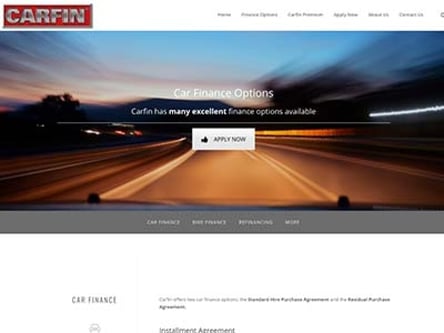 Author Carfin. Screenshot of Carfin website.


[Accessed December 9, 2022]
About Carfin
Carfin offers the best vehicle finance sourcing and support services in South Africa.
As an independent vehicle finance specialist, they're able to scour the market to find the best finance options for you.
Leading financial solutions
It's the best time for you to buy a used vehicle as there's an oversupply of trade-ins at the moment. They offer fast, efficient service as well as sound advice on financial products and services.
They assist thousands of clients with affordable loan options and can provide you with access to the cash you need to buy a new or used car. They have the ability to find and compare finance offers to save you money and make sure your needs are met.
By delivering the best possible financial products, you'll get more than what you expect and have your needs flawlessly summarised, assessed, and fulfilled. They can even help you refinance your car if you need to free up some cash.
A dynamic team
With a team of enthusiastic and competitive financial experts, they always manage to find and deliver the best deals.
Carfin has strong relationships in place with the top financial providers in the country.
They ensure you're backed by the best long and short-term loans you need to meet your unique car finance needs.
Carfin Services
If you're looking for a reliable used vehicle or have your eyes on a new vehicle they'll be able to assist you.
For added ease and convenience you'll have access to an online loan that will help you get the wheels you really want. They can deliver pre-approval in under 15 seconds.
Pre-approved loans in 15 seconds
This will allow you the opportunity to search for the car you like and secure the deal on the very same day. You can access this convenient pre-approval service by completing their online application form which requires minimal time and effort.
Providing the support you need
Not only do they provide the car finance you need but they also provide helpful financial advice and support, with their team of vehicle finance professionals. They can guide you in the right direction, assist you in answering questions in regards to buying a vehicle, and offer any assistance you need.
Same-day approvals
Once your application has been submitted, they'll perform a credit check to make sure that you can afford the car finance repayments. They'll then let you know how much you qualify to lend.
Once you have applied you'll receive the outcome on the very same day, and they'll assist you with every step of purchasing a vehicle. This includes checking the car, doing the roadworthy, and finalising the finance.
Carfin – Car finance
Loan Type

Car finance

Decision

15 minutes
Benefits of Carfin
Excellent vehicle finance options
A quick and easy loan applications
Carfin is your online gateway to getting the vehicle you want
Carfin offers support and advice to help you find a new or used vehicle and secure the finance you need.
Speedy loan applications
Working through their online platform, they're able to provide an outcome on you application faster than their competitors. They have direct partnerships with major banks in SA, allowing for quicker cash payouts and faster pre-approval times. Complete the online loan application in a few short minutes, and they'll get back to you with practical solutions and offers in no time.
Additional services available
They're more than just a car finance provider; they also assist clients with roadworthy certifications on their new or used cars and follow through with their services from beginning to end of your journey to getting a car.
Their services will deliver fast, friendly service, quick turnaround times on applications and convenience throughout the delivery process. As the experts in vehicle finance, you can count on them to have you driving your new vehicle in no time.
Drive off with your new car
Once they've determined affordability they'll offer you a loan bracket. If you agree with the terms simply agree to the terms and start your search for the vehicle you want.
They'll work alongside you to make the payment directly to the seller, and you can drive off in the new car you've just purchased.
No waiting on loans
They don't believe in making you wait for their loans. One major benefit they offer is a reduced purchase price. Another one of many reasons to get vehicle finance through Carfin.
There's no need to stand in long queues, no need to stress about dealing with difficult sellers and no more signing thousands of documents.
Applications are conveniently and quickly processed online
Carfin assists clients with instant approvals on refinancing options. When you need a little extra cash to cover your debts, or to consolidate your debt, they can make it possible. Carfin will provide excellent service with a smile and is sure to go the extra mile for you.
Apply online today, get the vehicle you need and find the car of your dreams in the shortest time frame possible. Whether you're looking for a new or used car, you'll be happy you chose to use Carfin's comprehensive services.
The qualifying criteria for vehicle finance from Carfin:
Vehicle not older than 10 years
Earn a monthly income of R8,500 or more
Have a clear ITC record
Must have a valid South African ID document/Smart card
Must have a valid South African driver's license
The documents you need to support your application form:
South African ID document/Smart card
South African driver's license
Proof of your current residence
Proof of employment
Bank account details
A breakdown of your monthly income and expenses
Customer Reviews & Testimonials
"
May 2019
This application is super simple all you need is your three months bank statements and your ID and then submit your app and get your answer back super fast.
John B
— Johannesburg —
June 2019
I was able to get my bike loan and I couldn't be happier with the service that I was given
David C
— Port Elizabeth —
June 2019
We landed up not knowing that we had a balloon payment at the end of our cars 5 years so we applied to re finance them and it was approved Carfin really went above and beyond to help us.
Jack S
— Johannesburg —
June 2019
I got the car that I wanted and they have helped me so much that we will forever be in debited to the company and will get loans from then again.
Jess G
— Durban —
Carfin Contact
Contact Number
E-Mail
Website
Physical Address
Untit 21 & 22, Lombardy Business Park, C/o Lynnwood Road and Cole Road

Pretoria

Gauteng

0181

South Africa
Opening Hours
Monday

08:00 – 16:30

Tuesday

08:00 – 16:30

Wednesday

08:00 – 16:30

Thursday

08:00 – 16:30

Friday

08:00 – 16:30

Saturday

– Closed

Sunday

– Closed