Toyota Financial Services
Affordable payment options
Reliable car finance
Competitive interest rates
In-page navigation
---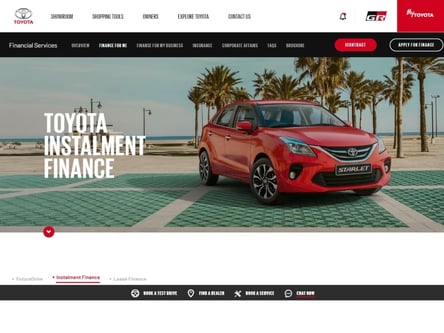 Author Toyota Financial Services. Screenshot of Toyota Financial Services website.


[Accessed June 14, 2023]
About Toyota Financial Services
Since its establishment in 1961, Toyota has become an integral part of South African culture, embodying the spirit of the vibrant people who drive its vehicles.
The company takes pride in its positive contribution to the beloved country and its continuous pursuit of leadership in the automotive industry.
Shopping tools for a seamless car-buying experience
The Toyota website provides a comprehensive set of shopping tools designed to simplify the car-buying process.
You can easily find a dealer nearby, book a test drive to experience the thrill of driving a Toyota firsthand and compare different models to find the perfect fit for your needs.
They offer Lease Finance options, allowing you to enjoy your preferred vehicle for a specified period while paying a convenient monthly fee.
At the end of the lease term, you have the choice to keep the vehicle by meeting specific conditions set, granting you ultimate ownership.
Insights, pricing, and trade-in support
Fuel consumption and compatibility concerns are addressed through the customer support section of the website.
Toyota South Africa provides insights into factors that influence fuel consumption and clarifies the compatibility of unleaded fuel for older vehicles.
You can find pricing information and assistance with trade-ins by accessing recommended retail prices, contacting the nearest Automark dealer for trade-in valuations, and exploring options for purchasing certified used cars.
Respect for people and continuous improvement: The Toyota way
Respect for people and continuous improvement are core values at Toyota South Africa. The company fosters mutual trust, embraces diversity, and promotes personal and professional growth through teamwork.
Open and honest communication is highly valued, ensuring that customers receive reliable and outstanding service at every interaction.
Toyota South Africa also extends its impact beyond the automotive realm by supporting various organisations dedicated to social upliftment and community development throughout the country.
With a clear vision and a mission to lead the future of mobility, Toyota is dedicated to supplying vehicles, parts, accessories, and services of exceptional quality to meet the needs of both the South African and export markets.
The company is committed to constant innovation, environmental responsibility, and exceeding customer expectations.
They strive to provide a seamless and enriching experience for customers exploring the showroom, utilising the shopping tools, or engaging with customer support services.
Toyota invites customers to join them on this journey and discover why Toyota continues to be a trusted name synonymous with reliability, excellence, and a commitment to driving smiles.
Toyota Financial Services
When it comes to financing your dream Toyota vehicle, Toyota Financial Services offers a range of flexible and tailored solutions to suit your needs.
Whether you're looking for the ease of Instalment Finance, the flexibility of Lease Finance, or the convenience of FutureDrive, they have you covered. From affordable monthly instalments and shorter finance periods to guaranteed future value and ownership options, Toyota Financial Services ensures a seamless and personalised financing experience.
Toyota Financial Services made simple
FutureDrive car finance from Toyota
FutureDrive is a flexible and affordable vehicle finance solution. With FutureDrive, customers have the option to choose between 36 or 48 month agreements with a range of kilometres from 20,000 km up to 35,000 km per year.
By driving fewer kilometres, customers can enjoy lower costs as vehicles with lower kilometres depreciate less, resulting in more competitive Guaranteed Future Value (GFV).
Why choose this option?
FutureDrive provides shorter-term agreements, lower monthly instalments compared to traditional finance, and the option to add a deposit or choose a 'no deposit' option. Customers also have three end-of-term finance options: renew with a new Toyota, retain the vehicle, or return it.
Instalment Finance from Toyota Financial Services
Toyota Financial Services offers Instalment Finance, a financing option that allows you to purchase your desired Toyota vehicle and repay the loan through regular monthly instalments over an agreed period.
With Instalment Finance, there's no minimum deposit required, but paying a deposit can lower your monthly instalments or shorten the repayment period.
How does the instalment option work?
The finance periods range from 12 to 72 months, and you have the option to take ownership of the vehicle once all instalments, including any balloon payment, are paid in full. You can also trade in your vehicle towards a new Toyota once the instalments are completed, reducing the monthly fees for your new vehicle. Instalment Finance offers flexibility and ownership at the end of the agreement.
The Lease Finance option simplified
This car finance option allows you to enjoy the use of your preferred vehicle for a predetermined period by paying a monthly fee. At the end of the lease period, you have the choice to retain ownership of the vehicle based on specific conditions.
The Lease Finance option offers flexibility, with custom-designed finance structures tailored to your unique needs. For business purposes, the lease payments may be tax deductible up to 100%, maximising the value of your investment.
What's the deal with Toyota's lease finance?
The lease period can range from 12 to 72 months, with or without a final balloon payment. If you decide to keep the vehicle, you must fulfil the conditions set in the credit agreement, including timely payment of monthly instalments.
There's no minimum deposit required for Lease Financing, and market-related interest rates can be linked to the prime lending rate or fixed for the entire loan duration. The option of a final balloon payment provides the benefit of lower monthly fees, and you may also have the opportunity to refinance the balloon payment if there are no changes to your credit profile.
Toyota Financial Services – Car finance
Benefits of Toyota Financial Services
Low-interest rates
Choose the best finance option
Find your dream car
Eligibility requirements and buying process at Toyota Financial Services
To make owning a vehicle more accessible, you're offered a range of car finance options through Toyota Financial Services.
Before applying for car finance, it's essential to understand the eligibility requirements and the process involved and we've summarised it for your convenience below. This section outlines the eligibility criteria, required documents, and the step-by-step buying and finance application process.
Eligibility requirements:
Income and credit:
To be eligible for car finance, applicants typically need a steady source of income to demonstrate their ability to repay the loan. The specific income requirements may vary based on the chosen finance option.
Additionally, a satisfactory credit history is usually necessary to qualify for car finance. Toyota Financial Services considers factors such as credit score, credit history, and debt-to-income ratio when assessing eligibility.
Required documents:
Identification: Applicants will need to provide a valid South African identity document or passport.
Proof of income: Documentation showing proof of income, such as recent payslips or bank statements, will be required to verify the applicant's ability to repay the loan.
Proof of residence: Applicants must provide proof of their residential address, such as utility bills or a lease agreement.
Bank statements: Recent bank statements may be required to assess the applicant's financial stability and repayment capacity.
Buying and finance application process
Research and selection: Begin by researching models and selecting the vehicle that suits your preferences and budget (they have a great comparison tool on their website for this).
Visit a dealership: Visit a Toyota dealership to discuss your car finance options and explore the available financing plans. A sales consultant will guide you through the process.
Application submission: Complete the car finance application form. Ensure that you provide accurate and complete information.
Documentation submission: Submit the required documents, including identification, proof of income, proof of residence, and bank statements, to the dealership.
Credit assessment: Toyota Financial Services will evaluate your creditworthiness based on the provided information and documents. This assessment helps determine the loan amount and interest rate.
Approval and agreement: If your car finance application is approved, you will receive an agreement detailing the loan terms, including the monthly repayment amount, interest rate, and duration.
Enjoying delivery of your new Toyota
Once the agreement is signed and all necessary payments (such as a deposit or initiation fee) are made, the dealership will arrange for the delivery of your Toyota vehicle.
Customer Reviews & Testimonials
"
March 2023
The process of applying for financing was seamless and straightforward. The staff was knowledgeable, helpful, and professional throughout the entire process.
John M
— Pretoria —
January 2023
I recently purchased a Toyota car and opted for their financing option and I must say that I am very satisfied with their services. The application process was very easy and the loan terms were v...
Linda C
— Sandton —
February 2023
The dealership staff member who helped me was knowledgeable and patient in explaining all the terms and conditions and also helped me find an option that suited my budget.
Dane W
— Port Elizabeth —
Toyota Financial Services Contact
Contact Number
E-Mail
Website
Physical Address
Eastern Service Rd, Wesco Park

Sandton

2012

South Africa
Opening Hours
Monday

08:00 – 17:00

Tuesday

08:00 – 17:00

Wednesday

08:00 – 17:00

Thursday

08:00 – 17:00

Friday

08:00 – 17:00

Saturday

– Closed

Sunday

– Closed