Car finance up to R500,000
Get cash in 30 minutes
Low-interest starting from 27%
In-page navigation
---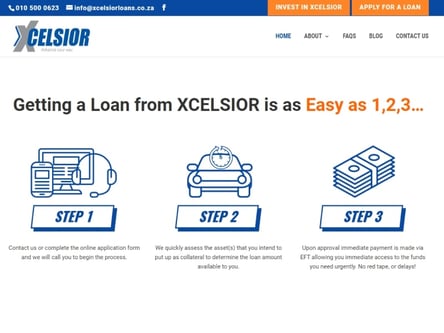 Author Xcelsior Loans. Screenshot of Xcelsior Loans website.


[Accessed December 9, 2022]
About Xcelsior Loans
Xcelsior assists South Africans with cash when they need a little cash flow boost on a short term basis.
As an independent company, they're able to cut out the middle man. This allows them to offer better rates, better repayment terms, and better service!
Putting you first
Xcelsior Loans is an independent credit provider in SA that offers car buyers a range of benefits because they compare vehicle finance options and pass on the savings to you. You'll receive the service delivery you'd expect from a top-quality service provider - guaranteed!
Turnaround time on your loan application is very important which is why they aim to get you the answers that you require as quickly as possible.
Secured car loans
Xcelsior Loans have extensive experience providing short-term loans for clients that suit their needs and their budgets. Their service allows you to borrow cash against your assets. These assets can include vehicles, motorbikes, and boats etc.
When you apply for a secured loan you can determine the amount that you would like to borrow. The higher the value of your collateral, the higher the loan amount you qualify for.
Xcelsior Loans Services
Quick loans make life easier for those who have collateral to provide as security.
When you apply by putting up a valuable asset, such as your vehicle, Xcelsior Loans can assist you with a short-term loan. The amount will depend on the value of the item you're using as collateral.
The latest technology helps this short-term lender provide a quick decision on your application and approval within 30 minutes. Your collateral will be stored in a safe place until you've paid back the loan in full and can reclaim it.
It's this simple!
When you need a loan, use a valuable asset such as a vehicle as collateral, this will give your loan application a better chance of being approved. At Xcelsior, they don't provide vehicle loans but rather offer you a loan against your item of collateral.
This money can be used to finance your vehicle or as a deposit. Any vehicles provided as the collateral need to be paid off in full before you may store them on their lots.
Requirements to apply
The vehicle has to belong to the person who is borrowing the cash. If you cannot afford to repay your loan or default on the repayments, they'll take possession of your vehicle which makes their loans quite risky, especially for those with a bad repayment history.
Xcelsior Loans – Car finance
Loan Type

Car finance

Interest Rate

from 27%

Loan Amount

up to R500,000
Benefits of Xcelsior Loans
Get cash in 30 minutes
Loans are paid out on the same day
Apply for a loan in 3 easy steps
Use Xcelsior for fast & seamless access to instant cash
Your information is treated with the utmost privacy and they have security measures in place to prevent your information from falling into the wrong hands.
Xcelsior Loans treat every client with discretion throughout the entire lending process. They strive to provide a fast application process. There's no need to complete paperwork, no credit checks, and no waiting for your cash.
Get the cash you need today
There's no need for an invasive credit check or an investigation into your personal life, Xcelsior Loans won't make you wait hours to find out your outcome or make you fill in heaps of paperwork. With the security of your asset, they'll be able to provide you with a quote or loan amount immediately, and you will get an online loan on the very same day!
Loan application
Clients have many options to get finance quickly. This lender's services are accessible online or via telephone so clients have access to cash no matter where they are.
Simply complete the short online application form and they'll inform you within 30 minutes if your loan has been approved or not. If it has, they'll contact you to assist you further and arrange for the valuation and delivery of the collateral.
Loan assessment
Xcelsior Loans aim to assess your loan application immediately to give you an outcome quickly. There's no need to perform credit checks, they don't require your bank statements or employment history. The entire process is simple, as they understand when you need cash you don't have time to waste. They determine the amount they're willing to offer you for your collateral.
They'll offer you a loan for up to 50% of the value of your asset. Whether it is a truck, caravan, car or bike, the worth will determine your loan amount. Any vehicle needs to be paid in full in order for it to qualify as collateral.
Loan approval
Upon approval of your application, provided you are happy with the repayment terms and the terms of the contract, the cash will be paid directly to your bank. Your collateral (vehicle) will remain safe in Xcelsior's secure storage facility until the end of the loan term. If you default on payments your item of collateral will be claimed and sold to cover the outstanding loan.
Repayment terms
Xcelsior's clients are given options and choices when it comes to repaying their personal cash loans. Determine how much you can afford to spend on monthly repayments and how long it will take you to repay the amount of cash you borrowed by using an online loan calculator. Once your loan is paid back in full, Xcelsior will arrange for you to get your vehicle back, it's as simple as that!
Customer Reviews & Testimonials
"
June 2019
I got my car great service that has gotten me my car faster than I thought O would get it.
Juan N
— Port Elizabeth —
June 2019
Great service that has gotten me my car at a better price and my loan has landed up being less per month to pay back because they put the extra work in.
Daniel C
— George —
June 2019
They were truly patient and helpful with me when I called them to ask a few questions.
Jackie S
— King William's Town —
June 2019
Great service and truly show great professionalism as they helped me get my car loan.
John M
— Johannesburg —
Xcelsior Loans Contact
Contact Number
E-Mail
Website
Physical Address
Building 2, Villebois Office Park, Cnr De Villebois & Jacques Streets, Moreleta Park

Pretoria

Gauteng

0044

South Africa
Opening Hours
Monday

08:00 – 17:00

Tuesday

08:00 – 17:00

Wednesday

08:00 – 17:00

Thursday

08:00 – 17:00

Friday

08:00 – 17:00

Saturday

08:00 – 12:00

Sunday

– Closed