Car finance up to R2,000,000
HIGH approval rate
Repayment up to 72 months
In-page navigation
---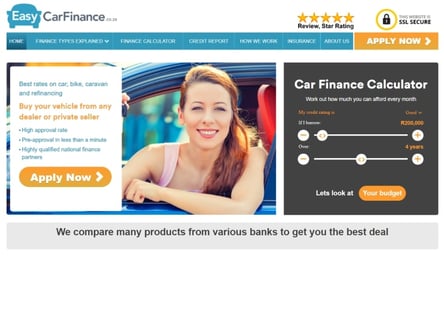 Author Easy Car Finance. Screenshot of Easy Car Finance website.


[Accessed December 9, 2022]
About Easy Car Finance
Easy Car Finance has partnered with the right people to allow quick and easy payouts to clients in need of affordable vehicle finance.
The best part is they can approve your financing in just a few short hours! This means that you could apply and drive away in your new car today!
Smooth hassle-free service
Easy Car Finance provides vehicle finance and take care of all the necessary steps for you so that you enjoy a smooth and hassle-free service.
With Easy Car Finance you benefit from expert assistance throughout every step of the process.
Making car finance easy
For many years they've assisted clients with vehicle financing through their simple-to-use processes.
This makes life as easy as possible and speeds up the entire application process.
Their consultants will assist you right through to the point where you drive off in the car of your choice.
Online technology is paving the way to innovative processes in the finance industry, and Easy Car Finance has adapted to the trends and have created a better and more user-friendly way of getting your car finance online.
What makes them different is that they offer 24/7 service. Simply apply online at any time and on any day, at your convenience.
Easy Car Finance Services
Easy Car Finance's services are available for all South African citizens and are completely customer-focused.
They continue to find and provide new and impressive ways to ensure you receive what you want when you need it.
Exceptional service and products
Easy Car Finance studies the market to stay ahead of market trends - ensuring their processes and delivery are nothing short of exceptional.
Some of the benefits of their services include:
Call their call centre 24/7 and speak to one of their knowledgeable staff who knows the industry well and can answer any questions you may have
A fast, streamlined, and secure online loan platform that's quickly able to process your application
You get approval on the pre-approved vehicle loan within 15 minutes
Enjoy assistance to meet the roadworthy requirements on new or used vehicles
They can provide optional value-added services including comprehensive vehicle insurance and refinancing options
Highly competitive packages
With efficient and well-skilled staff equipped with industry-leading expertise and knowledge, they're highly competitive in the vehicle finance market. They offer fixed interest rates and refinance options.
Best rates in the industry
They negotiate the very best rates and premiums with affordable repayment terms to suit your individual needs. Easy Car Finance can negotiate a loan for you ranging from R35,000 up to R2 million with APRs ranging between 9.25% and 15%. Loan terms are between 24 and 72 months.
Easy Car Finance – Car finance
Loan Type

Car finance

Loan Amount

up to R2,000,000

Repayment

24 months to 72 months

Decision

15 minutes
Benefits of Easy Car Finance
HIGH approval rate
Car finance up to R2,000,000
Repayment up to 72 months
 Easy Car Finance offer 24/7 service delivery on your vehicle finance
Apply for vehicle finance 24/7 from Easy Car Finance's easy to use online platform from any device that has an internet connection.
They offer competitive rates on cars, bikes, caravans, and more. They also offer the value-added benefit of being able to refinance your vehicle loan. Their loan applications have a very high approval rate and don't require a deposit. Their services ensure you get pre-approval on a vehicle loan within only 15 minutes. Follow these easy steps and you could be driving away in your new vehicle today:
Step 1
Apply via the online application form available on their website. There's an online calculator provided to help you determine how much you can afford to borrow and what your repayment structure will be.
The process will take about 15 minutes to complete and you'll be notified if you've been pre-approved. You'll be sent an answer by email or via SMS.
Step 2
A designated consultant that has many years of experience and is knowledgeable in the finance industry will access your application and determine if you'll be able to afford the loan. They provide VIP service to all their clients and will keep you updated throughout the application process.
You'll be informed whether or not your application has been approved. If you've received pre-approval then you'll most likely be approved for the amount you requested.
Step 3
It's time to buy your car. After you've found the vehicle you wish to purchase, we'll arrange the necessary payment to the dealer or seller. You need to make sure the vehicle they'd like to purchase is no more than ten years old in order to be approved for finance. Easy Car Finance's favourite part of the process is watching clients drive off in their new car which they've helped them buy.
To ensure that you remain a happy customer, their after sales team will be in touch to find out if you're happy with your purchase and that everything is in order.
Customer Reviews & Testimonials
"
May 2019
The application is so easy and quick I was shocked that I had completed as quickly as I had and then submitted the app.
Kyle C
— Johannesburg —
May 2019
They have gone above and beyond to help me get a better loan for my car and the best part is I will be paying less.
Justine Y
— Cape Town —
June 2019
I got my car thank you guys for the great service. If you are looking for a great loan look no further
Matthew V
— East London —
Easy Car Finance Contact
Contact Number
E-Mail
Website
Physical Address
Roeland Square, Gardens

Cape Town

Western Cape

8001

South Africa
Opening Hours
Monday

08:00 – 17:00

Tuesday

08:00 – 17:00

Wednesday

08:00 – 17:00

Thursday

08:00 – 17:00

Friday

08:00 – 16:00

Saturday

– Closed

Sunday

– Closed