Car finance up to R800,000
Low-interest starting from 6%
Repayment up to 72 months
In-page navigation
---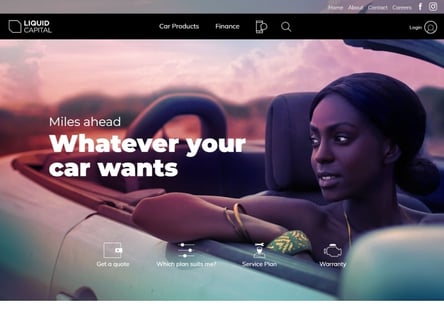 Author Liquid Capital. Screenshot of Liquid Capital website.


[Accessed December 9, 2022]
About Liquid Capital
Liquid Capital offers a unique one-stop-shop for vehicle financing referrals, insurance and service plans and provides products and services from leading motor brands across South Africa.
Apply for vehicle finance from their list of dealers for any car make including Hyundai, Kia, Mitsubishi, Chery, Foton, Proton, and TATA, just to name a few.
It's easy to apply for vehicle finance
If you've already found the car that you're searching for, Liquid Finance can help you find the perfect lender to finance it.
The first thing you need to do is calculate your affordability. This can be done by using their helpful online calculator.
Once you know how much you can afford, simply choose the loans and value-added services that suit your budget and motoring needs.
Advantages of Liquid Finance's online platform
There are many benefits to applying through their online process. These benefits include fast friendly service that's efficient and effective as well as access to leading car finance providers.
You can apply using an online loan application available on the various dealership and lender sites at any time of the day or night.
If you need help or have a question, use their live chat option to chat with one of their consultants.
Liquid Capital Services
Liquid Finance aims to make the process of applying for vehicle financing and value-added services a pleasant experience from start to finish.
Once you've applied for financing you'll have complete access to your account 24/7. All you need to do is log in with your ID number and the unique pin that you'll be given. Set up a username and password to view your account and track the payments made.
Fixed & variable interest rate options
When you apply for vehicle financing through any of the dealers listed on Liquid Finance, you'll be given the choice to apply for a fixed or variable interest rate loan. This is exactly the same as you'd find when applying for a personal loan online.
Prime interest rates changes will affect how much you pay on any given instalment if you opt for a variable or fluctuating interest rate. This could mean that your repayments may increase or decrease along with the unpredictable market.
A fixed interest rate means that you'll be charged the same amount for the duration of the loan contract and you'll always know exactly how much you need to repay each month. This also means that if the Prime interest rate changes, these changes won't have any effect on your payments.
A balloon payment option
If you need to pay a balloon payment at the end of the vehicle finance agreement you'd benefit from a fixed interest rate since you'll be able to budget more efficiently. If you're under a rental agreement and will return the car to the dealer at the end of the loan term, you'll need to take this into consideration.
Liquid Capital – Car finance
Loan Type

Car finance

Interest Rate

6 – 24% p/a

Loan Amount

up to R800,000

Repayment

12 months to 72 months
Benefits of Liquid Capital
Instant response
largest service and maintenance plan providers
Reliable lender
Finance a NEW car quickly with Liquid Capital
Now that you know where to get your dream vehicle and the most affordable finance to go along with it, you may want to look at options to protect your new investment.
There are many different options that you need to consider when it comes to ensuring your vehicle. You may also want to take out maintenance and service plans offered by Liquid Capital.
Compare options to save big
Their one-stop-shop allows you to apply for comprehensive vehicle insurance from a reliable provider. They'll source affordable insurance, maintenance and service options that suit your budget and any other requirements that you may have.
Complete the online application form providing your personal and vehicle information and they'll bring you the best deals.
Apply for pre-approval
Once you have submitted your application form, you'll know within seconds if your vehicle financing is pre-approved and for exactly how much. All the car finance available at selected dealerships and FSPs are listed on Liquid Capital's site for you to consider.
Use their repayment calculator to find out how much your repayments will be based on the vehicle you've selected. While Liquid Capital are a registered Financial Services Provider, they don't offer vehicle financing directly. Rather, they make recommendations on where you can get the best finance based on your budget and needs.
A service plan you can rely on
It's important to make sure that your vehicle is protected with a service or maintenance plan to help keep your car in tip-top shape.
There are many benefits of applying for one of their service plans, these include:
The cost to service your vehicle will be fixed so you'll save money on scheduled services
Only the most skilled, well-trained technicians will service your vehicle
Dealers are OEM approved
All parts used by dealers are of the highest quality
Roadside assistance when you need it most
Another unique benefit that Liquid Capital offer motorists is their complimentary roadside assistance. If your vehicle breaks down they'll send someone to assist you and get you back on the road even faster. To apply for this service you'll need to either complete the application form or take out one of their service or maintenance plans.

Liquid Capital is a trusted & reliable provider of car finance
In our review, Liquid Capital adheres to the compliance criteria in accordance with the National Credit Act, where the granting the loan will not cause financial distress to the consumer.
✅ Liquid Capital is a registered credit provider in South Africa: FSP 6210
Customer Reviews & Testimonials
"
June 2019
Great service and they offer you so many plans so that you can look after your self and your car once you have received your loan.
Shaun R
— Johannesburg —
May 2019
Awesome service I applied for a car loan this will be my first car that I will be purchasing and I could be any happier that I have received the approval.
Misque N
— Johannesburg —
May 2019
I got the car of my dreams thank you for the great service.
Micheal C
— Cape Town —
June 2019
They approved our car loan and then went above and beyond to let us know about the car insurance and warrantee that we took and it has been worth it all the way.
Marko B
— Johannesburg —
Liquid Capital Contact
Contact Number
E-Mail
Website
Physical Address
Building 3, The Bridge Office Park, 146 Boeing Rd, Elmapark, Edenvale

Johannesburg

Gauteng

1609

South Africa
Opening Hours
Monday

08:00 – 17:00

Tuesday

08:00 – 17:00

Wednesday

08:00 – 17:00

Thursday

08:00 – 17:00

Friday

08:00 – 17:00

Saturday

– Closed

Sunday

– Closed