Innovative Car Loans
Tailored Finance Solutions
Repayment up to 72 months
In-page navigation
---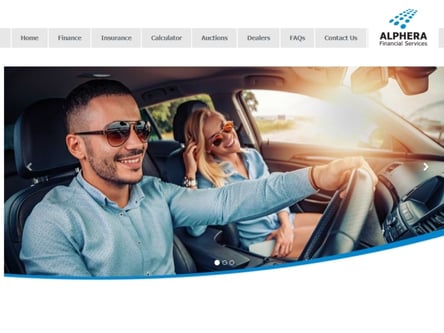 Author ALPHERA. Screenshot of ALPHERA website.


[Accessed December 9, 2022]
About ALPHERA
ALPHERA Financial Services, founded by BMW in 2001, is a car finance company that has grown in leaps and bounds over the years.
Striving to always remain at the forefront of vehicle finance, they challenge themselves and their staff every day. They strive to welcome new customers and help them get their dream cars.
From humble beginnings to who they are today
Alphera started small, but it expanded its reach across the country, extending its services to new communities, and growing to new heights. A decade after their inception, they could hardly have a candle held to their flame.
They continue to grow and adapt, always remaining on the cutting edge of online loans and related services.
You can rest easy at night knowing that they've got you covered.
Joining the Alphera family is easier than you think
The application process is simple and easy, taking only a few minutes of your time. After you've applied and registered with them, here's the process you'll follow:
Select an available contract term – this is to decide for how long you're willing to make the repayments.
Choose a deposit amount – this is important, as it'll determine your monthly instalment size.
These are the main things to be concerned with. You will only take full ownership of your vehicle once the full loan amount has been repaid.
ALPHERA Services
There are many reasons why you should be using their services, but they prefer to let these distinguish them from their competitors naturally.
Their clients are happy with their quick loans and related services, as you'll note from their long list of great reviews.
Their fixed rates keep them popular
When they say fixed rates, they mean it too, unlike some of their competitors that move their monthly payments and interest rates up and down.
They keep their interest rates, monthly payments, and interest rates fixed.
They do this to ensure there are no unexpected surprises. Nasty increases can destroy your budget for the month, and they don't want that.
Complimentary services we offer
You'd think with their vehicle finance sourcing service being free, they'd be hiding some costs on their site somewhere, but this isn't the case.
In fact, they have a few extra features available to you and the general public on their site. These are available at all times of the day or night, for your convenience.
They believe in helping their clients for the greater good, and it's why their company came into being all those years ago.
They offer the most stable repayment rates, the best deals on both new and used vehicle loans and other services like car insurance.
ALPHERA – Car finance
Loan Type

Car finance

Repayment

12 months to 72 months
Benefits of ALPHERA
Innovative car loans
New & pre-owned cars
Term up to 72 months
Innovative finance for new & quality pre-owned vehicles
They do, however, require a few details to get things out on the road.
The requirements for their services:
You must be a South African citizen
You must have a valid RSA driver's licence
Proof of income
A clean credit record
An income of R10 000 or more
A vehicle in mind that costs R50 000 and above
The age of the vehicle must not exceed 12 years at the close of the loan
These are simple guidelines to ensure that your car finance is comfortable, easy, and legal.
Alphera has 2 finance options:
Instalment sale
You enjoy the option of reduced monthly instalments with a balloon payment.
They offer you no deposit financing but you could choose to pay a deposit which will also reduce your monthly instalments.
Flexible repayment terms from 12 to 72 months.
You enjoy a fixed interest rate option and be sure your payment stays unchanged throughout your finance term.
Edge payment plan
You pay 50% of the total amount as a deposit and only repay the interest amount.
Enjoy low repayments
You have 36 months to repay the loan
Alphera's finance calculator
Alphera has a nifty finance calculator on the website that you can utilise to get a clear picture of what your borrowing power is. This calculator also tells you what you can expect to repay on your monthly instalments.
They also provide services to companies
They don't see why companies should be excluded from receiving their excellent service. Indeed, they felt compelled to set out their own set of rules and regulations, but still, ones that retain their own company's generosity and ease of use.
Another small thing to note about their process, however, is that early settlements are possible if pre-discussed with your lender, but they may be subject to a small penalty fee.
You could also reduce your instalments with multiple payments. This would be if you find yourself in a position to put more money into your loan than expected.
All that's left to do is check out their easy step-by-step online loan application process. Get in touch and find out what Alphera can do to help you, just like they've helped countless others.
The application form will consist of the following:
A National Credit Act consent section
Your personal information
Your financial information
Information related to the vehicle in question

ALPHERA is a trusted & reliable provider of car finance
In our review, ALPHERA adheres to the compliance criteria in accordance with the National Credit Act, where the granting the loan will not cause financial distress to the consumer.
✅ ALPHERA is a registered credit provider in South Africa: NCRCP2341
Customer Reviews & Testimonials
"
March 2020
Alphera loans really helped me out, I had my brand new car keys in my pocket within 2 days of applying for my loan.
Johnothan Y
— Johannesburg —
October 2019
I was struggling to handle an original vehicle loan I had taken out. Alphera helped refinance me and now I have nothing to worry about.
Steven B
— Port Elizabeth —
ALPHERA Contact
Contact Number
E-Mail
Website
Physical Address
1 Bavaria Ave, Randjespark

Midrand

Gauteng

1685

South Africa