NO Deposit Finance
Nationwide delivery
Insurance cover
In-page navigation
---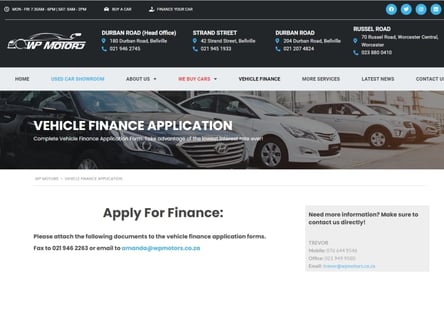 Author WP Motors. Screenshot of WP Motors website.


[Accessed December 9, 2022]
About WP Motors
Buying your first vehicle is an exciting event! So, what better place to secure vehicle finance than at WP Motors who have over 30 years of experience in the field?
WP Motors have been so successful because they're a family run and owned company that believes in the tradition of celebrating the purchase of your very own vehicle.
Spreading the joy
Their aim is to spread the joy of buying a car to those that have not experienced it before and cannot afford to buy a car without financial help.
They do this by offering no deposit deals on their vehicles. This gives everyone the opportunity to apply for finance whether they have a deposit to put down or not.
So many cars to choose from
Since 2001, WP Motors has been offering South Africans the best deals on no deposit vehicle finance. Their vast range of vehicles ensures that you'll find something suitable and, if they don't have it, they'll find it for you.
WP Motors deliver nationwide
Another reason WP Motors are so popular is that they offer nationwide delivery on all their vehicles. Once they've found you your perfect match they'll hand deliver you the car of your dreams. Even if you don't have a cent to put down as a deposit on a car, they'll be able to help you with vehicle financing.
WP Motors Services
Apply online by visiting WP Motor's website and completing the online loan application form, browse through our hundreds of vehicle deals and find the car of your dreams!
Applying for vehicle finance used to be difficult and time-consuming, but as times have changed and technology has improved, something that used to take a week can be done with a few clicks of your mouse in minutes!
WP Motors can assist you in obtaining car finance to suit your needs from a multitude of leading South African finance houses including Nedbank's MFC, WesBank, and Absa.
Supporting documents for a registered business:
A copy of the business registration papers
A 3-month statement from the bank detailing your businesses finances (must be stamped by the bank)
A copy of the businesses proof of address
Proof of address for all members
A copy of all the member's ID's
If you're a private individual, you'll need to submit:
A copy of your last 3 months bank statements
A copy of your ID
Proof of address (not older than 3 months)
A copy of your driver's licence
If you're married, you'll need to supply a certified copy of your spouse's ID and a copy of their driving license
Benefits of WP Motors
No deposit finance
Nationwide delivery to your doorstep
Insurance cover
Warranty
With WP Motors you can finance your dreams car today!
Wouldn't it be nice if finding the car you want was as easy as ordering a pizza? Well, now it is!
You can completely customise your car search and find exactly what you've been searching for in the half the time. WP motors' online personal loans and car loans application form is all about the details so that they can help you secure exactly what you require.
Choose the type of vehicle, colour, model, and year. You can even select the number of kilometres that a car should have on the clock and the condition of the vehicle. Let WP Motors know your budget and they'll find both a vehicle and car loan to suit it!
So many choices!
There are so many options available on WP Motors' website that it can be difficult to determine which option is best for you. Browse their collection of cars (that are in excellent condition) to find the one that best suits your needs and apply for financing, it really is that simple!
Delivery to your doorstep
Once you have found your ideal car and secured financing you're ready to get behind the wheel! WP Motors will deliver your car directly to your doorstep anywhere nationwide. No matter where you are in the country they'll find you and deliver your keys! If you don't have a deposit it's not a problem as you can still qualify for the best deals at the lowest prices from this competitive lender!
Protect your most valued possession
Your shiny new car will become one of your most valued possessions, it would be terrible to have something happen to it and have you stuck paying off a car you no longer can drive or even have!
All the vehicles that WP Motors have on offer can easily be protected by one of their insurance policies, so you can drive around happily knowing that you're covered. Their warranties are available on second-hand vehicles and they offer affordable service plans.
One-stop shopping
There's no need to run around looking for insurance cover or other vehicle-related products, as WP Motors offer a full range of services so that you can get everything you need under one roof from a car loan to a short-term loan that you can pay off sooner.
WP Motors offer the following value-added services to our clients:
Car sales – sell your current vehicle
Vehicle financing – buy the car of your dreams with a little help from their affordable car finance
Insurance cover – make sure your car is covered from the start
Warranty – enjoy the peace of mind you deserve
Visit their website and browse through all WP Motors have to offer any time of the day or night!
Customer Reviews & Testimonials
"
May 2019
Great service and they help you to make the right decision when you apply for your loan and get approved.
Jacob S
— Port Elizabeth —
June 2019
Yes they go the extra mile to make sure you get the best and that is why they offer the extra warranty and insurance which we have taken on our car to know that our car is safe with them.
Megan W
— Cape Town —
WP Motors Contact
Contact Number
E-Mail
Website
Physical Address
180 Durban Rd

Bellville

Cape Town

7530

South Africa
Opening Hours
Monday

07:30 – 18:00

Tuesday

07:30 – 18:00

Wednesday

07:30 – 18:00

Thursday

07:30 – 18:00

Friday

07:30 – 18:00

Saturday

08:00 – 14:00

Sunday

– Closed