Debt Consolidation Solutions
Get debt RELIEF
Save on interest
In-page navigation
---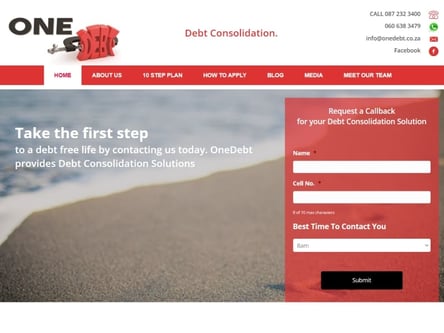 Author OneDebt. Screenshot of OneDebt website.


[Accessed December 12, 2022]
About OneDebt
OneDebt has over 20 years of experience in helping clients on the road to becoming debt-free.
We have a team of dedicated and experienced debt counsellors, who all share the same passion, which is to help people to a full recovery when it comes to being over-indebted.
When times are tough, we are here to help
In the harsh reality of today's economy, we find that buying on credit is a lot easier than going without. Being able to financially get through the month on our salary is almost non-existent. The more credit we use, and the more loans we take out to cover the credit, starts to build up into a mountain of debt that becomes impossible to pay back each month. This is the reality of thousands and thousands of South Africans today.
We provide debt service to clients who are in this situation and are looking for a way out, without actually taking out another loan to cover their debt.
OneDebt Services
When you feel that your debt is getting a little out of hand, and you are struggling to pay your instalments each month, OneDebt has the solutions to help you out of that sticky debt situation.
Our services include debt consolidation through debt review, as well as debt counselling and debt management.
Convenient and effective debt solutions
Our process is a step-by-step path, where we evaluate your current situation in regards to how much debt you have and then work out a minimised and more affordable repayment on your debt in total.
We understand our customers
The risks of being over-indebted can be stressful. You could lose your home, car and any other valuable assets for missing payments and be listed as a bad credit client for being late on payments. You may be starting to receive letters from layers and creditors harassing you for payments on a regular basis.
OneDebt – Consolidation loan
Loan Type

Debt consolidation
Benefits of OneDebt
Debt Consolidation Solutions
Save on interest
---
OneDebt will help you get rid of your debt and stay out of debt
Why go through this trauma, when we have a solution, which will work effectively to get you out of debt for good.
All you need to do to get your debt-free life started, is to contact us, via telephone or email, and one of our experienced debt counsellors will contact you to discuss the next steps.
Legal protection for our customers
We protect you legally against judgements against your name throughout your journey with us, as well as saving you from losing your assets. We care about our clients and go the extra mile to helping them get financial freedom.
OneDebt will help you get rid of your debt long-term
Minimize your debt by consolidating your existing loans under one reduced monthly instalment.
We offer a solution called debt review, which enables clients to have their debts assessed and a new consolidated single payment to be worked out so that you can actually afford to enjoy life again.
Don't live in financial stress as we are here to help
When you are over-indebted it means that you have too much debt on your plate and that you actually cannot afford to pay your instalments each month. You may be starting to get letters from the lawyers, handing you over, or getting endless calls from creditors because of missed or late payments. We will keep you safe from all of the above mentions actions.
Here is your financial solution
With our debt review process, clients can leave their worries behind, and work on a path to become debt-free. We can start by getting an application form from you as well as a copy of your identity document, a recent payslip and your bank statements. We also need a list of your current debt, and creditors, with the amounts outstanding. This will be used to identify if you qualify for debt counselling, or not. We will then contact your creditors to arrange a negotiated reduced amount to pay back on your debt. These reduced amounts will all be consolidated into one single monthly instalment.
Debt relief
We will notify all your creditors that you are undergoing debt review, so they will no longer hassle you while under our services. Once you have paid up all your debt in full, we will provide you with a credit clearance certificate to give to all your creditors, to clear your name.
This process works
Lower your monthly debt payments. Be protected from any legal action from creditors. We have thousands of clients using this solution right now, and thousands more who have been cleared and debt-free from our solutions. Try it for yourself. Contact us today and start living debt-free.
Documents you need for the application:
South African ID document/Smart card
Your recent payslip
A complete list of all your monthly deductions
A breakdown of all monthly income and expenses
Your dependants
A list of all your creditors and current debt
Customer Reviews & Testimonials
"
January 2019
One Debt was able to give me the exact amount I needed to close all my loans!
Richard K
— Vanderbijlpark —
April 2019
Through the help of One Debt's consultant, I was able to get a loan on the very same day I had applied for it.
Frank J
— Northern Cape —
OneDebt Contact
Contact Number
E-Mail
Website
Physical Address
14 McIntyre Square, McIntyre St

Parow

Cape Town

7500

South Africa
Opening Hours
Monday

08:30 – 17:00

Tuesday

08:30 – 17:00

Wednesday

08:30 – 17:00

Thursday

08:30 – 17:00

Friday

08:30 – 17:00

Saturday

– Closed

Sunday

– Closed