RESET your debt
Online financial services
Easy online applications
In-page navigation
---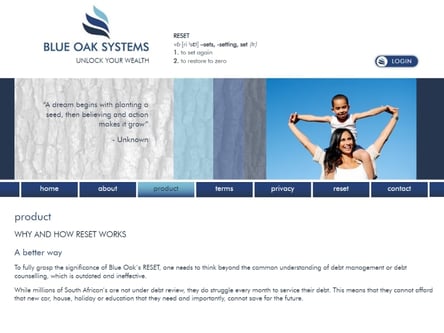 Author Blue Oak Systems. Screenshot of Blue Oak Systems website.


[Accessed December 12, 2022]
About Blue Oak Systems
Blue Oak Systems is a leading provider of debt consolidation solutions for private individuals.
They help South Africans identify their true potential for wealth creation and make the most out of it. They have the tools and expertise to provide a full assessment of your financial portfolio and financial needs.
Reset your debt
Reset is for anyone willing to better their financial situation. It could be a motivation for those who want to improve their standard of living, or help lighten the burden of debt that they sometimes find themselves in, choosing Reset means you have a chance to start over and to start saving.
Blue Oak Systems, don't believe that all debt consolidation needs to be seen as a negative effect. They offer a financial tool, which helps to change the views on debt management.
They're enthusiastic about helping you
Using the right tool such as Reset will give you an objective understanding of your financial portfolio, you could possibly learn how to make your money do more.
Reset has been designed to streamline your debt, free up your cash flow which in the long run saves you money. Reset is endorsed by South Africa's top lenders delivering answers in minutes.
Blue Oak Systems Services
Blue Oak Systems carries an in-depth analysis of your present debt quickly and efficiently and creates a solution to get you out of debt without hassle and risk.
The custom solution will settle your entire existing debt by consolidating it into a single loan with affordable repayment terms which match your budget completely.
Smart technology
They use a smart algorithm that allows you to tap into the equity that has not been used before and which can be utilised effectively for maximum cost-efficiency. You'll not only be comfortable about the repayment of your debt but you'll actually enjoy a rise in your cash flow which will give you greater financial independence and flexibility.
Is your debt weighing you down?
Do you feel that it's becoming harder to maintain your standard of living, perhaps you've had unforeseen expenses that you did not budget for. Is there a chance that you would like to buy a new vehicle but your loan application has been declined?
In the present economy, there are millions of South Africans struggling from month to month to make repayments on their debt. This means they're unable to afford a holiday, purchase a new vehicle, or pay for education but more importantly, they're not able to save for the future
Blue Oak Systems – Consolidation loan
Loan Type

Debt consolidation
Benefits of Blue Oak Systems
Erase your debt
Debt reset
Online financial services
---
Blue Oak Systems are the experts in consolidating your debt efficiently
You have used several credit cards and have one or more personal loans to repay.
In this situation, you have to act quickly in order to avoid getting bad credit. Blue Oak Systems is focused on the usefulness of its online debt consolidation loans. Find out whether they can help you avoid getting into financial distress.
Consolidate your debt using a tailored strategy
Based on professional analysis, they've devised the most efficient strategy for debt management and wealth-building that you can expect to find. With their service, you'll have a speedy expert solution that's easy to implement. You'll enjoy financial freedom and stability and the lifestyle that you want while having perfect peace of mind.
Dedicated to serving you
Blue Oak Systems is a financial service provider working with South Africans from all walks of life.
They're a small company, fully dedicated to serving you. They operate entirely online and this enables them to serve you irrespective of your location. Their online service is super convenient and you have the convenience to use it without leaving your house.
Reset is a complete online debt consolidation program developed by Blue Oak Systems.
Debt consolidation
You need to provide complete information on your current debt and income to the company so that their experts can analyse your situation. When this is done, they'll offer a debt consolidation loan which has a smaller monthly instalment compared to the one which you pay currently.
The loan can be secured or unsecured depending on the size of your existing debt. If you accept this offer, you become part of the program. Blue Oak Systems will use the new loan to repay your entire debt and you'll have to pay a single monthly instalment.
The debt consolidation loan of Blue Oak Systems will certainly reduce your monthly instalment. The size of the reduction will depend on the new interest rate.
The lower it is the better
In order to qualify for a lower rate, you have to have a clean credit record. Any late and missed payments can have a negative impact on the affordability of the new loan.
You can expect the new loan to have a considerably longer term for the purpose of keeping the monthly instalment low. This is beneficial if you're in a difficult situation, but a longer term will make the loan costlier. That's why you should consider planing for early repayment.
Customer Reviews & Testimonials
"
February 2019
I wouldn't have been able to attend to my financial emergency if Blue Oak Systems didn't approve my loan on time.
Thulani M
— Port Shepstone —
Blue Oak Systems Contact
Contact Number
E-Mail
Website
Physical Address
1st Floor, Pointbreak House, The Vineyards Office Park, 99 Jip de Jager Road, Tyger Valley

Cape Town

Western Cape

7530

South Africa
Opening Hours
Monday

08:00 – 17:30

Tuesday

08:00 – 17:30

Wednesday

08:00 – 17:30

Thursday

08:00 – 17:30

Friday

09:00 – 17:30

Saturday

– Closed

Sunday

– Closed