Low-interest starting from 20%
Consolidate existing debt
Repayment up to 60 months
In-page navigation
---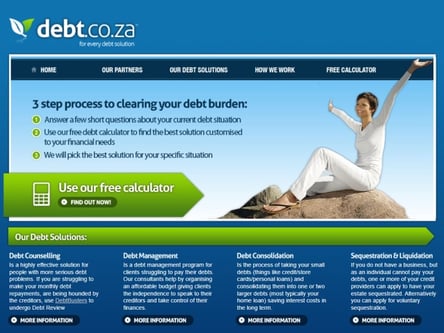 Author Debt.co.za. Screenshot of Debt.co.za website.


[Accessed December 12, 2022]
About Debt.co.za
At some point in your financial journey, you're likely to hit a few financial potholes.
It's normal for any individual to experience an unforeseen problem that will inevitably result in some form of debt. The debt is not the problem but rather the way in which the debt is managed. Debt.co.za is there to help you determine the best way to manage your debt without stress and anxiety and offer you everything from debt consolidation to debt review and more.
Debt.co.za to the rescue
If you find yourself drowning in debt they're happy to announce that they'll be the lifesaver that you've been looking for. Debt.co.za is an intermediary for trusted and registered financial advisors. This means that they act as the middleman for your debt solution.
A quick loan application
They'll assess your application and determine which financial advisor will be best suited to deal with your financial predicament. At Debt.co.za they're passionate about helping you regain your financial independence by helping you to get back onto your own feet. Their online loan application will only take a few minutes of your time so grab a cup of coffee and start the journey to debt recovery the right way.
Debt.co.za Services
Feeling as though you're not in control of your finances is a recipe for disaster and their debt consolidation loans may help you gain control.
There's no shame in asking for help and they're more than willing to extend that helping hand.
Their panel of service providers offers a wide variety of financial products and services that are highly flexible and customisable to suit your preferences and needs.
Do not hesitate to consolidate
It's not uncommon for an individual to have more than one credit card, a few store cards, and even some hire-purchase loans. The problem lies in the fact that each of these debts has its own fee structure and repayment dates.
It can be difficult to keep track of all these debts and ensure that you're making the repayments when they need to be made. This is why debt consolidation is the perfect solution.
A debt consolidation loan combines the smaller, expensive debts into one large loan. This way you're effectively paying off all the other debts and only paying one single personal loan.
Reach financial freedom with Debt.co.za
If you're opting for a debt consolidation loan from Debt.co.za, you'll be pleased to hear that they offer repayment terms of between 24 and 72 months. Their interest rates range between a minimum of 20.25% and a maximum of 24.50%.
Debt.co.za – Consolidation loan
Loan Type

Debt consolidation

Interest Rate

20 – 27.75% p/a

Repayment

12 months to 60 months
Benefits of Debt.co.za
Debt counselling
Debt review
Financial advice
---
Get a handle on your finances today with Debt.co.za
Whether you're already in debt or want to proactively avoid a debt situation, their panel of advisors can be of assistance.
They also offer debt management and debt counselling to get you onto the right path for recovery.
Debt management – be proactive about debt
This is the perfect option for individuals who are struggling to repay the debt but are not yet over-indebted. A financial advisor will assist you to establish a monthly spending budget to suit your current income and spending habits without changing your lifestyle. A debt management plan is structured according to your needs and will provide you with more control over your finances.
Why you should consolidate your debt
By consolidating your debt you're able to save money monthly. Multiple debts each have their own interest and fees which can become costly. A debt consolidation loan, however, only has one fee and one repayment which will save you money. This additional money can be used to repay the loan faster or to finance the things that you enjoy in life. Most importantly, debt consolidation makes your money more manageable and reduces the complication of repaying multiple creditors. Make your life simpler today and apply for a debt consolidation loan.
Debt counselling for better financial management
If you're struggling to meet your monthly repayments, are constantly being hounded by your creditors and want to be free from the shackles of debt then debt counselling can be the perfect solution for you. Debt counselling is a formal debt repayment plan organised by a debt counsellor.
By approaching the counsellor you're acknowledging that you're in debt and willing to adapt your current lifestyle in order to become debt-free. The counsellor will design a repayment plan with your creditors and, after a while, you'll emerge from the situation and be debt-free. In order to qualify for debt counselling, you need to be employed and earn a monthly income.
Take the easy road to debt recovery
The road to recovery is not as difficult to navigate as you may suspect. Debt is nothing to be ashamed of and they encourage you to take the step toward recovery as soon as possible. After taking three small steps you'll find that you've done most of the groundwork already!
Simply complete their online quick online loan application so that they can get a feel for your current financial situation. Once the application has been completed, they'll determine the best solution and service provider to fit your needs.
Within two hours one of their experts will give you a ring to discuss the options available to you and will answer any and all questions that you may have.
The best part is – the initial advice provided is free of charge!
Customer Reviews & Testimonials
"
April 2019
Debt.co.za gave me a loan that gave me the opportunity to close all my loans!
Tshepo K
— Randfontein —
December 2018
I got my money on the very same day I applied for credit.
Nicholas S
— Witbank —
Debt.co.za Contact
Contact Number
E-Mail
Website
Physical Address
5th Floor, 11 Adderley Street

Cape Town

Western Cape

8001

South Africa