Unsecured Loans
Low-interest starting from 28%
Repayment up to 5 years
In-page navigation
---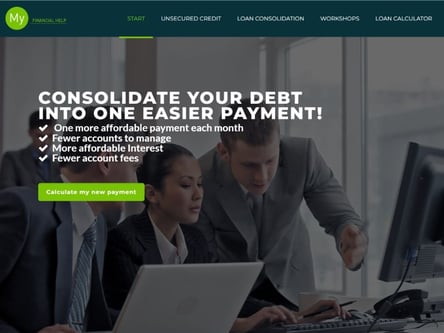 Author My Financial Help. Screenshot of My Financial Help website.


[Accessed December 12, 2022]
About My Financial Help
Did you know there's a difference between interest rates on credit cards and personal loans? Many people don't know this fact.
This can make your choice between loan products very difficult as the market is flooded with numerous of these products. This sector of unsecured credit is referred to as unsecured lending.
Unsecured lending categories
Unsecured credit facilities – Like credit cards and store cards can be used over and over again every time you use your card to make a payment. Out of the unsecured credit products, they usually have the lowest interest rate where the maximum amount of interest charged would be the current Repo Rate plus 14%. The cost of credit on these products is frequently reduced since only one initiation fee is charged at the initiation of the loans.
Unsecured credit transactions – These include products like car finance. You're given the total loan amount and typically, payments are fixed for the period of the loan. The interest rate on this product is higher than with unsecured credit facilities – the current Repo Rate plus 21%. One thing of caution is to be aware that initiation fees are charged every time a loan is taken, and this adds to the cost of credit.
Short-term credit transactions – A term that better suits this category and is mostly known by consumers would be payday loans. Loan amounts often vary but it's usually not more than R8 000 and as stated, taken over a short period of time. Since the loan is taken over a short period of time, the cost of credit is usually high. The cost of credit of payday loans is around 20% and has the highest cost of credit out of all unsecured credit products.
Consolidate your unsecured loan products with My Financial Help
Many South Africans will at some point in their life incur a form of debt through unsecured credit products due to many reasons. This can range from ease of access to these products and convenience.
Or plain and simple, sometimes life just happens. Every time you use one of these products without knowing the terms and conditions, you can build up a substantial amount of debt without knowing it.
For most people, the amount of debt incurred can be too much and they do not know where to start to sort out their debt.
If this is not possible, then it'll definitely reduce your monthly payments, giving you a sigh of relief. With their extensive products and services on hand, accompanied by professional and people-orientated staff, they're your one-stop-shop for debt consolidation loans.
My Financial Help Services
They offer, free of charge, a downloadable electronic book that contains valuable information on how to manage and improve your finances.
Everything you need from help on getting a loan approved, the ins and out's of credit scores, and what this could mean for your financial well-being to small tips that you would not necessarily find anywhere.
Did you know that even if you pay off all existing debt with, say example, a retail store, you can still incur a form of debt if you keep the account open?
Small things can make a big difference and this is just one simple example of the many amazing tips and blocks of advice they can offer you from the convenience of your own home.
My Financial Help is there to help you throughout the loan consolidation process which is the main method or process they use to help you.
This is the process of taking out one larger loan to pay off all or most of your existing debt at once.
Prefer a face-to-face meeting with hands-on advice? No problem!
Having a debt to pay off could cause a snowball effect on all aspects of your well-being, not just financial.
When a person incurs debt and notices they have to start paying it off, it can cause a person to take on extra jobs to pay off the debt and make ends meet.
This can in effect influence your personal and financial well-being. This is where they endeavour to be the best provider.
Workshops and training to promote financial wellness
Not only do they offer assistance when you need help with your debt situation, but they offer in-house training and workshops on how to manage your financial wellness from the beginning.
They offer this invaluable service to financial institutions such as Nedbank and ABSA but also corporate companies such as Shell, Woolworths and Multichoice.
Proactive steps in managing employee financial wellness are imperative to company wellness and staff relationships.
Company HR and Payroll departments have reported a decrease in staff members who work overtime, a rate of borrowing and improved employee relationships.
Consolidate your debt with My Financial Help
A consolidation loan from My Financial Help can offer you a repayment period of between 2 and 5 years. You'll pay a monthly fee of R60 and the annual interest rate is set at 28%. The rate is calculated at the current repo rate plus 21%. They have a link on the website for you to download a loan calculator.
My Financial Help – Consolidation loan
Loan Type

Debt consolidation

Interest Rate

from 28%

Repayment

2 years to 5 years
Benefits of My Financial Help
Unsecured credit
Short-term loans up to R8 000
Affordable debt consolidation
---
Credit scores – an undervalued tool in financial wellness
Your credit score received from a credible credit report is an invaluable tool on your journey to financial wellness and can have a big impact on your life. And no, it is not a bad thing.
Credit scores can actually have a huge impact on your finances for the better part. A good credit score can enable a person to apply for better personal loans online and usually at a lower interest rate too.
This can affect your choice in so many ways, from home loans to personal loans. On the flip side of the coin regarding credit scores, there is the term Blacklisting.
This is negative credit information on your credit report. Back in the day, this could have permanently crippled your ability to recover financially and apply for loans. Not to worry anymore.
They can assist you in removing negative credit entirely from your credit report. They offer free credit report checks through various reputable companies. This is just one of the many tools they have in their arsenal to assist you in your financial journey.
My Financial Help – a holistic approach to financial wellness
You probably have a few questions on your mind right now. Not to worry because My Financial Help is there every step of the way and they can assist you through the whole process.
From the moment you decide to consolidate your debt with them, or just took the decision to lead a financially healthy life, they can get you where you want to be and further.
Customer Reviews & Testimonials
"
September 2019
The free credit report provided by My Financial Help opened my eyes to my personal finances. I can now afford a home loan at a better interest rate.
Hendry B
— Port Alfred —
November 2019
I did not realize I incurred debt through my retail store cards. My Financial Help assisted me in sorting out all my debt and I am now financially savvy thanks to their advice. The free ebook was...
Verna S
— Fort Beaufort —
December 2019
I contacted My Financial Help to present a workshop on financial wellness to my employees. Over time, I saw my employee relationships improve with less overtime worked. My employees are happier, ...
Jeremy T
— Nelspruit —
My Financial Help Contact
Contact Number
E-Mail
Website
Physical Address
3 Cutter Cl, Blouberg Sands

Cape Town

7441

South Africa