Business Rescue
Complete financial wellness
Expert advice
In-page navigation
---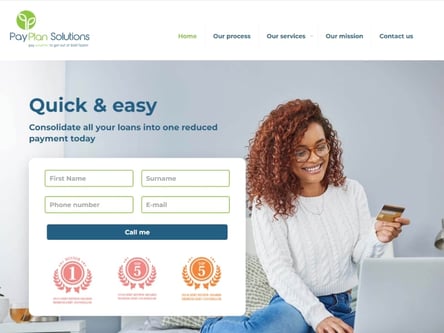 Author Pay Plan Solutions. Screenshot of Pay Plan Solutions website.


[Accessed December 12, 2022]
About Pay Plan Solutions
Pay Plan Solutions established its services in early 1999. Their solutions are based on the outcome of long-term debt relief for you.
Their service is delivered through their experience in the financial sector, and with their qualified debt counselling team, who work with you to offer value and quality customer service to every single client.
Reliable debt solutions
They're a registered firm of the National Credit Regulator and work in line with the credit laws of South Africa. They stand on behalf of you in court to get a court order to protect you throughout your debt counselling term, from creditors and legal action against them. They also have attorneys who will represent you should you need a business solution such as sequestration and liquidation assistance.
Debt consolidation
Their services allow you to consolidate debt into a reduced and more affordable amount, making paying off your debt a lot easier and relieving the financial stress on your shoulders.
At Pay Plan Solutions, they work with a number of registered service providers throughout the country, who can assist you with whatever financial service you may need, to get out of debt. This long-term contract, will add value to your life, and help you clear your name on the credit bureau.
Pay Plan Solutions Services
Contact them for an array of debt solutions to help you get out of debt.
They help manage your debt problems so that you can afford your repayments each month, and not have to worry about being threatened by creditors in the future. There are many people struggling with being over-indebted and don't realise that there are solutions to these problems, without taking out another loan, to cover your loans!
Debt solutions with the following benefits
The restructuring of your consolidated debt will allow for an affordable repayment each month, under just one monthly instalment!
They distribute the individual payments to your creditors
You're protected from harassment and threatening phone calls and legal letters from creditors. Your assets are protected!
You save on your budget, giving you more cash to spend on everyday living expenses
You get out of debt for good
You cannot take out more credit or make more debt when on our contract
You get a debt counsellor to help you throughout your term agreement, with all your questions and assist with creditors
They can assess your current debt situation with a simple phone call and will take you through the next steps to changing your life forever.
Pay Plan Solutions – Consolidation loan
Loan Type

Debt consolidation
Benefits of Pay Plan Solutions
Reduce your debt
Expert advice and guidance
---
Pay Plan Solutions will help you clear your debt and improve your credit score
They offer debt consolidation services, by alleviating the problem in its tracks and assisting you in going forward debt-free.
Debt is a killer emotionally and financially for people in South Africa. You rely on accounts, credit cards and quick loans to get you through the month, however, you're not always able to afford the credit you're so easily given.
How can you become debt-free?
So ask yourself, do you need to reduce your debt into one consolidated repayment, do you want to get rid of creditors hounding you for money, do you want someone to negotiate lower interest rates on your current debt? If you need all of these, then you're looking for assistance at the right place.
By contacting them, they'll assign a debt consultant to help you sort out your debt once and for all.
Debt consolidation loans
These loans are offered in secured and unsecured options. Their consultants can determine which of these options would best suit your needs, once they've had a chat with you.
After speaking to them telephonically, they'll ask for some information from you, supporting documents such as a copy of your ID book, recent bank statements, residential proof, and recent salary slips. They'll also need a list of all your creditors, this will include credit cards, personal loans, store accounts and anyone else you owe money to.
From there, they'll do an assessment of your debt, and determine which is the best way forward for you.
Their advice and guidance is the turning point in your life
You can be on the right path to ridding your debt for good, and they'll help you get there. You'll no longer be able to buy on credit during the term of your debt review should you opt for this solution, however, this is a positive measure to stop you from making more debt.
Get rid of your debt starting today, make the decision to better your life, and stay out of debt for good.
Customer Reviews & Testimonials
"
October 2018
If you looking for an affordable debt consolidation loan, Pay Plan Solutions will give you a great deal.
Millicent T
— Venda —
Pay Plan Solutions Contact
Contact Number
E-Mail
Website
Physical Address
B2 N1 City Mews, Manus Gerber St, N1 City

Cape Town

Western Cape

7460

South Africa
Opening Hours
Monday

08:00 – 17:00

Tuesday

08:00 – 17:00

Wednesday

08:00 – 17:00

Thursday

08:00 – 17:00

Friday

08:00 – 17:00

Saturday

– Closed

Sunday

– Closed