Free debt assessments
Instant debt relief
Reduced fees
In-page navigation
---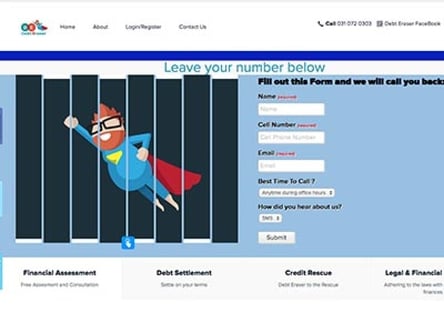 Author Debt Eraser. Screenshot of Debt Eraser website.


[Accessed December 12, 2022]
About Debt Eraser
Debt Eraser is a financial service provider with considerable experience in the industry. Our Establishment has been operating online since 2000.
We're based in Durban but we do provide our professional services throughout the country. We have experts who are ready, willing and able to assist you with everything you need to take control over your debt. We offer a wide range of service and we are professional and friendly.
Reliable & straightforward loans
The Debt Eraser online debt consolidation loans are just part of the comprehensive solution provided. Consolidate your loans & save money. We specialise in debt consolidation and debt counselling.
Our professional team will analyse all your accounts and offer the best advice for you to become debt-free, this means that all your accounts are rolled into one single account leaving you with only one repayment at the end of each month and you'll have an affordable interest rate as well as a payment plan best suited for your needs.
We have a quick turn-around time
Once your online application has been received and you've been approved we'll contact you immediately. You'll have much needed financial relief in no time our debt consolidation loans also come without complications.
Debt Eraser offer services based on experience and expertise, we are trusted by many and have assisted hundreds of people to become debt-free.
Debt Eraser Services
All South Africans have access to our website, we're 100% online.
We are here to ensure that you get a debt solution perfected for your situation in the fastest time possible.
A team of experts
Debt Eraser has a group of experts in debt management with a long term presence and well-established positions in the South African market. With our debt consolidation programs not only will your repayment be affordable, but you'll also only have one account to worry about, leaving you to worry about more important issues at hand.
Debt Eraser can literally erase your debt
We will take the responsibility to negotiate smaller repayments on your debt and the freezing or reduction of your interest rates and fees which all your current accounts carry. We strive to achieve excellent results thanks to our experience and expertise and the strong relationships that we have built with the major lenders in our country.
Don't delay in contacting us, your life can be a whole lot easier when you have some debt relief and we are able to assist you in the best possible way!
Debt Eraser – Consolidation loan
Loan Type

Debt consolidation
Benefits of Debt Eraser
One affordable monthly repayment
Reduced fees and interest rates
Free debt assessments
---
At Debt Eraser we will give you instant debt relief
Debt Eraser provides dedicated personalised and comprehensive debt consolidation assistance. You can be assured that Debt Eraser's consolidation loans are effective.
There is no point in struggling to make ends meet every month just because you have many different loans.
Debt Eraser offers a 3-in-1 service
The first part of the service is debt counselling. One of our experts will evaluate your income, spending and current debt and offer you a solution in managing your finances. This is an extremely important service because it offers assistance to keep you debt-free in the short term as well as the long term.
The second service in our package involves the finding of a suitable debt consolidation loan for you. The Debt Eraser experts will compare a variety of loan products to find an online loan in South Africa that matches your requirements in terms of interest rate, repayment term, monthly instalment and total cost.
A superior service
You will most certainly secure a lower rate and smaller monthly payments which will give you room to breathe.
The third service involves negotiation with your creditors. The experts of our company will contact them to request reductions in the amounts of money which you owe to them. There is never a guarantee that the negotiations will produce the desired results, but working with the specialists at Debt Eraser, you have pretty good chances.
Once debt reduction is achieved, you will be able to save even more money. Debt Eraser online debt consolidation loans are a great solution for anyone struggling with debt.
We are a responsible lender and urge you to only borrow the amount of money needed to settle your current debt and to ensure that you have the affordability to make your repayments comfortably.
Are you ready to take a step closer to being debt-free? If so don't hesitate to contact us, we would love to hear from you.
Customer Reviews & Testimonials
"
January 2019
Debt Eraser will always take your budget into account before giving you a loan.
Timothy Y
— Fochville —
May 2019
As long as you have Debt Eraser by your side, your finances will never go wrong.
Richard P
— Harrismith —
December 2018
The interest rates at Debt Eraser are the reason why I am able to pay my other expenses.
Rajesh K
— Durban —
Debt Eraser Contact
Contact Number
E-Mail
Website
Physical Address
183 Klaarwater Rd, Shallcross

Durban

KwaZulu-Natal

4093

South Africa
Opening Hours
Monday

07:30 – 17:30

Tuesday

07:30 – 17:30

Wednesday

07:30 – 17:30

Thursday

07:30 – 17:30

Friday

07:30 – 17:30

Saturday

07:30 – 17:30

Sunday

– Closed