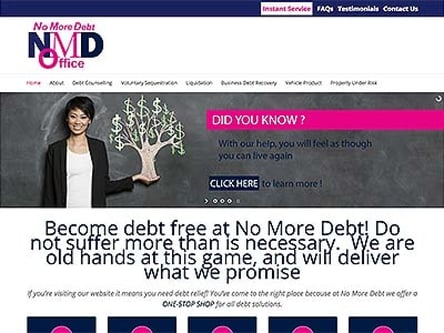 Author No More Debt. Screenshot of No More Debt website.


[Accessed December 12, 2022]
About No More Debt
No More Debt was established in 2010, and since then has been helping thousands of clients throughout South Africa, get rid of their debt for good.
Debt is so easy to make, with credit readily available at every online loans platform on the web today.
Debt consolidation
More credit providers are pushing their easy-to-get credit products onto clients, making it difficult to refuse, especially when you are struggling to make ends meet. We know that times are hard financially, and when you can afford to repay your loans and accounts each month, you stand a risk of losing your greatest assets. This stressful time can be alleviated, through debt consolidation.
This is not another loan facility
This is your way out of debt, by working with a debt counsellor, and a legal team, to reduce your monthly payments, making them affordable. Our teams are highly experienced in debt services and have a special way of dealing with your creditors who phone you constantly for payments.
Personalised debt solution
We will customise a solution to meet your financial needs, and reduce your monthly instalment through one consolidated repayment each month. Contact us now and start living the debt-free life!
No More Debt Services
Enhance your life with our debt solution services.
We offer debt consolidation services and debt review that will reduce your monthly instalments on your accounts, with only one smaller instalment to pay to us each month.
You can live debt-free again
We will do a full assessment of your debt situation, and negotiate terms with your creditors to ensure that you can stay clear of debt and clear your credit record for good. Get a reduced amount of 99% on those increasing interest rates, and don't have creditors hounding you for payments again. If you aren't sure if you qualify for our services, contact us for an assessment.
Don't let debt get you down
If your debt has taken over your life, and you can really not afford to repay your instalments each month, you are already in need of debt counselling. Without running the risk of losing everything you have worked so hard for, rather opt for debt review, and get the solution that saves you time and money and above all, the stress!
Let us help you!
Are your debts over R50 000 and are you earning more than R10 000 per month? You can qualify for our debt counselling and review services, don't wait another minute, start living your life debt-free! No More Debts takes all your debts and reduces your payments. To get a full assessment of your situation, submit a completed loan application form provided on our website. We will help you get rid of your debt – for good!
No More Debt – Consolidation loan
Loan Type

Debt consolidation
Benefits of No More Debt
DEBT Counselling
DEBT Consolidation
DEBT Review
---
No More Debts will take away your debt stress by giving you a second chance
This is how it works:
You will need to attach a copy of your ID, your latest bank statements and recent payslips. We will be able to draw a credit report on your debt and register you with the NCA regulations system, and our Debt Help system. This will all be completely confidential, and your privacy will be kept private at all times.
Get rid of debt for good!
With a few simple steps, you can apply for the debt assistance you need to not only simplify your debts into one reduced monthly instalment but also get out of debt for good. You can complete our application form, which we can email to you, or simply submit the one we have provided on our website.
Once your application has been submitted one of our specialists will be in contact with you to discuss your debt process further.
The benefits
One of the key benefits to our solutions is that our debt counsellors will be in touch with your creditors on your behalf to discuss and negotiate a reduced payment on each of your accounts. We usually have more leveraged with creditors, and they usually offer a much more affordable rate because we are an accredited debt solutions firm.
The end result is that you will pay a lot less for each creditor, and the interest is usually stopped in its tracks. We will put together a new repayment plan for you in the form of a proposal, and have one amount presented to you, which you will pay to us each month.
We will take that reduced instalment, and divide it amongst your creditors in terms of the new instalment amounts negotiated for you.
A solution to help you!
The end result will be that you will be paying far less through one monthly instalment, and be able to afford your debt repayments. When under this contract, you won't be able to buy on credit, and will not be able to take out any more loans, accounts and credit cards. This is the first step to getting out of debt, and staying out of debt.
Customer Reviews & Testimonials
"
April 2019
I was so happy to see that my loan application only took me a few minutes to complete and the agents were already busy with it.
Keneiloe M
— Krugersdorp —
March 2019
A few hours was all it took for me to receive my funds after my loan application was approved.
Ben G
— Durban —
January 2019
I wouldn't trade the consultants of No More Debt for anything. They certainly know how to treat their customers.
Jake S
— Newtown —
No More Debt Contact
Contact Number
E-Mail
Website
Physical Address
Block A, Einstein Park, 3 Einstein St, Highveld Techno Park

Centurion

Gauteng

0157

South Africa
Opening Hours
Monday

08:00 – 16:30

Tuesday

08:00 – 16:30

Wednesday

08:00 – 16:30

Thursday

08:00 – 16:30

Friday

08:00 – 16:30

Saturday

– Closed

Sunday

– Closed