Lifestyle Financial Services
Debt consolidation up to R150,000
Low-interest starting from 23%
Repayment up to 60 months
In-page navigation
---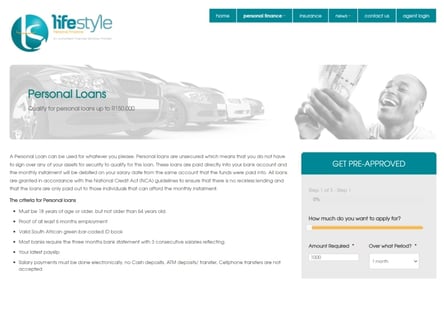 Author Lifestyle Financial Services. Screenshot of Lifestyle Financial Services website.


[Accessed February 14, 2023]
About Lifestyle Financial Services
Managing your finances in an ever-changing economic landscape can be extremely stressful.
There'll be times when you'll need some extra cash. Securing the right loan is vital, as paying exorbitant amounts in interest can aggravate a dire situation.
Financial solutions tailored to your circumstances
Lifestyle Financial Services is a registered credit provider offering you a comprehensive financial solution to your money woes. You can expect honesty and transparency in your dealings with the company.
Their ultimate objective is to provide you with the best financial option for your specific circumstances.
The company was founded in 2001 and boasts more than 15 years of experience in the financial services market. Its purpose is to offer you a one-stop financial solutions platform.
Values such as enthusiasm, commitment and integrity make Lifestyle Financial a trusted leader in its field.
Get relief from your debt burden
Lifestyle Financial Services' product and solution portfolio comprise a range of credit and insurance products designed to ease your debt challenges.
You can expect excellent service, and loans are tailored to your specific needs. The company is a market leader in debt consolidation. If you're serious about taking back control of your finances, talk to them.
Debt consolidation explained
Debt consolidation refers to the process of getting an extra loan to pay your consumer debts. A number of debts are fused into a larger loan that offers easier repayment terms such as a lower interest rate and reduced monthly payments.
The new loan's instalments have to be paid consistently each month.
These loans are also available from regular financial institutions but at much higher interest rates. Since Lifestyle Financial's business model adheres to NCA stipulations, there's no reckless spending, and you're protected from paying too much interest.
When regular financial lenders have all turned you down, you can apply with a specialized debt service entity such as Lifestyle Financial.
Your creditors will agree to the process because debt consolidation guarantees they'll get their money back in full.
Lifestyle Financial Services Services
If your credit score and debt-to-income ratio are still sound, you can benefit from a debt consolidation loan.
You can also save hugely on loan costs - as much as 20% since initiation and service costs aren't duplicated. That'll leave you with a bit more money in the bank at month end. Paying less on bank fees will save you a lot of unnecessary expenses in the long run.
It's important to rethink your finances and avoid nonessential debt in the future. You won't be eligible for additional credit while under debt review as the purpose of the process is, after all, to get you out of your financial predicament.
It's a good idea to pay a little more on your instalments, as it'll enable you to settle the loan faster. In this way, you'll save a lot on interest. You'll have to implement a stringent long-term budget and stick to it so that you don't fall back into the debt trap again.
Restructure all your debts
You can now consolidate all your debts into a single loan. You'll only pay one monthly instalment and an administration fee. This equates to a huge monthly saving and you'll have more disposable income to live off. It's the perfect solution to put you right back on your feet again. Because loans are granted in line with the National Credit Act (NCA), it eliminates irresponsible lending. It thus ensures that you'll only qualify if you can afford the monthly instalments.
Debt consolidation rates and fees
Your consolidation loan will have a fixed-interest repayment structure. This will stabilise your cash flow since you'll know exactly how much you have to pay monthly.
Remember, debt consolidation doesn't decrease your debt. It's just a way to restructure it into more affordable payments. It's a great option to reduce interest on your debt payments and normalise your budget.
Great benefits of debt restructuring
You save money because there are fewer bank charges.
Managing your finances is easier because one loan pays a number of debts simultaneously.
You can save a lot on your loan costs every month.
Interest rates are fixed which gives you added peace of mind.
This loan doesn't duplicate initiation fees and insurance costs. You'll save considerably over the long term.
You can even repay the loan faster, as you'll have more money left at the end of the month.
There are no hidden surprises.
You don't pay any fees when you submit your application to Lifestyle Financial Services.
If you honour your monthly repayments, you'll enjoy a welcome reprieve from the irritating calls by collection agencies.
Lifestyle Financial Services – Consolidation loan
Loan Type

Debt consolidation

Interest Rate

from 23%

Loan Amount

up to R150,000

Repayment

1 month to 60 months
Benefits of Lifestyle Financial Services
Customer protection plan included
Flexible repayment periods
Quick loan payouts
---
How to qualify for a debt consolidation loan with Lifestyle Financial
You can get a loan of up to R150 000, subject to set criteria.
Lifestyle Financial loan approval criteria
The age limit is 18 to 64 years.
You must have a clear credit record and a fixed monthly income.
Proof of employment (up to 6 months) is needed.
You must have a valid bar-coded South African Identity Document.
Your bank statements must reflect 3 consecutive salary deposits. Bank, telephone transfers and ATM deposits are not accepted.
You'll need your latest payslip.
You'll have to get a settlement quotation from each of your debtors pertaining to your application. Lifestyle Financial can apply for these on your behalf.
The easy three-step pre-approval on the company website will show if you qualify.
Additional Lifestyle Financial service offerings
Personal loans: Get an unsecured loan up to R150 000. This loan is paid into your bank account and debited on your pay date.
Student loans: Get a loan of up to R150 000 to pay for your education.
Unsecured loans: Get up to R15 000.
Microloans: Access a short-term loan from R1000 up to R15 000. Terms vary from one to 12 months. Only electronic salary payments are accepted.
Payroll loan: Payroll loan up to R100 000. Terms range from 3 to 60 months. Payment is done through Payroll Deduction so that you will never fall in arrears.
Lifestyle Financial now also offers cryptocurrency loans.
A funeral policy with cover of up to R75 000. The plan pays out within 24 hours of receipt of all the required documentation. You can cover 8 members and it includes added benefits such as legal assist and emergency medical services. In the case of accidental death double cover will apply.
As an authorised agent of First National Bank, Lifestyle Financial is the perfect partner to assist you to get your budget finally back on track. Pre-qualification is quick. Now is the perfect time to take the first step towards regaining financial freedom.

Lifestyle Financial Services is a trusted & reliable provider of debt consolidation
In our review, Lifestyle Financial Services adheres to the compliance criteria in accordance with the National Credit Act, where the granting the loan will not cause financial distress to the consumer.
✅ Lifestyle Financial Services is a registered credit provider in South Africa: NCRCP 2466
Customer Reviews & Testimonials
"
October 2022
I was drowning in debt and did not know how to go about settling it. My mother suggested I apply for debt consolidation and I approached Lifestyle Financial for help. They saved me from legal act...
Portia P
— Alberton —
October 2022
The staff at Lifestyle Financial is so friendly and knowledgeable. The consultant assisted me with everything I needed to know in order to apply for debt consolidation. I'm so relieved that I can...
Bongani N
— Port Elizabeth —
June 2022
I would like to take this opportunity to thank Lifestyle Financial for standing by me through the entire debt consolidation process. They've made my life easier and I now worry a lot less than be...
Johan A
— Kuruman —
Lifestyle Financial Services Contact
Contact Number
E-Mail
Website
Physical Address
Rivonia Gate, 381 Rivonia Blvd

Sandton

2128

South Africa
Opening Hours
Monday

08:00 – 17:30

Tuesday

08:00 – 17:30

Wednesday

08:00 – 17:30

Thursday

08:00 – 17:30

Friday

08:00 – 17:00

Saturday

11:00 – 15:30

Sunday

– Closed