Your Money - Better Terms
Increased cash flow
Repayment up to 84 months
In-page navigation
---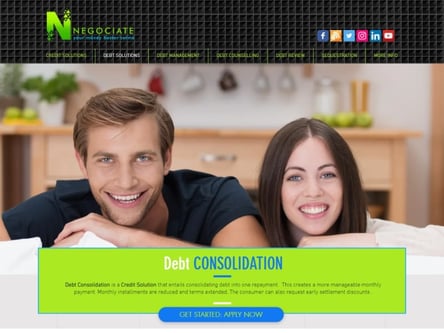 Author Negociate. Screenshot of Negociate website.


[Accessed December 12, 2022]
About Negociate
Negociate Credit Solutions provides professional financial services to customers in the country, including low-interest debt consolidation loans.
Negociate is a credit solutions provider well-known for using exciting, new, and innovative online technology and practices to allow for easier access to loans.
Negociate is the go-to finance specialist
Negociate helps clients who are strangled by debt problems to consolidate all their debt into one manageable amount. The credit solution specialist will tailor a loan repayment structure that fits every client's need, no matter what their financial situation.
Debt consolidation offers clients a chance to request early settlement discounts for existing loans, debt, and credit facilities, which further reduces the cost of debt in the form of interest charges. The finance expert is a trailblazer when it comes to the use of technology to streamline the credit solution process. Clients can rest assured that Negociate keeps abreast of the changing laws when it comes to financing controls in South Africa.
This means they will find the best outcome that will suit the financial needs of every client looking for a debt consolidation loan. Their professional consultants, who are highly trained, reliable, and courteous will respond immediately to any query about debt consolidation. Negociate focuses on customer's needs first when it comes to debt consolidation.
The credit solutions provider is a versatile market leader who offers clients a host of products, including debt consolidation, debt review, and bond consolidation. Negociate with offices nationwide can be easily accessed with a click of a mouse. They are the go-to choice for many South Africans who need debt consolidation.
Negociate Services
The stand-out feature of Negociate is that it offers good old-fashioned advice when it comes to the perfect debt consolidation loan for its clients.
Their decisions are made by people who are highly skilled in the rules of the Credit Act and not computers. Negociate gives their service that personal touch when it comes to servicing their clients. They are well-known to forge a personal business relationship with their customers which sensitises them to the needs of their customer base.
Negociate's mission statement is to help their clients and to say 'yes' to the customers' online loan application and will endeavour to make it a success. Through empowering their clients to get back on the road to financial freedom, the company ensures that the client is in an advantageous position to be eligible for credit solutions in the future.
Apply online now for debt consolidation
Fast and reliable service is the name of the game at Negociate. Not only that, their services which can be accessed with a mere click of the mouse, are fast and reliable.
They know it's a journey they're embarking on with each client and they will go all the way with them if a loan offer is successful. With Negociate clients can expect decisions and approvals on their application to be made within a day or two of applying.
Their main areas and objectives
Provide tools, guidance, and advice on how to manage finances and debt.
To provide advice and oversight on the management of finances to ensure financial health.
Assist in the identification, evaluation, and mitigation of debt.
Provide annual reviews so clients can stay on track and be proactive in the reduction of debt.
Ensure that transactions are processed correctly by company policies as well as any applicable external policies promptly.
Negociate – Consolidation loan
Loan Type

Debt consolidation

Repayment

84 months
Benefits of Negociate
A simple loan application
Lower interest rates
Increase your cash flow
---
A quick and seamless application procedure
Our simple 3-step application process for credit solutions is seamless, responsive and quick.
All applications are made online. No need to sit for hours to complete an online form, our online application can be completed within minutes. Once you've submitted your application, you can expect a response within a day or two. We also offer a call-back request service should you want more personal advice from one of our professional consultants.
Benefits of credit solutions from Negociate
One great benefit is that non-credit-worthy clients can apply for all the services that we offer – from our debt consolidation loans to voluntary surrender. The benefits of our debt and bond consolidation services include reduced monthly installments of up to 40%, a clear credit report of, one payment, a 20% discount on debt settlement and helping you become credit worthy within 12 months.
Benefits of our debt counselling services include reduced interest from 25% to 10% and expected credit-free status in 48 to 60 months. Benefits of our cash sequestration and voluntary surrender services are extensive – anything from 0% interest charges to 75% reduction in debt and being credit worthy within 48 months.
Qualifying criteria for debt consolidation
Permanent employment for a minimum of three months
Subject to an affordability check
Income should exceed expenses
Your salary needs to be paid into your bank account
Customer Reviews & Testimonials
"
October 2021
I managed to clear my debt so much that I could take out a home loan. Could not have done it on my own – Thank you Negociate!
Anna S
— Port Elizabeth —
September 2021
I had a lot of student debt that prevented me from advancing in life. After the consultation, I could eventually afford a car loan.
Steward G
— Kimberley —
December 2021
It's better to pay back R12 000 debt than R20 000 debt, thanks to Negociate's reductions.
Melani H
— Alexandria —
Negociate Contact
Contact Number
E-Mail
Website
Physical Address
Maxwell Office Park, Building 4, Magwa Cres, Waterfall City

Midrand

2090

South Africa
Opening Hours
Monday

08:00 – 17:00

Tuesday

08:00 – 17:00

Wednesday

08:00 – 17:00

Thursday

08:00 – 17:00

Friday

08:00 – 17:00

Saturday

– Closed

Sunday

– Closed