Debt consolidation up to R100,000
Lower interest rates
Repayment up to 60 months
In-page navigation
---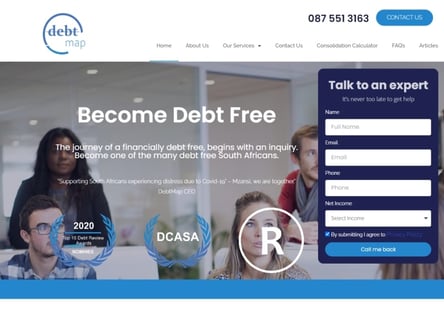 Author DebtMap. Screenshot of DebtMap website.


[Accessed December 12, 2022]
About DebtMap
Looking for ways to get out of debt as quickly as possible? Debt Map is determined to find the best way to get you out of the debt trap.
DebtMap offers a broad range of debt relief solutions, which are made to fit your needs and solve your financial problems. They are one the most trusted debt consolidation lenders and have their clients' best interests at heart. You can count on them to be of help as they focus on providing the most convenient and affordable financial support.
Why make use of Debt Consolidation?
Debt consolidation is making one loan to pay off all your unsecured debts such as credit cards and other loans. It can be used as a tool to deal with student loans and other liabilities and usually offers favourable payoff terms.
This may help you save money as you will only have one payment to make with one fixed interest rate. By making use of DebtMap you will be able to save on your interest payments as well as having lower monthly payments and having security with no more complaints from the creditors.
What makes DebtMap different?
DebtMap has dedicated team members who are driven by innovation and friendliness with more than 10 years of experience. Dept Map provides you with not only financial support but with reliable advice, meaningful information, respect, and confidentiality is guaranteed.
They not only help their clients become debt-free, but they help them to stand on their own two feet. Each client has their own story, therefore they pay special attention to your situation to find the best debt relief solution for your needs.
DebtMap Services
DebtMap reduces their interest rate thus saving you a whole lot on interest payments.
When using credit cards with no repayment terms, they usually allow payments to work out faster and as a result, allows you to save more. It provides fewer monthly instalments as multiple payments will be turned into a single payment. Thus making it easier to manage as there is only one payment due and it increases your credit rating.

Who qualifies for Debt Consolidation?
Fortunately, there are not many requirements when applying for debt consolidation. Even though clients must submit proof of affordability and have the minimum required credit score, DebtMap is willing to help you get where you want to be.
What risks are involved?
Making a loan to pay off debt is a big decision. As with any other decision in life, there are risks involved when applying for debt consolidation. Therefore, it is important to make careful and conscious decisions when applying.
When looking into debt consolidation it is important too, not only to look at the interest rate and repayment terms but to also pay attention to the remaining terms of the existing loans. Debt consolidation is mostly used as a temporary solution, although it can be used over the long run it may end up being more costly
Affordable debt consolidation loans
DebtMap's consolidation loans carry repayment terms that range between 12 and 60 months. An amount of R150,000 borrowed over 48 months will leave you with a monthly instalment of R3,875. This could be the financial solution for you.
DebtMap – Consolidation loan
Loan Type

Debt consolidation

Loan Amount

up to R100,000

Repayment

12 months to 60 months
Benefits of DebtMap
Debt counselling services
Reliable debt consolidation loans
Lower interest rates
---
Stay on top of your finances. Debt consolidation from DebtMap may help!
If the payments of your new loan are longer-term it means you will pay back more than your existing loan.
Remember if the repayment term is shorter than the existing loans repayment terms, you will have to pay more interest. Thus it is mandatory that you have a good look at your repayment arrangements and amounts.
Check your credit score:
Start by checking your credit score, as a bad credit score can interfere with your debt consolidation application. If the loan is not needed immediately, you have some time to build up your credit score to qualify for a lower-rate loan.
List your debts and payments:
You will have to make a list of all the debts you want to consolidate and add up the total amounts that are due. You can then compare the amounts against your budget to determine the amount of the debt consolidation.
Compare loan options:
By comparing the different debt consolidation loans and their interest rates, you will be able to determine which loan would accommodate your needs. Therefore look for lenders who offer direct payments to you as the debtor, which will shorten the consolidation process.
Apply for the loan:
When applying for a loan, you will have to submit the following documentation; proof of identity, proof of address and income verification. You should also take time to carefully read through the fine print of the loan documents.
Close the loan and make payments:
The last and most important step left to do is to make sure all accounts have been registered and paid off. You have to make sure that all creditors have been paid otherwise you will have to do deposits with additional cost on your own.
Customer Reviews & Testimonials
"
August 2020
Debt Map has professional services and they help me to better manage my debt
Lindy F
— East London —
February 2021
Debt Map gave me an affordable debt consolidation loan
Nick H
— Cape Town —
DebtMap Contact
Contact Number
E-Mail
Website
Physical Address
3 Gordon's Bay Dr, Van Ryneveld

Cape Town

Western Cape

7139

South Africa
Opening Hours
Monday

08:30 – 17:00

Tuesday

08:30 – 17:00

Wednesday

08:30 – 17:00

Thursday

08:30 – 17:00

Friday

08:30 – 17:00

Saturday

09:00 – 12:00

Sunday

– Closed