Easy online application
Manage your debt
In-page navigation
---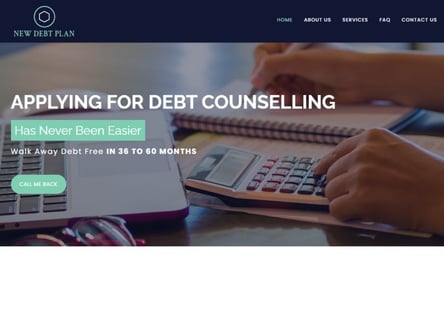 Author New Debt Plan. Screenshot of New Debt Plan website.


[Accessed December 12, 2022]
About New Debt Plan
There is a better way, a new way at New Debt Plan debt management services.
When debts become a concern and are no longer working for clients, they can reach out to New Debt Plan.
Debt consolidation is their niche, and they are also NCR registered debt counsellors. They have introduced intelligent methods and innovative solutions to a host of clients in similar positions. The enthusiastic team at New Debt Plan is fully compliant with regulations and financial legislation. They are awaiting clients' calls for assistance with an attentive ear, an open mindset, and a compassionate outlook. They are on a mission to lighten clients' financial load and put them on the path toward improved financial standing.
Vision and values
New Debt Plan has a vision for the future; one where all South Africans are empowered to take control of their finances. It is possible to learn and adapt to the current economic climate, devise wise choices and commit to living within one's means.
New Debt Plan has the tools to elevate clients to a debt-free life.
These are the values we hold dear:
Integrity and honesty – This means always putting the client first, operating openly, and keeping them in the loop.
Excellency – There are ever-present opportunities to better our knowledge, services, technology, and expertise; and this is a constant ambition.
Courtesy and commitment – Clients are treated with the utmost respect and will find that the team does care for their well-being.
Confidentiality – Strict measures are in place to keep clients' data safe at all times.
Trustworthy – Trust is earned, so we aim for this in every transaction with clients.
New Debt Plan Services
Financial difficulties and debt can quickly get out of hand and seem insurmountable.
That is precisely why the New Debt Plan is the answer to arranging multiple debts into one simple (monthly) repayment by using a consolidation loan. This way debt is much easier to track and budget for.
New Debt Plan also assists clients in creating a structured budget to keep clients on track to achieve their financial goals and start getting rid of debt. Clients may be concerned that they have a bad credit history or have even been blacklisted.
This should not prevent them from calling on New Debt Plan. The counsellors have the skills, know-how, and drive to turn it all around and make a lasting difference in clients' lives. Clients will be surprised at the capacity they will gain to keep up a constant and comfortable lifestyle, while still making acceptable payments to creditors.
Legislation
It is a good idea to register for debt counselling. Being financially over-extended can be stressful and expert counsellors can provide essential support throughout the client's journey to financial well-being. Also, debt counselling registration has the benefit of legal protection which then comes into effect. This is a far-reaching safeguard against creditors ordering forced payment from clients' salaries, blacklisting them, or taking any legal action whatsoever. Another shield for the client is provided under the National Credit Act. It states that the client's house and the vehicle may not be repossessed. It is well worth knowing one's legal rights and applicable legislation. Soon enough clients will have paid off all their debts and be able to look back with pride. Once debt-free, clients earn a clearance certificate and a clean credit record.
New Debt Plan – Consolidation loan
Loan Type

Debt consolidation
Benefits of New Debt Plan
Become debt-free with our service
Get a structured budget plan
Consolidate debt into one affordable payment
---
New Debt Plan – What is Debt consolidation, & how will it help me?
Recent changes to regulations relating to debt management, by the National Credit Regulators, mean that candidates applying for debt consolidation loans will be rejected if they have excessive debt.
So where in the past, over-indebted clients could qualify for such a loan, this is no longer the case. However, this news is not discouraging as the benefits of debt review far outweigh those of applying for another loan on top of one's current debts. It has always been the case that a debt consolidation loan requires you to improve your bad credit record whereas debt review does not.
Understanding Debt consolidation
Consolidation loans have high interest rates and providers charge admin fees. This type of loan does not offer any legal protection of assets as debt review does. It also only covers up to a certain amount of debt, while debt consolidation extends unlimited coverage. Clients may save on monthly payments and gain time to pay off debts with a loan. However, in the long run, they will pay away the inflated total amount back, due to higher interest rates, and in comparison with effective debt management through debt review.
Client reputation
As mentioned before, we take great care in keeping your information confidential. New Debt Plan assures clients that they will never contact their employees regarding the status of their private financial affairs at any stage during the application and review process. Being under debt review is also not like being under administration. The client is in full control of their finances and is not subject to a permanent record of having been under debt review, on any credit bureau. Credit scores are not adversely affected, and indeed improve through the debt review process. Remember clients are always first and best in the eyes of our team.
Customer Reviews & Testimonials
"
June 2020
New Debt Plan put things into perspective for me, and I can once again see a way forward.
Verushla N
— Cape town —
September 2020
Now that my debts are consolidated, I feel lighter already. Thank you to the great consultants at New Debt Plan
Bongani M
— Soweto —
February 2020
I only wish I had found New Debt Plans sooner. Now I'm on my way to financial freedom
Karen O
— Port Elizabeth —
New Debt Plan Contact
Contact Number
E-Mail
Website
Physical Address
Suite 101, 1st Floor, Kenya Building, 49 Main Road Bergvliet

Cape Town

7945

South Africa