African Bank Consolidation Loan
Debt consolidation up to R350,000
Low-interest starting from 15%
Repayment up to 72 months
In-page navigation
---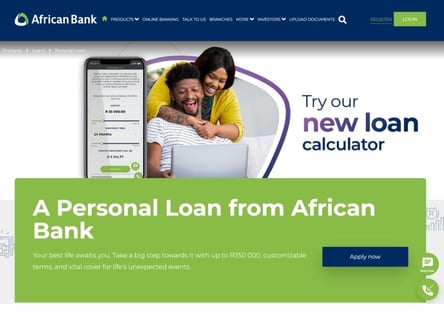 Author African Bank. Screenshot of African Bank website.


[Accessed December 12, 2022]
About African Bank
Looking for a debt consolidation loan? – Look no further than African bank.
When it comes down to getting a loan whether it is a home loan, a personal loan, or a debt consolidation loan, we all seek transparency. All too often people get themselves into loans that are not clear and they then find that they are not paying what they signed up for. With African Bank, you know what you pay for from the word go.
A little history on African Bank
African Bank Limited is a retail bank in South Africa. The bank was founded on 4 April 2016 by Sam Motsuenyane. African Bank offers financial products and services. In 2019 they boasted an impressive 3,886 employees. African Bank is licensed as a locally controlled bank by the South African Reserve Bank and its headquarters are in Johannesburg.
African Bank's mission
Their mission is simple. African Bank wants to be a successful retail bank with a wide range of products and services to offer. They seek to provide more value than their customers expect of them. African Bank also promises to live out their purpose of humanity through banking in all that they do including debt consolidation loans.
A debt consolidation loan from African Bank
African Bank has designed their debt consolidation loans to be exactly what their clients need and require. The flexibility when it comes to the repayment options and loan amount is entirely in your hands. African Bank offers debt consolidation loans of up to R350,000 that are sufficient even for heavily indebted people.
African Bank Services
Most banks offer a debt consolidation loan. It is important to know what you are getting yourself into beforehand.
With African Bank, transparency is a high priority. They offer you lower repayments on their debt consolidation loans. With their flexible terms, you can manage your money better. With no settlement quote required, the process is convenient.
You can take a payment break on your loan
African Bank offers its existing clients a very unique and helpful feature. Sometimes we all find ourselves in some kind of unplanned pickle. African bank understands this and that is why they have this amazing feature. The Choose your Break feature allows you to take a payment break on qualifying loans should the unexpected happen.
African Bank answers quickly on debt consolidation loans
Applying for a debt consolidation loan from African Bank will leave you with a deciding answer in no time. They understand that when you are stressed out about financial factors, waiting is the last thing you want to do. By providing the answer you need when you need it puts them above the rest in the industry.
Ease your mind with credit life insurance
There are many things that can happen during a debt consolidation loan term. African Bank knows that ensuring certain things is important and a debt consolidation loan is no different. With this insurance, you will be covered for up to 12 months when you are retrenched. It will also cover you in the event that you should get disabled, critically ill or die during your loan term, Credit Life Insurance will settle your outstanding debt consolidation loan amount.
Unlock freedom with a debt consolidation loan from African Bank
A debt consolidation loan from African Bank can ease your debt burden with up to R350,000 and flexible repayment terms ranging from 12 to 72 months. With this funding option, you could enjoy interest rates from 15% to 24.50%.
African Bank – Consolidation loan
Loan Type

Debt consolidation

Interest Rate

15 – 24.5% p/a

Loan Amount

up to R350,000

Repayment

12 months to 72 months
Benefits of African Bank
Lower Repayments
Flexible Terms
Easy Process
---
Use African Bank to consolidate your debt quickly & effortlessly
Just like with any other loan, you will need to have certain documentation ready and on hand before you start with the application.
This is what you will need in order to apply for a debt consolidation loan from African Bank:
You will need your most recent proof of income like your payslips.
Make sure you have the last three months' bank statements showing your salary.
Being older than 18 is a requirement to apply for a debt consolidation loan.
If you have all of the above requirements on hand and ready, you may now navigate yourself towards the debt consolidation loan online application section. The process is painlessly easy and it only takes a few minutes of your time. Without further ado, get right to it.
Step one:
The first section will be about yourself. Your full names will be required as per your ID document. They will ask for your cell phone number as well as your email address. The following section will be about your financial details.
Step two:
Once you are satisfied that your debt consolidation loan application has been filled in correctly you can now submit it. You will now be supplied with a one-time pin code.
Step three:
You will at this point be presented with the debt consolidation loan offer from African Bank. If you choose to accept the offer you will have to sign the agreement and send it back.
Step four:
It is at this point that African Bank lets you know that your debt consolidation loan amount will be available to you soon. You are now done and dusted. You can now settle your debt in one go and only repay your online loan each month.
Flexible debt consolidation loans
Wanting to settle your debt by means of a debt consolidation loan is something many South Africans opt for daily. Don't be duped by fancy banners and busy websites making empty promises. Come to African Bank for a debt consolidation loan today and take control of your finances.
The benefits of choosing African Bank
African Bank offers a convenient debt consolidation loan
The terms are flexible and range from 12 to 72 months
You can lock your interest with fixed rates on your debt consolidation loan
African Bank promises to be 100% transparent

African Bank is a trusted & reliable provider of debt consolidation
In our review, African Bank adheres to the compliance criteria in accordance with the National Credit Act, where the granting the loan will not cause financial distress to the consumer.
✅ African Bank is a registered credit provider in South Africa: NCRCP7638
Customer Reviews & Testimonials
"
March 2021
life as well as my credit score. I approached African Bank for a debt consolidation loan and I could not get a better deal elsewhere.
Muller C
— Albertinia —
November 2021
A friend told me that they took a debt consolidation loan from African Bank which changed her life. I was reluctant at first but I decided to see what they could offer me. To my delight, it was a...
Van der Linde W
— Bathurst —
September 2021
Having so many accounts to pay each month leaves me with less money than I realized because of the interest on each one. With a debt consolidation loan from African Bank, I could pay all my debt ...
Fourie M
— Heroldsbay —
African Bank Contact
Contact Number
E-Mail
Website
Physical Address
59 16th Road

Midrand

Gauteng

2191

South Africa
---
Postal Address
Private Bag x170, Midrand, 1685, South Africa
Opening Hours
Monday

08:00 – 17:30

Tuesday

08:00 – 17:30

Wednesday

08:00 – 17:30

Thursday

08:00 – 17:30

Friday

08:00 – 17:30

Saturday

– Closed

Sunday

– Closed