Repair your credit score
Get out of debt
Credit life insurance
In-page navigation
---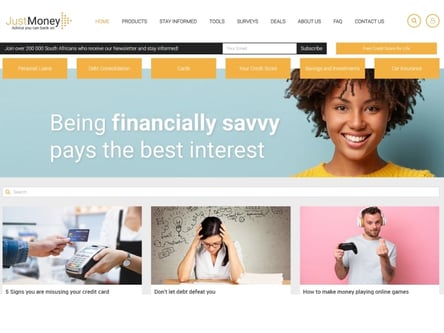 Author JustMoney. Screenshot of JustMoney website.


[Accessed December 12, 2022]
About JustMoney
They're based in Cape Town but provide services to everyone in South Africa that wants to get out of unwanted debt.
JustMoney provides you with the tools needed to assist you to make the best decisions regarding your financial future. They've been in the industry for over 10 years and they're constantly striving to be the most trusted establishment within the finance sector.
An easy loan service
They're an online financial service provider with an excellent reputation. Their establishment caters to all kinds of customers, especially individuals who struggle with debt. All you need to do is apply. Their service is easily accessible over the Internet and not difficult to understand.
JustMoney is an easy online loans provider with expertise in personal loans, home loans, debt consolidation and insurance.
They're experts in all fields of finance
JustMoney does not charge any fees whilst in the process of finding you a high-quality solution from the wide range of products they have to offer. They're here to assist you and make your life less stressful.
You can be assured that they make it their business when comparing the best possible deals for you and they make it a priority to keep you well informed with regards to the different financial solutions they have to offer.
JustMoney Services
All their clients can take full advantage of the detailed online guides and of the functional financial tools available on their website.
Use their expertise to get the finance that you require, to make major purchases or to get rid of debt.
They guarantee to find the right financial services for your need in the quickest possible time. JustMoney is an experienced financial service provider offering a wide range of debt solutions.
Tailor-made loans
They strive to develop a personalised debt management strategy for you based on your existing debt and current income.
JustMoney offers debt consolidation loans that allow you to clear your current debt instantly and make lower monthly payments going forward. They could possibly give you a lower and or fixed interest rate for perfect peace of mind.
Talk to them about your debt problems
Contact them today and one of their highly qualified experts will provide you with all the information and give you professional advice and assistance. They're there to provide you with the perfect solution.
JustMoney – Consolidation loan
Loan Type

Debt consolidation
Benefits of JustMoney
Repair your credit score
Get out of debt
Choose between flexible or fixed interest rate
Flexible loan terms
Credit life insurance
---
JustMoney has an excellent reputation for debt consolidation
It's easy to get into debt, especially when your salary doesn't cover all your basic needs.
Prices are forever on the rise which results in making more debt because sometimes there's no other way. JustMoney understands this, they're also aware of the unstable level of income in South Africa. However, this does not mean that you have to put up with the situation. You have to find a solution straight away and they're there to help you find that solution. Apply for your JustMoney debt consolidation loan today and be free of debt in no time.
You simply need to make an application to get started
Once you've applied online, JustMoney will find a loan best suited to your needs. Not only is their service speedy but also highly professional. The best part about their service is that you'll be entitled to free guidance and financial advice is available directly online.
Their online debt consolidation loans are secured
JustMoney offers two options depending on your situation. You can take out a new loan and use the equity which you have in your house as collateral or alternatively, you can add your entire debt to your existing home loan.
At the same time, you'll get a much lower interest rate on the secured loan compared to the rates on your unsecured loans and credit cards. You can expect the interest rate to be between 5% and 10% lower, although, the gap can be greater.
Competitive rates
This can save you a good amount of money while reducing your monthly instalments. Generally, the job of JustMoney is to find the most competitive rate for you. They guarantee that they'll do the best they possibly can, and they have the expertise and professionalism to ensure that you get the best possible solution tailored to your individual situation.
Note that a longer-term will result in much lower monthly instalments, but it'll make the cost of borrowing much higher. They advise that you repay the new loan as quickly as possible so that you can make a saving on interest.
JustMoney debt consolidation loans are a great solution, especially given the expert advice and support they offer.
Customer Reviews & Testimonials
"
April 2019
At Just Money, you are guaranteed value for money when it comes to their loan deals.
Meghan H
— Cape Town —
June 2019
Applying for the Just Money loan was fast, easy and convenient.
Patricia C
— Benoni —
May 2019
Just Money has the most affordable interest rates on their loans!
Palesa K
— Soweto —
JustMoney Contact
Contact Number
E-Mail
Website
Physical Address
186 Loop St

Cape Town

Western Cape

8001

South Africa
Opening Hours
Monday

08:30 – 17:30

Tuesday

08:30 – 17:30

Wednesday

08:30 – 17:30

Thursday

08:30 – 17:30

Friday

09:00 – 17:30

Saturday

09:30 – 13:00

Sunday

– Closed