FREE debt assessment
Debt relief options
Become financially free
In-page navigation
---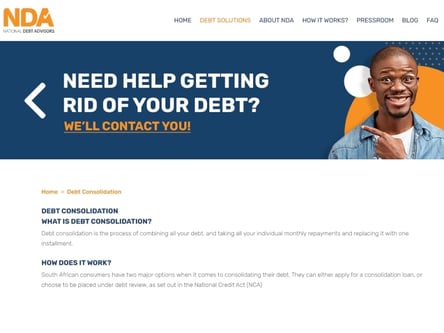 Author National Debt Advisors. Screenshot of National Debt Advisors website.


[Accessed December 12, 2022]
An award-winning company at your service
Has your debt grown dramatically over the past few months? Are you finding it challenging to make your monthly repayments?
National Debt Advisors are ready to assist you with your repayments and managing your finances.
An accredited financial counsellor
National Debt Advisors has been assisting its clients for over nine years and was named the best debt counsellor in 2020. They traditionally provide various financial services, such as assisting you in managing your finances and helping you get rid of your unnecessary debt.
With over 400 staff members, National Debt Advisors provides a debt review process that runs smoothly and accurately. Therefore whatever your queries or uncertainties may be regarding your finances, you can reach them at any time for assistance and direction.
Committed to providing the best services
National Debt Advisors will work hard to help you on your debt-free journey. Whether you're having difficulty paying your bills or your credit score is low, they can help you become financially secure in no time.
They believe in going the extra mile for you to ensure all enquiries are met and provide you with encouragement and support while you work with them. You won't be disappointed when considering the help of National Debt Advisors.
Over the years, they've invested in the best technology to ensure that you get the best services and a review and application process that's easy and understandable.
Growth within the community
National Debt Advisors believes in giving back to its community. Therefore they not only have their client's best interests at heart, but they also provide for the communities around them during challenging times.
National Debt Advisors is growing with its community while helping them achieve its goals and dreams. There's no better way to take control of your finances than getting debt consolidation from National Debt Advisors.
National Debt Advisors Services
Are you struggling to pay your piled-up debt? National Debt Advisors can help you with a debt consolidation loan.
Services and products provided by NDA
National Debt Advisors provides their clients with various financial services. From debt review to debt mediation. You can be at ease knowing you'll receive the best advice and assistance.
When considering debt consolidation, you're looking at a long-term solution. Although your repayment duration will increase, there will be a slight decrease in your monthly payments and interest.
With debt review, there's a list of benefits therefore it's important to do your research to ensure that you're making the right choice at the right time.
Consolidate all your debt today
At National Debt Advisors, you get the opportunity to apply for debt consolidation, which makes provision for all your instalments.
Instead of five monthly payments, you'll only have one. This means that your interest payments will decrease to one monthly interest amount, thus saving you money in the future.
From debt counselling to money management, and ultimately to monthly payment savings. You get to benefit from debt consolidation all the way. Why struggle, when you can enjoy life while paying off your debt?
Start prioritising your financial goals
The key to your budget is prioritising between what's important to you and what can be left for later.
Once you know how to prioritise your finances, you won't need to stress as much since you'll know how to budget and get along with what you have.
With the help of the National Debt Advisors, you can take control of your finances with an easy click on the application.
You'll not only receive tips on how to budget, but you'll also receive advice on how to manage your finances.
National Debt Advisors – Consolidation loan
Loan Type

Debt consolidation
Benefits of National Debt Advisors
Low monthly debt repayments
Consolidate your payments
Protect your assets from repossession
---
Start your application and become debt-free
Whether you require debt consolidation or debt review, you can start your process by accessing their application.
Steps towards a successful application submission
Step 1: Fill in the enquiry form on their website, and one of their consultants will contact you.
Step 2: The consultant will go over all financial issues and perform any calculations that are required.
Step 3: Access the online application form and fill it out according to the consultant's instructions.
Step 4: After receiving the go-ahead and everything is in order, National Debt Advisors will get in touch with you.
An online calculator is at your disposal
National Debt Advisors is aware of how important it is to make sure you apply for the right service; therefore, they have made an online calculator available to assist you in doing the necessary calculations.
Perhaps you're an independent person and don't like contacting individuals. You can do all your research as well as access their online calculator from the comfort of your home. No more worries or running around, when you can do it all while being relaxed.
It has been made so easy that you can do it all on your own, from calculating your interest payable to making your monthly repayments. All you need to do is simply access the online calculator on their website, and you are ready to go.
General requirements when applying for consolidation
Proof of monthly income
Must be under permanent employment
Access to your credit report and credit history
Must be able to provide security
The benefit of a debt consolidation loan
When applying for debt consolidation, it's important to know what the benefits are. Therefore, you need advice and assistance in doing your calculations as well as understanding the concept of consolidation.
At National Debt Advisors, they provide you with the best advice and assistance when it comes to your finances. Make contact now and start consolidating your debt the right way.
Here is a list of reasons why you should consider debt consolidation:
It blends all your debt into one loan.
It decreases your monthly financial load.
This increases your credit score once you've repaid all your debt
Helps you secure a new loan with less interest.
Get help managing your money from a financial expert such as National Debt Advisors.
Customer Reviews & Testimonials
"
October 2020
NDA assisted us with debt relief and assisted us on an easier more affordable payment plan
Jeremy T
— JHB —
May 2020
Very professional, our consultant was assuring and explained the whole process to us, very happy with NDA
Leoni G
— Pretoria —
November 2019
In a stressful situation NDA was able to help us with our financial debt situation it was scary being threatened by attorneys and scared our assets will be taken away
Hendry R
— Cape Town —
National Debt Advisors Contact
Contact Number
E-Mail
Website
Physical Address
9 Long St, Cape Town City Centre

Cape Town

Western Cape

8000

South Africa
Opening Hours
Monday

08:00 – 17:00

Tuesday

08:00 – 17:00

Wednesday

08:00 – 17:00

Thursday

08:00 – 17:00

Friday

08:00 – 17:00

Saturday

– Closed

Sunday

– Closed