Rebuild your credit
Get debt relief
Lower interest rates
In-page navigation
---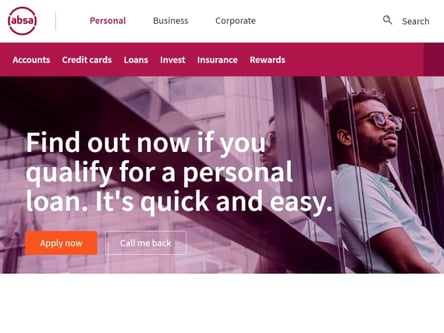 Author Absa. Screenshot of Absa website.


[Accessed December 12, 2022]
About Absa
ABSA is one of South Africa's largest banks with a diverse range of products and services spanning 12 African countries.
Endless possibilities made possible
This group is dedicated to bringing a wealth of possibility to all those that are impacted by their services. From individuals to private individuals looking for a better financial future, they want to serve a diverse range of people, businesses, and industries.
Focusing on you, all the way
As a financial institution that values growth, responsibility, and performance, its customer-centric approach to products and services simply makes sense.
They strive to train their customer service experts and employees to deliver services that focus on the well-being of the individual.
Whether you're looking to open a savings account, expand your finances and credit score with a credit card or home finance, ABSA will deliver a tailored product to suit your individual needs.
Transparency is key to ABSA's success
ABSA's website is filled with a network of guides, articles, and links to ensure you stay in the know. From pricing brochures to rates and fees, you can quickly and easily find, compare, and apply for whatever suits your needs.
A summary of products and service for you
ABSA offers home loans, vehicle finance, everyday banking accounts and services, credit cards, overdrafts, Forex, and debt consolidation loans. To access more information about their various offerings, visit their website or one of their hundreds of branches nationwide.
Absa Services
Struggling to stretch your salary to cover all your debts and living expenses can become a nightmare for anyone.
ABSA offers debt consolidation solutions that can help you simplify your debts and reduce your monthly repayment.
This doesn't mean that you'll save on interest. It just means that you'll be offered a longer loan term that will make it possible to reduce your monthly loan repayment significantly.
Personal loans up to R350,000
You can get between R3,000 and R350,000 with ABSA's personal loan. Loan terms range from 12 to 84 months with some of South Africa's lowest interest rates.
What you need to apply
You must provide your ID, proof of address, and at least 3-month's bank statements or payslips.
While it's best to apply for a loan online, you can also visit a branch or call the ABSA call centre.
Do you qualify for debt consolidation?
When it comes to consolidating your debts with ABSA you'll have to meet their minimum qualification criteria. You must be 18 or older, earn R2,000 or more, and have a valid bank account.
Need to switch personal loans?
Paying too much for your personal loan? ABSA offers a quick, smart credit solution.
They will allow you to switch to their, low-rate loans simply by contacting them and switching over.
Absa – Consolidation loan
Loan Type

Debt consolidation
Benefits of Absa
Competitive interest rates
One affordable repayment term
The best loan deal for your needs
---
Simplify your debt with a low rate loan
While debt consolidation may not be for everyone, there are many instances where it will help you free up some much-needed cash and allow you some breathing room.
Unsecured debt and high interest rates
Unsecured debts generally come at higher interest rates and are generally the debts that most people need to consolidate. These debts include credit card balances, short-term loans, and store cards.
By making use of ABSA's innovative, affordable, and flexible personal loans to consolidate yourself you can finally be free of the draining debts that are hard to manage and can cause havoc in your life.
Consolidating is just the start
ABSA encourages clients to review their finances, spending habits, and goals to ensure they're in alignment with their own good. Take a step back and review your expenses to see where you can cut down on spending.
Avoid taking on any more debt and make sure you pay all your bills on time. There are many suggestions and articles on ABSA's website that can guide you to better financial stability and security.
Apply online and get back on track
ABSA allows all customers to apply for credit, including debt consolidation, online. You can do this by completing an online loan application or using your banking app if you're already a client.
Remember to work out how much you'll need to pay off your debts and consider any early repayment penalties you may have to make.
Once you have this figure in mind make use of an online loan calculator to determine exactly what your new repayments will be based on your selected loan term.
Before consolidating debt you should also consider other options such as making use of your home loan or paying off the smaller debts without consolidating to save on interest and simplify your debts.
Rebuild your credit
If your credit is already damaged you may be unable to access a debt consolidation loan with ABSA. In this case, you may want to consider debt counseling services or contacting your creditors individually to help lower your repayment and interest.
Stay committed to repaying your debt and rebuilding your credit by maintaining the negotiated repayments.

Absa is a trusted & reliable provider of debt consolidation
In our review, Absa adheres to the compliance criteria in accordance with the National Credit Act, where the granting the loan will not cause financial distress to the consumer.
✅ Absa is a registered credit provider in South Africa: NCRCP7
Customer Reviews & Testimonials
"
September 2020
The day I contacted Absa about my debt, was the best day of my life. Thank you for your fast assistance and advice
Mark H
— Nelspruit —
November 2020
Thank you again for your excellent service. It is pleasant to get a loan at Absa, from the moment you walk into the moment you get your money
Ruwanda R
— George —
September 2020
I am very thankful for Absa and their consultants. They made sure I understood everything every step of the way and made sure I know about the necessary fees. Transparency all the way. Thank you
Lana T
— Pretoria —
Absa Contact
Contact Number
E-Mail
Website
Physical Address
291 Robert Sobukwe St, Sunnyside

Pretoria

Gauteng

0002

South Africa
Absa Universal Branch Code
Opening Hours
Monday

08:00 – 17:00

Tuesday

08:00 – 17:00

Wednesday

08:00 – 17:00

Thursday

08:00 – 17:00

Friday

08:00 – 17:00

Saturday

08:00 – 17:00

Sunday

08:00 – 17:00