Capitec Consolidation Loan
Debt consolidation up to R250,000
Low-interest starting from 13.75%
Repayment up to 84 months
In-page navigation
---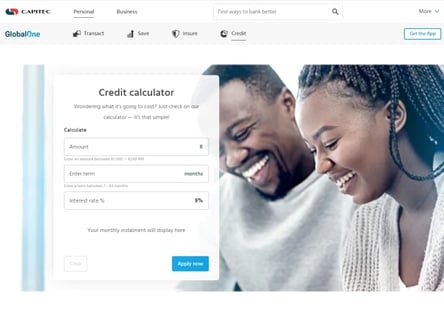 Author Capitec. Screenshot of Capitec website.


[Accessed December 12, 2022]
About Capitec
Established in 2001, and registered on the JSE in 2002, their client bank has increased to nearly 15 million customers.
They're a modern, flexible lender that strives for simplicity, excellence, and continual improvement in all that they do.
Helping you bank and live better
Their approach to customers is to help them simplify their finances and make the best possible decisions.
This is evident not only by the range of informative articles, brochures, and campaigns they've created but also by their employee's handling of customer requests.
When banking with Capitec you'll enjoy excellent customer service from representatives that know what they're doing and can help you make the right financial decisions from the simplest to the most complex of matters.
A bank that's big on financial education
Capitec is big on financial education and strives to ensure all South Africans are empowered through financial education.
From understanding what credit is to knowing the difference between good and bad credit, they're determined to continue making a positive impact on the lives of their customers through education.
This is a refreshing approach considering the competitive nature of South Africa's banking sector.
Ready to get started?
A good place to start when looking to join Capitec is by reviewing their product offerings online and requesting a quote for credit.
They have many guides and articles that can help you in understanding their offering more carefully and deciding on what options suit you best.
Capitec Services
While their low-cost savings account is one of their most popular products, their range has been expanding and they now offer everything from vehicle finance to debt consolidation loans.
These loans allow you to take control of your money, lower the amount you pay toward debt every month, and free up some cash flow. This extra money can then be used for everyday expenses so that you no longer have to struggle to make it till month-end.
Debt consolidation you can rely on
Capitec's debt consolidation loans allow you to borrow up to R250,000 with loan terms up to 84 months. If you want a personalised quote, simply visit their website and fill in their credit estimation form.
What debts can you consolidate?
Capitec allows you to consolidate just about any debt. This includes your car loan, personal loans, store cards, and credit cards into one, easier to manage personal loan. If you're paying too much towards your debt, struggling to manage them, or just want to simplify your finances, a consolidation loan may be able to help you.
What you need to know
Debt consolidation isn't for everyone. In addition, if you're choosing a longer loan term, you'll end up paying more for your debts in the end. This is particularly true if you consolidate store accounts that generally have shorter terms.
Other products on offer
Capitec offers a host of other financial products and services including their much-talked-about bank better, live better initiatives which offer a range of value-added services and bonuses that you can enjoy just by becoming a part of their family.
This includes fuel cash backs, learning something new with their Educate24 or GetSmarter benefits, and even consulting with a doctor from the comfort of your own home. If you're looking for a forward-thinking banking partner, Capitec has a lot to offer.
Unlock your financial freedom
A debt consolidation loan from Capitec could unlock up to R250,000 with a repayment term of up to 84 months. Interest rates are fixed and could start from as low as 11.75%.
Capitec – Consolidation loan
Loan Type

Debt consolidation

Interest Rate

from 13.75%

Loan Amount

up to R250,000

Repayment

84 months

Decision

24 hours
Benefits of Capitec
Reliable debt consolidation services
Competitive interest rates
One affordable monthly repayment
---
Securing your Capitec debt consolidation loan
Capitec strives to make everything from opening an account to getting a credit quote as simple and quick as possible.
If you're ready to apply to consolidate your debt, you can do so in one of three ways. You can visit a Capitec branch, get a quote online or send an SMS to 30605 with your ID number.
Using their online quote tool
Capitec's online quotation tool is the best way for you to find out whether you qualify, how much you can get, and what your repayments and interest rate will look like.
This simple form takes only a few minutes to complete and only requires some basic person, employment, and financial information to work its magic.
As with any credit application for a new customer, you must be able to provide a range of supporting documents including payslips, bank statements, your ID, and proof of address. These documents are required by all lenders, so keep them on hand when looking for credit.
Your credit rating and loan approval
Capitec will use your personal information to run an ITC check and determine your eligibility for credit. When it comes to debt consolidation loans, fair to good credit is an absolute must. If your credit score has taken a hit as a result of overdue bills and unpaid accounts, you'll likely be rejected.
That said, the best way to find out if you qualify is to get ahold of a consultant and have them assist you in collecting and reviewing your financial information to decide if consolidation is the right option for your circumstances.
Documents needed for a debt consolidation loan:
South African ID document/Smart card
Bank statement reflecting your last three salaries
Your latest payslip

Capitec is a trusted & reliable provider of debt consolidation
In our review, Capitec adheres to the compliance criteria in accordance with the National Credit Act, where the granting the loan will not cause financial distress to the consumer.
✅ Capitec is a registered credit provider in South Africa: NCRCP13
Customer Reviews & Testimonials
"
March 2020
I decided to get a debt consolidation loan at Capitec. It was such a pleasure working through them. I sat with the consultant for less than 20 minutes before walking out of the branch with my loa...
Melony T
— East London —
September 2020
I recently switched banks and I am incredibly happy with the decision I made. The fees that I need to pay were clearly discussed with me. They also advise and guide you to help you control your f...
Philip M
— Cape Town —
June 2020
Since I joined Capitec, I've never had a problem with them. They have very low banking fees and the best interest rate in my eyes
Leoni H
— Middelburg —
Capitec Contact
Contact Number
E-Mail
Website
Physical Address
Sunnypark Shopping Centre, Shop L3 Cnr Esselen Road &, Trevenna St, Sunnyside

Pretoria

Gauteng

0002

South Africa
Opening Hours
Monday

08:00 – 18:00

Tuesday

08:00 – 18:00

Wednesday

08:00 – 18:00

Thursday

08:00 – 18:00

Friday

08:00 – 18:00

Saturday

08:00 – 15:00

Sunday

– Closed