Protection against creditors
Save on interest & fees
Protect your assets
In-page navigation
---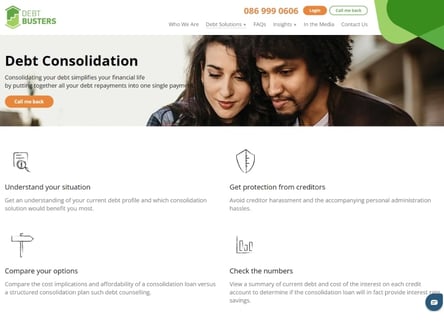 Author Debt Busters. Screenshot of Debt Busters website.


[Accessed December 12, 2022]
About Debt Busters
DebtBusters is a financial services provider with an established track record in providing debt consolidation loan solutions to South Africans who have problems with credit.
DebtBusters, since its beginnings in 2008, has become a popular go-to organization for debt consolidation in the country because of its professionalism and expertise. Currently, they have over 15,000 customers on their books - and the numbers are growing. DebtBusters is the flagship for debt consolidation products and services.
Financial stability is the name of the game
DebtBusters prides itself on the fact that it can help solve anyone's debt problem. With its track record of helping thousands of South Africans beat the debt trap, customers can rest assured that the company can provide them with the best solution, in the quickest time.
DebtBusters always aim to have customers debt-free in days rather than a few years – and have the statistics to prove it. Their team of professional finance agents has been found to find effective debt solutions for 96% of customers.
Debt consolidation plan for those in bad debt
DebtBusters offers top debt consolidation solutions to remove South Africans from the debt trap, no matter how difficult the situation. Debt consolidation means all debt is placed into one existing debt portfolio, which means lower rates of interest, savings, and better budget management.
DebtBusters will do their utmost best to have the customer's rates of interest fixed in line with their financial situation. Debt can give people who are caught in a bad debt situation many sleepless nights. DebtBusters are well aware of the situation, and therefore offer customers timely and effective debt relief.
Once clients have negotiated any debt consolidation loan deal with DebtBusters they will have peace of mind that they can afford to make the monthly repayments. Their debt consolidation loan will help them become responsible borrowers, increasing the client's chances of obtaining affordable credit in the future.
Debt Busters Services
Their online service is a no-frills, no-fuss, straightforward process when applying for debt consolidation.
With online technological advances, it means that clients do not have to enter a Debtbusters office to get their hands on a loan. Applicants to put themselves in with a chance of qualifying for a loan, need to have a clear credit record and have no arrears on repayments. The maximum loan to be granted, if the applicant is successful, will be 85% of the value of any property. Bond repayments may not exceed 30% of gross monthly income.
How the system works
A DebtBusters, debt consultant will be assigned to clients who make an application for a debt consolidation loan.
The financial expert will offer clients a thorough assessment with regards to financial standing, which includes checking documentation for accuracy and a credit check.
They will offer their expert assistance should the client need more information about debt consolidation.
Once the client chooses an available solution, the consultant will focus on finding a loan best suited for the customer.
Clients should take note that Debtbusters compare online loans of various lenders and then offer the client the most suitable one of their choosing.
DebtBusters debt consolidation loans
DebtBusters is focused on giving South Africans strangled by debt opportunities to budget finances better with low-interest debt consolidation loans. Clients can rest assured that DebtBusters offers loans from their network of debt consolidation lenders that meet financial requirements perfectly. Their reason for helping people affected by poor credit is to assist them in saving money.
Debt Busters – Consolidation loan
Loan Type

Debt consolidation
Benefits of Debt Busters
Simple loan application
Low-interest rates
Affordable loans
---
Consolidate your debt effectively & quickly with Debt Busters
It's all about taking the control back to good financial health and DebtBusters will help every step of the way.
What clients need when applying
3 months non-internet stamped bank statements
3 months payslips (Please indicate contact and number for the HR division.)
Copy of green bar-coded Identity book
Proof of residency
Details of next of kin (name, address, contact no.)
Settlement letter of latest existing loan accounts to be settled. (Maximum 5 accounts to be settled).
Unsecured and secured debt consolidation
Clients who take out a Debtbusters loan can be assured that the debt consolidation loan offered to them will meet their needs. Though the term of such loans are typically longer and result in higher costs, Debtbusters will help contain them by devising an individual repayment plan. There are three types of DebtBusters loans – they are home loans, unsecured, and secured loans.
The advantage of a Debtbusters debt consolidation loan is that these are among the most versatile and effective loans in the market. Becoming debt-free does not need to be a mountain to climb –clients have everything to gain by applying for a debt consolidation loan through Debtbusters.
Customer Reviews & Testimonials
"
April 2021
Debt Busters went out of their way to give me a loan during my financial time of need.
Anza J
— Sasolburg —
February 2021
It was through the loan I received from Debt Busters that I was able to close all my debts.
Emiya P
— Lenasia —
November 2021
The application process was handled quite well. It was aa effortless. From the first call, everything was explained well. Looking forward to this journey with Debt Busters.
Bryant D
— Cape Town —
Debt Busters Contact
Contact Number
E-Mail
Website
Physical Address
5th Floor, 11 Adderley Street

Cape Town

Western Cape

8001

South Africa
Opening Hours
Monday

07:00 – 21:00

Tuesday

07:00 – 21:00

Wednesday

07:00 – 21:00

Thursday

07:00 – 21:00

Friday

07:00 – 18:00

Saturday

09:00 – 12:30

Sunday

– Closed