Debt consolidation up to R300,000
Low-interest starting from 10.25%
Repayment up to 60 months
In-page navigation
---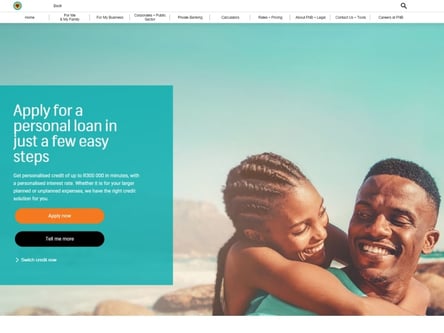 Author FNB. Screenshot of FNB website.


[Accessed December 12, 2022]
About FNB
FNB is South Africa's favourite bank; offering modern, personalized financial solutions that will move you forward.
From accounts and Forex to personal loans and credit cards, FNB has a wide range of products and services to suit your needs. They're well-known for their excellent customer service, modern products and services, and passion for giving back.
FNB's commitment to the environment
FNB is big on reducing its impact on the environment and has adopted a number of environmental policies to ensure they do exactly that. From energy conservation training to paper-saving policies, this FSP has been recognized for its efforts.
A long and rich history
FNB is proud to be one of the oldest banks in SA. With such a long and rich history they've firmly entrenched themselves into the fabric of our nation.
Service that will impress
Whether dealing with FNB in-branch or over the phone, you'll be struck by the high level of service that they deliver on a consistent basis. Not only are their staff members trained well but their commitment to their values and company ethos see to it that you'll always be treated well.
Struggling with multiple debts?
With a debt consolidation loan from FNB, you can regain control of your finances by settling your debt and saving on interest. Debt consolidation can be used to settle store accounts, credit card debt, or even personal loans. Some car loans may also be considered.
Settling all your debt can save you on interest and fee payments, improving your monthly cash flow. If you're not sure if consolidation will work for you, speak to one of FNB's consultants and they'll help you evaluate your situation and decide on the best way forward.
FNB Services
FNB offers South Africans one of the most flexible, personalised debt consolidation solutions on the market.
FNB's personal loan that offers up to R300,000 has been designed to help you take control over your finances.
Whether your debt is made up of credit card balances and store accounts or revolving personal loans, a consolidation loan through FNB can offer a host of benefits.
Support every step of the way
FNB's consultants will actually help you switch over. They will check your eligibility for consolidation, help you apply and then help you merge all those debts, one at a time.
Primary benefits of consolidating
One of the major concerns for those juggling multiple debts is the proper management of their debts.
While debit orders ensure loans are paid out automatically, these are not always available and may sometimes be misaligned.
By consolidating, you'll only have to worry about one payment every month, simplifying matters and ensuring you never have to deal with non-payment penalties.
Another major benefit you'll enjoy is a lower interest rate. This is particularly true if you're carrying high-interest debt on credit cards. You can also save by paying only your FNB account fee.
Finally, if you've been finding it difficult to make it through the month because you simply have too many debt commitments to take care of, consolidating will free up some money.
This doesn't mean you'll pay less for your debts overall but you will certainly make your day-to-day life a lot easier.
FNB – Consolidation loan
Loan Type

Debt consolidation

Interest Rate

from 10.25%

Loan Amount

up to R300,000

Repayment

1 month to 60 months
Benefits of FNB
Fixed interest rate
Affordable loans
No penalty fees for early settlement
---
Let FNB help you consolidate your debts in a few easy steps
By taking out an FNB personal loan, you'll be able to benefit from low-interest rates, flexible terms, and penalty-free early loan settlement.
You can borrow up to R300,000 at interest rates starting from 12.75% per annum with repayment terms up to 60 months.
You can also enjoy a payment break once a year (in January) and credit insurance that will protect you and your loved ones if anything unexpected happens.
FNB's consolidation loans are ideal for those managing too many debts, struggling to keep up with expensive debts and ever-increasing living costs, and those who just want to simplify their finances.
Use FNB's loan calculator
Their loan calculator can help you determine exactly how much you can afford to lend. They also have an advanced affordability calculator that looks at your income and expenses. Bear in mind that you will still have to undergo a credit check and that those with a bad credit history will not be able to access a personal loan.
Do you qualify for an FNB personal loan?
If you're over the age of 18, are employed or self-employed and have a monthly salary or steady stream of income entering your account, are a South African citizen or permanent resident, you can apply for a personal loan.
You'll also have to provide the following supporting documents:
A copy of your ID
Proof of address
Proof of income
Ready to apply?
You can visit any FNB branch, contact them via their call centre or, make a loan application via the FNB online banking app or website. Whichever method you select, you'll be taken care of by a professional consultant who will ensure your needs are met.

FNB is a trusted & reliable provider of debt consolidation
In our review, FNB adheres to the compliance criteria in accordance with the National Credit Act, where the granting the loan will not cause financial distress to the consumer.
✅ FNB is a registered credit provider in South Africa: NCRCP20
Customer Reviews & Testimonials
"
November 2020
Thank you FNB for your fast service. I am able to handle my debt repayments for the first time in very long. I did not think that is going to happen this year!
Claudia C
— Cape Town —
November 2020
This year was very tough on my family, and we did not know where to turn for help anymore. Fnb helped us when we thought we were beyond help. Thank you for your understanding and helpful consulta...
Tyrone R
— Bloemfontein —
February 2020
Quickest and best loan provider ever! The application was simple and the consultants knew exactly what they were doing
Tiaan W
— Cape Town —
FNB Contact
Contact Number
E-Mail
Website
Physical Address
Thebe Hoskins House, Breda St &, Mill St

Cape Town

Western Cape

8001

South Africa
Opening Hours
Monday

08:30 – 16:00

Tuesday

09:00 – 16:00

Wednesday

09:00 – 16:00

Thursday

09:00 – 16:00

Friday

09:00 – 16:00

Saturday

08:30 – 11:00

Sunday

– Closed