Debt consolidation up to R100,000
Approval in 1 hour
Repayment up to 36 months
In-page navigation
---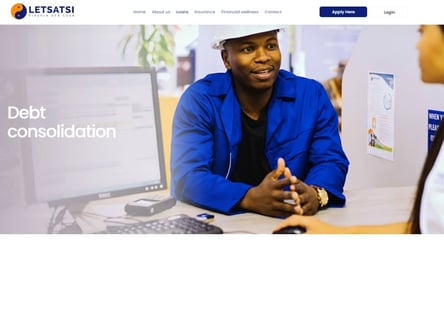 Author Letsatsi Finance. Screenshot of Letsatsi Finance website.


[Accessed December 12, 2022]
About Letsatsi Finance
Letsatsi Finance is a micro-loans company that assists cash-strapped South Africans with affordable debt consolidation loans.
Letsatsi's debt consolidation loans are carefully analysed and structured to help clients remove themselves from the debt trap. Letsatsi is the go-to micro-loans organisation that helps clients regain control of their finances. Letsatsi means "day", so with one of their loans, clients can welcome a brand new day with renewed confidence and a positive outlook to the future.
The advantage of applying for a loan with Letsatsi is that they offer a wide range of financial products to help guide customers back to financial well-being. The micro-loans company with its 17-years track record and 50 branches is a sought-after organisation that has been providing personal loans and debt consolidation solutions to clients all over the country.
It is the company's stated mission to provide affordable, flexible, and helpful financial products to customers to uplift their standard of living and achieve financial wellness. Letsatsi is all about wanting to see clients happy and content and to give them their place in the sun with affordable debt consolidation loans.
Debt consolidation plan for everyone
The micro-finance company is well aware that South Africans are battling to keep finances afloat during these tough economic times. They are sensitive to people's needs and therefore have designed a debt consolidation plan to suit everyone.
Their debt consolidation plan will help those who are battling to pay credit cards, store cards or loan repayments, and other debts. A debt consolidation loan helps clients better manage finances by combining smaller loans and accounts into one loan with a single monthly instalment. Letsatsi Finance's interest rates on debt consolidation loans are pegged at competitive market rates.
Letsatsi Finance Services
Letsatsi's debt consolidation loans allow clients to consolidate up to R100,000 in debt and repay the amount for 9 months to 3 years.
Letsatsi is aware that many South Africans are cash-strapped due to a recurring bad debt situation. With a Letsatsi debt consolidation loan, clients are subjected to lower interest than those on credit cards. This means money can be saved on interest and used for other daily needs.
What clients get with a Letsatsi debt consolidation
Loan amounts of up to R100,000
Repayment periods of between 9 months to 36 months
Lower rates of interest
Decisions on loan applications within an hour
Money paid into a bank account within hours
The best customer service
Letsatsi is the go-to debt consolidator because they do not see their customers as an account number. As registered credit providers of high repute, they go out of their way to treat every customer with care and respect. Their credit services division for no extra fee, will carefully analyse each loan applicant's current debt situation and help them gain control of their current and future finances.
Their professional staff will always grant debt consolidation loans to clients that they will afford to repay. Whether clients are under administration or debt review, Letsatsi is there to lend the helping hand that customers deserve. They will even help borrowers who have been turned away by other financial institutions in the past, out of the debt trap.
Letsatsi Finance – Consolidation loan
Loan Type

Debt consolidation

Loan Amount

up to R100,000

Repayment

9 months to 36 months

Decision

1 hour
Benefits of Letsatsi Finance
Get approval within 1 hour
Same day payout
Professional staff to assist
---
A lender that understands the power of debt consolidation
A Letsatsi debt consolidation plan helps customers find financial freedom as they can use the loan in various ways.
Clients can buy those new kitchen cupboards for their home, or fix a vehicle that needs urgent repair. They may even have to pay a child's university fees or medical and emergency bills. Before any customer can find the financial freedom they deserve, LETSATSI like any other lender has criteria that need to be met before lending money to any individual.
Life is filled with surprises – and unfortunately, these surprises sometimes require emergency responses. Money is not always available to finance these unexpected emergencies. People in these situations need not fear, however, as Letsatsi has a plan for them with their low-interest debt consolidation loans.
Application requirements for debt consolidation
Applicants must be South African citizens between the ages of 21 and 60
Applicants must earn a minimum of R3,500 per month
They must be permanently employed for at least six months, and
Have a valid bank account (so that income and expenses can be assessed)
Applicants must supply two months payslips with the application
The application must also be accompanied by a certified copy of an SA ID and the client's proof of residence.
Find a branch online, contact their offices or apply on their website for a debt consolidation loan. Letsatsi helps the sun come up for South Africans again with affordable debt consolidation in South Africa.
Customer Reviews & Testimonials
"
June 2021
Letsatsi Finance is a credit provider that is always seeking to help customers for the financial greater good.
Thabiso P
— Margate —
February 2021
I am finally on the road to becoming debt free. Thank you Letsatsi Finance
Julie J
— Pretoria —
Letsatsi Finance Contact
Contact Number
E-Mail
Website
Physical Address
222 Rivonia Rd, Crn Alon & Michelle Str, Morningside Close Office Park, Unit F Morningside, Sandton

Johannesburg

Gauteng

2001

South Africa
Opening Hours
Monday

08:00 – 17:00

Tuesday

08:00 – 17:00

Wednesday

08:00 – 17:00

Thursday

08:00 – 17:00

Friday

08:00 – 17:00

Saturday

08:00 – 17:00

Sunday

08:00 – 12:00