Easily reduce repayments
Expert financial advice
FREE consultations
In-page navigation
---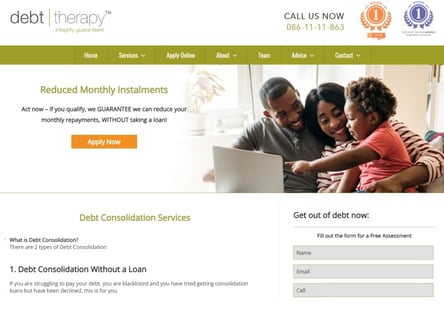 Author Debt Therapy. Screenshot of Debt Therapy website.


[Accessed December 12, 2022]
About Debt Therapy
Debt Therapy is your online platform for getting debt counselling, debt review, and debt consolidation.
They work in accordance with the regulations of the National Credit Act of 2005, working in line with your affordability. Debt Therapy is serious about helping you if you are serious about a life without debt.
A top lender in the SA
They've been named one of the Top 5 debt counselling companies in South Africa for three years and the reason for this is their ability to provide a system that works for you.
If you're a South African and you want to be debt-free then you are most welcome to speak to one of their expert consultants who's been trained in this field, they'll help and guide you with the fastest possible way of making sure that you're still able to budget for your day to day living without the stress of worrying about being able to put food on the table.
Opportunities for you
There's no greater feeling in the world than being financially free of debt. Not having to worry about being hassled by creditors asking for payments. But being able to afford to buy something cash when you need it as well as being in a position to save cash each month because you have the extra cash to save.
These are all the realities of what you could do, with the help of their solutions.
Debt Therapy Services
They're not just a lending firm, nor do they offer a quick fix to get out of financial trouble.
They offer a long-term promise to those who're committed to becoming debt-free for good.
They don't hide behind smoke and mirrors, they simply lay down the truth and provide the service you need. They keep in constant communication with you, through a team of highly experienced debt counsellors, who are always there to assist you when you need them.
A loan that suits your budget
Their debt consolidation solutions are offered through careful assessments of your personal criteria and your financial situation, they create a customised offer for you that'll meet your budget and offer you a long-term get-out-of-debt solution.
Using credit to get by each month, adds up and you eventually take out more credit to cover your existing loans or to pay off your debt. The vicious circle continues, till you become extremely stressed with the debt trap you've wallowed into and can't seem to get out of.
Being over-indebted is not the end
They provide debt solutions to help you in these situations, without offering more loans to cover them.
Debt Therapy – Consolidation loan
Loan Type

Debt consolidation
Benefits of Debt Therapy
Debt counselling
Debt review
Financial advice
---
Debt Therapy consolidates your debt with one affordable installment
Once you decide to make this choice, you're already on the right track to being free of debt.
Let them consolidate your debt into one simple affordable payment each month and feel the pressure of your monthly payments drop to an amount that you can actually afford. Debt Therapy consolidates your debt & reduces your monthly payment to one affordable instalment
Debt counselling, debt review and debt consolidation are all the solutions they offer you at Debt Therapy. They're fast becoming one of the country's top debt counselling firms, which offer valuable assistance to you if you want to become debt-free. They offer you a convenient and easy way to resolve your debt problems.
Some of their benefits include
No call centres, no appointments, no wasting time!
They provide free consultations with quick easy processes
Your information is kept confidential at all times
They can consolidate your debt into one reduced monthly payment
How to apply
Take advantage of these quick easy steps to get started on the road to being debt-free:
Apply online through their easy-to-understand loan application form. Submit it to them and let them evaluate your debt situation. They'll need a list of all your creditors with an outstanding balance, a copy of your salary slip, and recent bank statements.
They'll contact your creditors to negotiate your monthly instalments into a much lower reduced payment. They'll also inform them that you're now undergoing debt review and they can no longer harass you with calls for payments.
Legal help
They'll represent you in court to get a court order, for your creditors to state you're undergoing debt review and the amounts they have agreed to will be finalised.
They'll present you with your new repayment structure, which will be only one reduced monthly instalment. They'll consolidate all your debt under one solution so that when you pay your one instalment, the NCR will distribute all the separate payments to your creditors.
When you're completely finished paying off your debts, you'll be cleared on the credit bureau as well as with your creditors.
There is a solution to getting out of debt
This method is a permanent solution and works with clients who are committed to becoming debt-free. You'll not, however, be able to make any debt when under debt review, and won't be able to use any form of credit. You'll have one reduced payment, making life more affordable and less stressful.
Customer Reviews & Testimonials
"
June 2018
If you looking for great benefits on your loan, visit the Debt Therapy website today.
Petunia M
— Rustenburg —
November 2018
The interest rates I got on my loan are the reason I am able to still pay for my loan.
Caroline V
— Klerksdorp —
February 2019
What a convenient service I got from Debt Therapy when I applied for credit.
Daniel W
— Vereeniging —
Debt Therapy Contact
Contact Number
E-Mail
Website
Physical Address
Unit 9, 1st Floor, Time Business Park, 37 Blaauwberg Rd, Table View

Cape Town

Western Cape

7441

South Africa
Opening Hours
Monday

08:00 – 17:00

Tuesday

08:00 – 17:00

Wednesday

08:00 – 17:00

Thursday

08:00 – 17:00

Friday

08:00 – 17:00

Saturday

– Closed

Sunday

– Closed