Instant loans up to R4,000
Apply 24/7
Loans in a blink
In-page navigation
---
About Blink Finance
We provide South Africans with instant, and flexible short-term loans.
Blink Finance is accredited by the National Credit Regulator, allowing us to provide flexible personal loans to the whole of South Africa.
Blink Finance is a safe and secure credit provider
We have the best security and conversations with our customers are completely private. The data and documents you provide to us are encrypted and stored securely.
No one will have access to them except us. Most importantly, at Blink Finance we don't give out our customers' information. Our customers' safety is a priority.
Our purpose is to help you take control
At Blink Finance we offer plenty of financial products and online loans to help you take control of your finances. We want to see every South African achieve the financial freedom they deserve. We want to see people investing less time in determining which loan best suits their needs.
We give people a second chance
At Blink Finance, we're one of the few credit providers that believe your past mistakes do not have to determine your future. Our team of hard-working individuals are expertly trained and always eager to help.
You can apply for one of our instant loans, even if you have bad credit. If we're confident that you'll be able to repay the amount borrowed, we'll gladly consider your application.
Blink Finance Services
Blink Finance offers the best customer service.
Do not get left behind, Blink Finance offers quick loans of up to R4000 and use the latest technology to help fasten the online loan application.
Instant cash without the paperwork
We have a paperless credit solution that allows you to get instant loans with less hassle. All Blink Finance new customers are limited to a R2500 loan for up to one month. Existing customers can borrow up to R4 000.
You won't have to wait long to receive your loan
After you've submitted all the required documents and your application is approved, you can expect your money to be credited to your bank account within 24 hours. You can also request an immediate payment which is accompanied by a small R57 fee.
Apply for a second loan
We're all about assisting people achieve a financial breakthrough. But before we grant you a loan, we make sure we assess your affordability. If you qualify to get a short-term loan from us and you'll be able to keep up with repayments, we'll gladly grant you a loan while you already have existing debt.
How your repayments work
When you apply for any Blink Finance service, you'll choose the repayment period suitable for you. We then set up a debit order which runs on a given date on which an installment is deducted from your account.
Blink Finance – Instant loan
Loan Type

Instant loans

Loan Amount

up to R4,000
Benefits of Blink Finance
Flexible

short-term loans
Transparent

online loans
A

dedicated support team
Apply for a loan within minutes at Blink Finance
We have a simple, straightforward, and easy application form that can be completed in less than 10 minutes.
You can apply for an instant cash loan 24 hours a day, 7 days a week.
All you need to do is follow these easy three steps:
Step 1- choose the loan you need
You can choose the quick loan you need on the homepage of our website by using our online calculator. The online calculator will show you the possible total costs of the loan including the interest rates.
Step 2- tell us about yourself
We'll request your South African ID, to determine if you qualify to apply. Afterward, we'll need information including your contact details, bank details, physical address, postal address, employer details, and income and expenses.
Step 3- get your cash
Before we approve your application, we'll first verify your income. We achieve this by conducting a credit check and affordability assessment to ensure that all details provided are accurate. If you're approved for the payday loan, we'll transfer the money into your bank account.
What happens if you fail to repay your loan
If you fail to make your monthly repayments it means you are failing to comply with our agreement. Thus, we charge a monthly R50 service fee and a 3% interest charge for any non-repayments. If you fail to repay for two months, and we cannot reach any agreement with you, we'll have to send your account to an external debt collection company.
How to get in touch with Blink Finance
We're a South African based credit provider that only grants credit to South Africans. You can get hold of us by visiting our website, calling, emailing or coming to see us during business hours.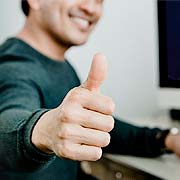 Blink Finance is a trusted & reliable provider of instant loans
In our review, Blink Finance adheres to the compliance criteria in accordance with the National Credit Act, where the granting the loan will not cause financial distress to the consumer.
Blink Finance is a registered credit provider in South Africa: NCRCP12599
Customer Reviews & Testimonials
"
I have bad credit. I've given up on getting an instant loan, but Blink Finance came with its convenient loans. They instilled my confidence again.
Mike L
— Cape Town —
I am amazed by how the Blink Finance application form is so straightforward. I literally understood everything while I was applying.
Mira K
— Free State —
I received a loan that has the most affordable interest rate at Blink Finance. 19/02/2019
Angel O
— Port Elizabeth —
Blink Finance Contact
Contact Number
E-Mail
Website
Physical Address
Unit 15, Kingfisher Building, Hazeldean Office Park, Silverlakes Rd

Tyger Valley

0084

South Africa