Expert Financial Advice
Low-interest starting from 28%
Repayment up to 5 years
In-page navigation
---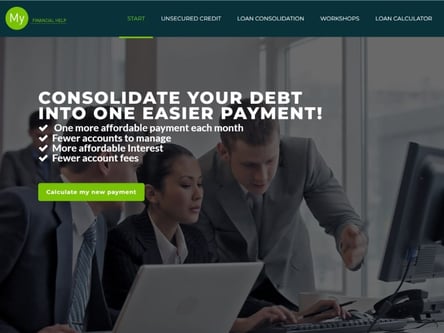 Author My Financial Help. Screenshot of My Financial Help website.


[Accessed December 9, 2022]
About My Financial Help
With support from My Financial Help, you can consolidate your debt into one easy payment.
This ensures you'll secure much more affordable monthly payments instead of paying loans and fees to numerous banks and lenders. You'll have less stress with fewer accounts to manage, and all your accounts will be in one place.
Grouped interest rates from My Financial Help are more affordable and there are fewer fees with one main account. My Financial Help will assist you to calculate your new payments.
Unsecured bad credit loans
Credit facilities include store cards, low-rate credit cards, revolving credit plans, and overdrafts. These will typically carry lower interest rates of any unsecured credit product. This is because credit providers have a maximum amount that they can charge.
The credit cost will usually be reduced more because they charge an initiation fee only once when the contract is put into place. This is a considerable advantage.
Unsecured credit transactions
My Financial Help wants to deliver a secure transaction. When they grant a bad credit loan online, it'll be for the full amount. All repayments will be paid in fixed payments for the term that you specified.
Once you've repaid your loan, you'll need to apply again if you need another. Their maximum rate of interest for these loans is 21%. This should give you peace of mind that the interest rate will not increase beyond what you can manage.
My Financial Help Services
My Financial Help is determined to help you and even provide free workshops. These workshops deliver talks about financial wellbeing.
Not only for you, but for financial institutions and for the employees of these institutions. If your finances are in a rut, you might feel the need to get another job or borrow from friends and family.
But look no further. My Financial Help is the financial institution for you. Even with a poor repayment history, they offer bad credit loans that can help.
My Financial Help's short-term credit options
My Financial Help provides short-term loans for bad credit. They offer loans of R8000 or less, with the option of up to 6 months to repay. You can choose your preferred loan period.
This provider displays its interest rates clearly so that you can choose the most appropriate option for your budget. Rates change regularly and you must act quickly to choose the best rate. This provider is transparent and has no hidden fees.
Loan consolidation options
My Financial Help offer debt consolidation which involves them taking all of your current credit arrangements and combining them into one loan. The reason for this is to reduce your monthly payments and help you save.
It may help you to gradually close accounts that are not used to prevent any unnecessary debt. You'll need to manually close these accounts. Fees and account charges will easily keep your account open, so be wary.
My Financial Help – Bad credit loan
Loan Type

Bad credit loans

Interest Rate

from 28%

Repayment

2 years to 5 years
Benefits of My Financial Help
Bad credit Loans
Financiers who care
Cheap and easy repayments
Helpful 24/7 service
Repayments between 2 and 5 years
Bad credit loan calculator
Why South Africans prefer us
My Financial Help's loan repayment periods are between 24 and 60 months.
This is to allow you plenty of time to regain your balance and pay off your credit without stress. To achieve financial wellness, you must clean up your credit record.
This will exert a great impact on the rest of your life. You can use My Financial Help's online calculator to see your credit score and find tips on how to improve a negative history or how to secure a loan for bad credit.
Removing negative details from the credit bureau
Bad credit will often be referred to as blacklisting. This is a way of saying, you have negative information on your credit record. But this can be repaired by means of My Financial Help.
As of 2016, the NCA places restrictions on credit providers. This act further states that all customers can, by right, have poor credit information removed from their credit record.
This can however only be done once all their accounts are settled. This is an example of how My Financial Help is here to support you.
My Financial Help's loan calculator
On their website, they offer the use of a free loan calculator. It just requires a bit of information like your name, email address, and phone number. With this, you'll be able to calculate your installments, costs, and savings.
You'll also see a detailed month-to-month breakdown of your balance. Make sure to refer to all of their terms and conditions and contact their consultants if you need assistance. Accept the terms and conditions when you're ready to apply for a loan and get your finances in order!
Customer Reviews & Testimonials
"
August 2019
The free loan calculator was a great expectation of what I will be paying
Jeffry U
— Grahamstown —
July 2019
My Financial Help gave me great advice
Samuel T
— Port Elizabeth —
October 2019
Excellent service and easy to understand
Mieke A
East London
Mieke A
— East London —
My Financial Help Contact
Contact Number
E-Mail
Website
Physical Address
3 Cutter Cl

Blouberg Sands

Cape Town

7441

South Africa
---
Postal Address
2 Spearhead Business Park Montague Drive Marconi Beam 7441