Bad credit loans up to R150,000
Low-interest up to 27%
Repayment up to 60 months
In-page navigation
---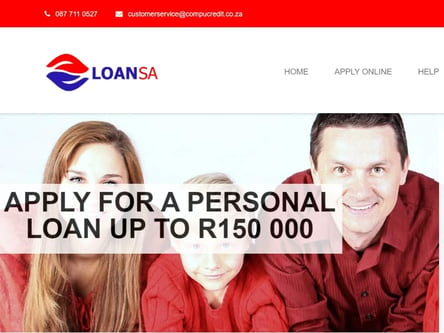 Author Loan SA. Screenshot of Loan SA website.


[Accessed December 9, 2022]
About Loan SA
Loan SA has built up a quick and simple platform to help you apply for credit.
3-minute loan application
What makes Loan SA one of a kind is its administration process. Their online loans have an extensive variety of choices to suit even the most cash-strapped individual. They've even helped customers that have bad credit, and have been rejected by other lenders.
Beneficial elements to help you
One of Loan SA's key value-added elements that are incorporated into their package, is their paralegal assistance from experienced consultants. You'll get professional telephonic legal assistance and guidance throughout your subscription period.
Use your loan for anything
Home upgrades, debt consolidation, school expenses, business, family crisis, medical, wedding, or even a get-away!
When the geyser bursts or your car decides to get a flat tire and you need money in a big hurry, Loan SA will bend over backward to bring you the most reasonable deals.
Don't delay, subscribe to Loan SA's services today and get a free online loan search tool that helps you search through their wide variety of lenders.
You can use the service as many times as you like to find the best cash loan that suits your specific needs.
Loan SA Services
Lending solutions from Loan SA are offered to all South African citizens.
Their service includes financial assistance to clients who need a fast service provider that can help them find a suitable credit option with very little effort.
Loan SA offer:
Personal loans – clients can get up to R150 000 to use for whatever they like
Vehicle finance – which is available for bad credit and blacklisted clients
Debt consolidation – for when you want to combine all debts in one loan agreement and pay off just one instalment each month
Blacklisted loans – for clients who have a less than perfect credit score and need affordable credit packages
Convenient terms of up to 60 months
To access a loan, you can simply contact Loan SA via email, with your name and loan requirements.
Clients, who prefer a quicker method, can simply apply through their online loan application form which allows you to get cash from your home, office, or wherever you have access to a computer. Loan SA's loans are payable over convenient terms ranging from between 6 to 60 months.
This will allow easy and affordable instalments over a period that you can manage. Loan SA will make life easier for you through technology which speeds up the process.
Their amazing customer service drives their quality management and they deliver a full-service package like no other platform out there.
Loan SA – Bad credit loan
Loan Type

Bad credit loans

Interest Rate

up to 27%

Loan Amount

up to R150,000

Repayment

6 months to 60 months

Decision

3 minutes
Benefits of Loan SA
Quick and easy online application
Accessible 24/7
Affordable loans
Bad credit loan calculator
Get a speedy blacklisted loan at Loan SA
Loan SA's loans are unbeatable with highly competitive interest rates as well as exceptional service delivery to our clients.
Convenient online loans
As one of South Africa's fastest-growing resources for online loans, Loan SA grants access to loans and strives on building better and faster techniques and processes to provide a one-of-a-kind service.
Their repayment terms were designed to meet your lifestyle and your budget, with terms conveniently ranging from 6 to 60 months.
This time frame allows you to easily repay your personal loan, without feeling the financial pinch that comes with debt. Clients who are blacklisted seem to encounter a lot of problems when trying to get finance.
Have you been rejected by your bank?
Banks and larger lending firms will take one brief look at your credit history and instantly decline your application. Loan SA is different and won't judge you on your past. As long as you have a good job and can afford the loan then your loan application should be approved easily.
Search and find a lender
You can spend days, weeks, and even months trying to find a lender on your own, to assist you with the cash you need. What makes Loan SA's services work better for blacklisted clients is their total solution.
They have an innovative online platform that allows you to apply for a personal loan online, without even leaving your office. This immediately takes the stress off your shoulders and saves you time.
Loan SA will give you the ultimate choice
There are a lot of lenders that offer blacklisted loans, and Loan SA will give you a number of different options to choose from. You'll have quick access to the cash you need with this provider.
Another key element is speed. Loan SA gets you the cash you need fast! You can have cash in your bank account within 24 to 48 hours of submitting your application.
The next steps
Once your application is approved, Loan SA will forward you an agreement, stating your repayment amounts, the date of your first instalment, and all the other relevant loan details.
Once you've signed the contract, the deal is done and you'll have the cash you need to use as you please. It's simple. It's fast. And Loan SA can make it happen for you, even if you don't have a perfect credit score.
Register, sign up, and join thousands of happy customers, who got first-time and second-time finance through Loans SA.
Customer Reviews & Testimonials
"
April 2019
Loan SA has been operating for a number of years and they have never given me a loan that is way above my monthly budget.
Tony R
— Lichtenburg —
May 2019
I like Loan SA for the realistic payment offers they give you when you apply for credit.
Nomasonto R
— Soweto —
June 2019
The agents at Loan SA are always available to assist you when you need clarity on your loan.
Peter V
— Fochville —
Loan SA Contact
Contact Number
E-Mail
Website
Physical Address
30 Siphosethu Rd, Mount Edgecombe

Durban

KwaZulu-Natal

4302

South Africa