Low-income loans
Low-interest up to 28%
Repayment up to 60 months
In-page navigation
---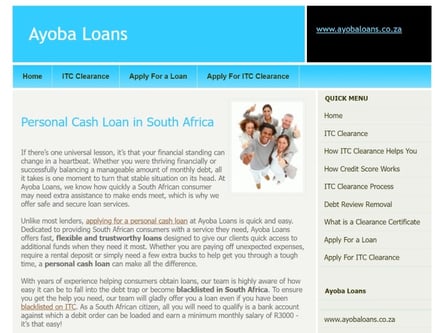 Author Ayoba Loans. Screenshot of Ayoba Loans website.


[Accessed December 9, 2022]
About Ayoba Loans
Ayoba Loans is your best solution to obtaining a fast cash loan when you're blacklisted or have a low credit score.
Their personal loans are easy to apply for through their online-based platform. Simply complete the application form and you'll be one step closer to receiving your cash.
Competitively rated unsecured loans
Ayoba's loans are flexible and require no assets as collateral to secure. Your personal information is kept secure by the latest technology and data privacy measures. There's no chance that your data will be sold to third parties.
This provider offers the best quality loan products at the best prices while their staff of experts ensures a top service delivery level that keeps you smiling and satisfied through the entire loan process.
Ayoba loans say yes more often, so their applicants are less disappointed. Even if they've had their blacklisted loan applications declined by other lenders, clients are able to secure the loan that they need.
Fastest loan processing power
Through innovative technology, they've simplified the loan application process and sped it up so that there's no unnecessary waiting around to have your loan approved or for a cash payout. Apply today and have cash in your bank account by tomorrow.
Ayoba Loans Services
Apply for cash loans of up to R250 000 with Ayoba Loans.
With easy-to-follow steps, simple-to-use platforms, and quick turnaround times - you never have to wait to get your loan again.
Loan approval for those with bad credit
Ayoba Loans' unique EFT process allows you to get cash paid into your bank account very quickly. They're fast becoming the people's choice when it comes to getting you the personal finance that you need.
Missing a payment or being in arrears on your accounts can mark you as a credit risk for many lenders and banks. This may mean that your loan application will be declined.
Ayoba Loans don't discriminate against those with bad credit and will look at your affordability to make a lending decision.
Obtain a loan easily through Ayoba
This provider cares about your financial well-being so they don't mind going the extra mile to help you get what you need.
Their years of experience in the lending business have defined their capabilities; they're experts at finding you a loan when no one else can.
Ayoba Loans – Bad credit loan
Loan Type

Bad credit loans

Interest Rate

up to 28%

Repayment

3 months to 60 months
Benefits of Ayoba Loans
The easiest online application
Low-income friendly loans
Quick response time
Affordable repayments
Bad credit loan calculator
Ayoba Loans specialise in blacklisted loans
Ayoba Loans understands that getting a personal loan can sometimes be a time-consuming chore that's made even more difficult if you're blacklisted.
People often avoid the technical side of the application process and just settle with the first lender they come across. This leads them to pay more in interest fees and in many cases caused undue stress - but with Ayoba Loans you can avoid this.
Ayoba access your loan application differently
Ayoba Loans doesn't only look at your credit score, they take a look at your affordability along with your ITC score so you have a much better chance of having your loan application approved.
To qualify you must be 18 years old, permanently employed, earning a salary, and be able to demonstrate that you can afford to repay the instalments.
Fast online cash payouts
Some lenders require you to visit a loan office in person and go back two or three times to finally get confirmation on your loan. This wastes a lot of time and if they say no, you're back where you started with even less time to sort out a financial solution.
You can access cash in as little as 48 hours. The cash will be deposited directly into your bank account, by simply applying online through Ayoba's website.
To qualify for a loan, all you need is:
A South African ID book or barcoded ID book- only SA citizens can apply
A valid banking account – as this will be used to debit your instalments
A salary of no less than R3 000 per month – you may need to supply a recent salary slip
Ayoba Loans usually have positive outcomes for most of their loan applicants; however, there may be factors that will cause your application to be delayed or rejected.
Applications could be declined due to the following:
If you're not able to afford the monthly instalments on the loan
If you're under debt review or debt administration
These are usually the only criteria that will put a hold on your application for a bad credit loan. If you meet the other qualifying criteria, you should be good to go!
Regulated and responsible lenders
Ayoba Loans work in line with the National Credit Act of South Africa and all their lenders offer online loans that comply with the standard set out by the Act.
Ayoba's lenders are responsible and will not lend you more than what you can afford to repay comfortably. If Ayoba has determined that you can't afford the amount that you'd like, we could still approve you for a lesser amount that is more manageable to repay.
How much can I borrow?
Most of Ayoba's lenders allow you to borrow up to the amount of R250 000 depending on how much you earn and what your expenses are each month.
Customer Reviews & Testimonials
"
April 2019
Ayoba Loans has always given me affordable loans!
Zelda L
— Parys —
May 2019
After applying for an Ayoba Loan, I had to wait for only an hour to get the funds transferred into my bank account.
Patricia H
— Parktown —
Ayoba Loans Contact
Contact Number
E-Mail
Website
Physical Address
8 George St,

Leeudoringstad

2640

South Africa