100% free service
Low-interest starting from 14 %
Repayment up to 60 months
In-page navigation
---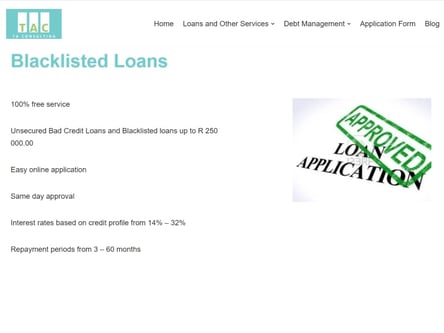 Author TA Consulting. Screenshot of TA Consulting website.


[Accessed December 9, 2022]
About TA Consulting
TA Consulting is a responsible and reliable lender in South Africa that offers bad credit to those individuals that find it difficult to obtain a loan elsewhere.
They not only provide fast and efficient services through online tools, but they also have the staffing capabilities to be there for you when they need them. They take customer care very seriously and will ensure that you receive the best service possible.
Get your cash in 24 hours
You can get the cash you need within 24 by applying through TA Consulting's website and completing the online application form.
Everyone could use a little extra cash at some point, but who can you trust and rely on to get a loan when you have a bad credit history?
You can't get the advice that you need from a computer and calling in only to get a computer-generated answer can be very frustrating.
That's why TA Consulting's staff is trained so rigorously and highly qualified to assist you throughout each step of your lending journey.
Going the extra mile for those with bad credit
TA Consulting specialise in loans for blacklisted individuals. To date, they've helped thousands of clients and paid out loans with their characteristic speed and efficacy.
This provider goes the extra mile in everything they do to make you happy and to bring you the lowest cost loans. Once you become a client, you'll always have a place with TA Consulting and they'll be ready to help you if you ever need cash again.
TA Consulting Services
Even if you're struggling to get approved because you are blacklisted, you no longer have to worry about looking any further - TA Consulting will provide a suitable solution.
Bad credit loans for those who are blacklisted
Everyone deserves equal opportunities when applying for a loan, including clients who are blacklisted. This provider offers competitive rates and terms on their loans, that will have you smiling every step of the way.
Their loans have very flexible terms and conditions that can be customized to meet your needs and fit into your budget constraints.
Borrow up to R150 000
To qualify is as simple as being over 18, having proof that you've been in a permanent job for at least 3 months, and having a South African ID.
Blacklisted clients can apply for a loan of up to R150 000 that needs to be repaid over 3 to 60 months depending on your loan agreement.
Be rewarded for your good credit score
The amount that you'll be charged on your loan each month will depend on your credit record and how much you want to borrow. The better your credit score is the less you'll be charged on interest and the more flexible your loan terms will be.
The interest rates that TA Consulting charges are far lower than the rates that the majority of lenders charge.
TA Consulting – Bad credit loan
Loan Type

Bad credit loans

Interest Rate

14 – 32% p/a

Repayment

3 months to 60 months

Decision

24 hours
Benefits of TA Consulting
100% free service
Comprehensive service and loans
Bad credit friendly
Bad credit loan calculator
TA Consulting - more than a just a lender
TA Consulting offers personal loans as well as a consultation service that provides essential advice and assistance with your debts.
They're the perfect partner when it comes to applying for a loan. Their loans will help you get out of debt and stay out of it! They understand the complexities of being blacklisted and all the problems associated with it.
Being blacklisted could be the result of missing payments on an account or an instalment on a loan or paying one of your credit cards late. One slight wrong move can leave a harsh imprint on your credit portfolio that will make your life unnecessarily difficult.
TA Consulting provide bad credit loans
Your ability to get a personal loan when you have bad credit will depend on your level of affordability. If you can afford the instalments required, your loan has a high chance of being approved.
Their loans for blacklisted people are easy to apply for and simple to obtain. The best part is that they don't charge a service fee.
You can borrow up to R150 000 depending on your level of affordability. TA Consulting also offers medical aid cover that's affordable enough to cover your entire family.
Additional services offered
Another great service offered is debt counselling, for clients who find themselves in a situation where they can't cover their debts on a monthly basis and need some financial assistance.
Register online through TA Consulting's website and follow the easy prompts to get finance and sort out your financial difficulties.
It's so easy to qualify
Once you've registered simply complete the online application form and submit it. They'll verify your details, and search to find you the best loan. Once they've narrowed down the search, they'll present you with the best options to choose from.
When you've found the perfect loan to suit your needs, sign the contract and the money will be deposited straight into your bank account. You can get cash if you are blacklisted very easily through TA Consulting, so what are you waiting for?
Customer Reviews & Testimonials
"
April 2019
TA Consulting will never disappoint you. Even if they can't give you a loan at this moment, they will give you valid reasons why.
Lerato K
— Mafikeng —
May 2019
I am so happy TA Consulting got back to me on the very same day I applied for credit!
Dinah W
— Vereeniging —
TA Consulting Contact
Contact Number
E-Mail
Website
Physical Address
Plot 217, Nooitgedacht

Randburg

1724

South Africa
Opening Hours
Monday

07:00 – 22:00

Tuesday

07:00 – 22:00

Wednesday

07:00 – 22:00

Thursday

07:00 – 22:00

Friday

07:00 – 22:00

Saturday

07:00 – 22:00

Sunday

07:00 – 22:00