Specialised Debt Solutions
Expert Finacial Advice
Blacklisted Loans
In-page navigation
---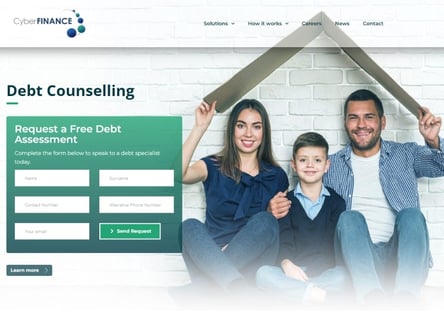 Author Cyber Finance. Screenshot of Cyber Finance website.


[Accessed December 9, 2022]
About Cyber Finance
When looking for credit, the last thing you want is being assisted by a group of individuals who don't know how to present the services they offer.
Cyber Finance has hired some of the most effective and efficient workers that go out of their way to ensure that you get only the best bad credit loans.
Apply for the amount you need
It's important to remember that while you might be looking for emergency money, it's pointless to assist you if you won't be able to pay for it.
At the end of the day, Cyber Finance wouldn't be doing you any justice if they just gave you a personal loan without consideration of your credit profile. However, they don't do that, as they follow the rules set out by the NCR and will ensure that you're comfortable with the loan that you're applying for.
A different financial perspective
It's difficult to get a quick online loan that meets your budget, especially if you've never applied for a loan in the past. However, when you make use of Cyber Finance's services, you'll be acquainted with financial specialists that will help you get the best deals without compromising your budget.
If anything, that should be the key. If you can't find a credit plan that won't be merciful towards your budget, you need to look again.
Cyber Finance Services
There are a number of reasons that you're sitting with a bad credit score.
If you weren't spending your money wisely or have too many debts that you can no longer afford, you've certainly found the problem. However, not all hope is lost because lenders such as Cyber Finance can help you get to where you want to be financially.
Consider your affordability
Cyber Finance understands that there's no such thing as a perfect credit but people can at least try to get there. By doing this, things will become slightly easier when you apply for a bad credit loan.
Half of the time people are rejected because they don't qualify in terms of affordability - not because of bad credit. Therefore, if you fix your affordability, you'll see the difference going forward and will be able to enjoy loan approval as needed.
Allow Cyber Finance to help with debt consolidation
If you have too much debt to manage and you can no longer afford to pay it or are falling behind, you have to consider debt consolidation. This is where Cyber Finance combines all your debts into one easy-to-manage personal loan.
Clients have realized that this is not a bad option after all because there are huge savings to be enjoyed. Don't be afraid to speak up if you need help, you don't have to struggle in silence when Cyber Finance is here to assist.
Cyber Finance – Bad credit loan
Loan Type

Bad credit loans
Benefits of Cyber Finance
flexible loans
Quick funding
Quick loan application
Bad credit loan calculator
Cyber Finance helps you make the right decisions
Cyber Finance understands that you need money right away and due to the severity of your situation, you can't afford to waste time on lenders who will reject you outright.
If you already have too much on your plate, opting for more bad credit loans will not help you. Give Cyber Finance a call and they'll try to give you recommendations that are more suited to your situation and needs.
Struggling with overwhelming debt?
It's not ideal to have all these debts you have to account for. All you're doing is paying for loans and more loans.
Cyber Finance wants to ensure that you're able to live a normal life and buy yourself nice things if you want to. They don't want to put people in a situation where they can't even enjoy the smallest things because they have to pay for their personal loan in South Africa.
Adhering to the rules of the National Credit Regulator
One of the crucial reasons why lenders have to adhere to the National Credit Regulator is to ensure that they can afford the long or short-term loan that they're applying for.
It's important that you don't take up credit that will prove to be difficult to pay for when your loan is due for payment. This is why lenders such as Cyber Finance have credit systems in place to ensure that everything you do is well within your financial capacity.
What if I don't meet the requirements?
If you don't meet the requirements, Cyber Finance will tell you what you have to focus on so that the next time you apply, you may be granted loan approval. However, don't lose hope if you were declined, chances are there are valid reasons why this lender rejected your online loan application.
Customer Reviews & Testimonials
"
February 2019
Cyber Finance gave me a loan when I had lost all hope. Thank you so much Cyber Finance!
Kelebogile M
— Rustenburg —
April 2019
hat affordable credit deals Cyber Finance has!
Bennett M
— Witbank —
Cyber Finance Contact
Contact Number
E-Mail
Website
Physical Address
Oxford House, 17 Park Lane, Century Way, Century City

Cape Town

Western Cape

7441

South Africa
Opening Hours
Monday

08:00 – 17:00

Tuesday

08:00 – 17:00

Wednesday

08:00 – 17:00

Thursday

08:00 – 17:00

Friday

08:00 – 17:00

Saturday

– Closed

Sunday

– Closed