Bad credit loans up to R200,000
Low-interest up to 28%
Repayment up to 72 months
In-page navigation
---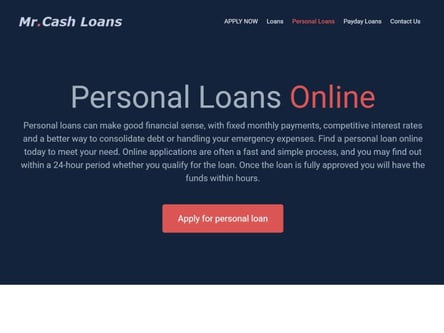 Author Mr Cash Loans. Screenshot of Mr Cash Loans website.


[Accessed December 9, 2022]
About Mr Cash Loans
Mr Cash Loans is an online lender that has been designed for South Africans in need of a little cash boost.
Give this popular lender a call today and get ready to receive the cash you need with simplicity, ease, and speed.
Need to relieve some financial pressure?
Mr Cash Loans understand the financial difficulties life can present. These often happen when we have too much to pay in one month and simply not enough cash.
The pressure just creates a whole lot of unnecessary stress. Let this provider help you reduce your financial stress with their credit products. Their wide range of term loans will make a huge difference in your life.
They offer clients a total of between R3 000 and R150 000 depending on credibility and affordability. Their low-interest rates are very competitive at only 28%, so anyone can afford to apply for a loan today!
Get cash today
Another great advantage to Mr Cash Loans is their ability to offer clients with poor credit, the same lending opportunities as anyone with a good credit score. No need to save the date for appointments, no long waiting periods for approval, and you don't have to stress about being declined for bad credit ratings.
Mr Cash Loans Services
The simplest method to access cash when you need it is by applying for Mr Cash Loans' credit products online.
By completing an online application on their website, you're already halfway there. All that's left to do is get cash paid into your bank account on the very same day.
The loan application process
To get your loan approved quickly and efficiently, Mr Cash Loans need very little from you. They have an online application form available on their website for you to complete and submit.
In a few minutes, you'll receive notification of the outcome, and if your quick online loan is approved, you can expect your cash to be paid over in minutes.
It only takes a few minutes to apply
This process takes only minutes of your time and can be accessed from your computer no matter where you are.
This is just one way that Mr Cash Loans can make life easier for you. You must ensure that all details are completed on the application form.
Any discrepancies or missing information on your application form may result in a delay in approval and, in extreme cases, your loan application may be rejected.
Mr Cash Loans – Bad credit loan
Loan Type

Bad credit loans

Interest Rate

28%

Loan Amount

up to R200,000

Repayment

1 months to 72 months

Decision

30 seconds
Benefits of Mr Cash Loans
Loans fit for every budget
Applications answered within 24 hours
Friendly, reliable service
Up to R200 000 available
Only 28% APR
Bad credit loan calculator
Mr Cash Loans is your trusted partner when you need a blacklisted loan
Mr Cash Loans can provide you with a blacklisted cash loan when no one else will.
Loan application requirements
Clients must be citizens of South Africa and have a valid ID document
Clients must be permanently employed for 6 months or longer at their current job
Clients must comply with the minimum requirements according to the NCA and refrain from borrowing more than they can afford
Clients must have a monthly salary going into their banking account
Clients must be older than 18 years old and the maximum age accepted is 60
Clients cannot be under debt review or debt administration
Mr Cash Loans will verify the following documents:
3 months bank statements from the bank account that your salary is deposited into.
The latest payslip from your employer
A valid copy of your South African ID document
Access the loan application easily through their online website and complete the necessary information. It only takes a few minutes of your time and once submitted, the loan processes will be completed automatically.
Required documents
Submit the required documents with your application to ensure you don't encounter any delays. You need to be permanently employed in order to pay back your installments each month.
Mr Cash Loans will work out the installment amount based on how much you borrow and how long you need to pay it back. If you can afford the loan repayments then your loan application should be approved.
Loan features and terms
Mr Cash Loans offer convenient affordable loan terms ranging from 3 to 60 months. This allows you to easily break down your total loan amount and divide that amount into affordable installments which will be paid back in monthly repayments.
You can borrow between R3 000 and R150 000, depending on your credibility and what you can afford to pay back. With low-interest rate charges of only 28%, anyone can afford a loan.
Receive a loan regardless of your credit history
Being in a situation where you're blacklisted can often hinder your loan applications with some lenders but not with Mr Cash Loans.
They'll do whatever they can to ensure you have access to cash when you need it. Browse through their website and find all the useful information you need to turn your financial situation around.
Additionally, they offer great advice and excellent service. Apply for one of their quick loans and receive your cash in minutes!
Customer Reviews & Testimonials
"
April 2019
Mr Cash Loans is my best choice because they respond immediately when you have applied for a loan.
Rachel D
— Cape Town —
June 2019
If you looking for a credit lender that gives you a loan best suited for your budget, look no further because Mr Cash Loans is the ideal provider.
Ernest M
— Rustenburg —
Mr Cash Loans Contact
Contact Number
E-Mail
Website
Physical Address
South Crest, Alberton

Johannesburg

Gauteng

South Africa
---
Postal Address
20 Anderson St, Klerksdorp Central, Klerksdorp 2570, South Africa
Opening Hours
Monday

08:00 – 16:00

Tuesday

08:00 – 16:00

Wednesday

08:00 – 16:00

Thursday

08:00 – 16:00

Friday

08:00 – 16:00

Saturday

– Closed

Sunday

– Closed