Bad credit loans up to R120,000
Low-interest up to 28%
Repayment up to 84 months
In-page navigation
---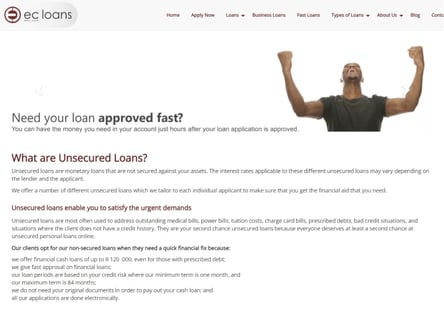 Author EC Loans. Screenshot of EC Loans website.


[Accessed December 9, 2022]
About EC Loans
EC Loans is ready to help you when you're feeling the financial pressure crushing down on you.
Their service offers speedy and reliable service that's available to all South Africans. They'll help you get a loan even if you're sitting with a bad credit score or have been blacklisted.
Streamlined processes to assist you better
EC Loans have made every step of obtaining financial assistance streamlined and simple. They know that you don't need any complications or wasted time when you already have to deal with the stress of your finances. This lender's service is one of the fastest around.
Blacklisted? No problem!
EC Loans can help you find a loan to help you cover your unexpected bill payments, home renovations, or pay for an unforgettable holiday. No matter what you may need the cash for - they're here to get it for you!
Easy loan approval with EC Loans
Clients get the satisfaction of not having to waste their precious time, in queues, or waiting for the dreaded response from a bank or lender.
EC Loans has more approvals on their books than rejections. This is due to them providing loans to people that are affordable and flexible to suit the needs of people with bad credit.
If you can afford the repayments you should have no problem being approved. Apply for a loan today and have the cash in your bank account within 24 to 48 hours!
EC Loans Services
EC Loans is one of South Africa's favorite online loan platforms.
The amount that you can borrow will depend on what you can afford to repay in monthly installments and how much money you earn monthly.
Quick loan solutions
If you're blacklisted or have bad credit they'll nevertheless find a solution for you. EC Loans offer clients cash loans ranging between R1 000 and R100 000 which they can use for whatever they please.
Clients can get repayment options to suit their budget between 12 and 84 months - making it easier to repay their loans.
Everyone needs a little cash boost
Everyone has those long months that never seem to end. When it feels like you're counting the days till payday and trying your best to make it and then life happens you may need extra finances to help fix the situation.
Who may apply?
With EC Loans, it's easy to get a loan, everyone has access to cash when they need it the most. If you earn over R1 500 per month then you can apply for a loan.
You'll need to be a resident of South Africa and over the age of 18. Apply today and you won't be disappointed with the turnaround time and the interest rates charged!
EC Loans – Bad credit loan
Loan Type

Bad credit loans

Interest Rate

up to 28%

Loan Amount

up to R120,000

Repayment

12 months to 84 months
Benefits of EC Loans
Unsecured and blacklisted Loans
Easy online approval
Fast approval
Bad credit loan calculator
At EC Loans you can get a loan even if you're blacklisted
Designed to help you get ahead in the financial game - EC Loans in South Africa provides a totally paperless solution to a cash shortage.
Various loan options to suit your needs
Whether you want to consolidate your debt, pay off accounts or take a holiday, this lender has a range of online loans to help you cover it all!
Their online application is super easy. Simply follow the steps explained and within a few minutes your application can be completed. There are 3 options to choose from, simply select the option that suits you best to proceed.
Easy and convenient application process
Once you've completed your application form and submitted it, you can sit back and relax while they find you a loan. If you prefer to download the application from their website, complete it and email or fax it back to them.
EC Loans believe that as an accredited financial institution, they have an obligation to provide a financial solution in the form of a personal loan to those who need it but who can also afford it.
This lender's capabilities to provide clients with loan products are unprecedented. They cater to those clients who are blacklisted and find it difficult to get a loan through banks and other lenders. Clients can arrange repayment terms to suit their budget for periods of between 12 and 84 months.
EC Loans offer secured & unsecured loans
Sometimes when you need to borrow a larger amount of money you may do so by applying for a secured loan or if you don't qualify for an unsecured loan. If you have a bad credit history you may need to look at this option and if you own a house or car you may be approved for finance.
Responsible lending practices
All these lender's loans rely on the client's credibility, which is verified through your credit score. This plays a major part in loan approvals, as they work in line with the National Credit Act.
This, in turn, means that EC Loans can only lend you the amount of money that you can afford to pay back. This amount will be determined during your application, depending on what your monthly earnings are and what your expenses look like.
Customer Reviews & Testimonials
"
April 2019
EC Loans has always attended to my financial queries timeously.
Boitumelo M
— Glen Vista —
May 2019
After applying for credit, I only had to wait for an hour and my loan was approved.
Henrietta P
— Mpumalanga —
June 2019
The interest rates that I pay at EC Loans are genuinely affordable and are the reason why I still afford my other financial obligations.
Palesa K
— Sasolburg —
EC Loans Contact
Contact Number
E-Mail
Website
Physical Address
14 Bloem Ct, Northpine

Cape Town

Western Cape

7560

South Africa