Bad credit loans up to R4,000
Low-interest up to 38%
Repayment up to 30 days
In-page navigation
---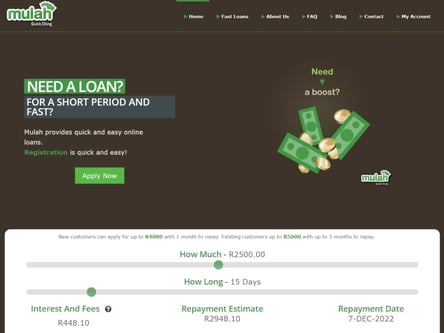 Author Mulah. Screenshot of Mulah website.


[Accessed December 9, 2022]
About Mulah
Life has become so expensive and while you might have saved money for rainy days, you might end up using it sooner than you expected!.
If you need to purchase something that can't wait until your next payday, you can always apply for a bad credit loan at Mulah.
This lender has the lowest interest charges on their loans which means you'll still have sufficient money to carry on with your everyday life.
Mulah's mission is to help you with financial emergencies
Mulah will ask you if you accept their payday loan charges prior to approving your loan. If you feel that you can't afford their credit services, it's best to find an alternative way to get the money that you need.
At the end of the day, Mulah is not only running a business to gain profit but to also ensure that customers are happy with the services offered so that they can develop a long-term relationship with them.
Mulah Services
When you make use of the loan calculator before you apply for a quick loan, you're financially preparing yourself so that you won't fall behind on the monthly repayments.
The amount that is referenced in the calculator is quite accurate so there's hardly any major difference from the actual loan amount.
While Mulah strives to do their best in helping their customers with their online loan applications, they also have to ensure that you're not overwhelming yourself with too much debt.
Mulah's simple loan process
You will need to provide your bank statements and payslips to prove that you can handle further credit in the form of one of Mulah's bad credit loans.
It's common to find that households are paying for their houses, cars, and a number of retail accounts. This makes it important to always ensure affordability before approving a loan.
With the loan obligations that you currently have, they'll be able to determine whether you can afford to pay another loan or not.
Mulah – Bad credit loan
Loan Type

Bad credit loans

Interest Rate

38%

Loan Amount

up to R4,000

Repayment

24 hours to 30 days

Decision

6 hours
Benefits of Mulah
Affordable interest rates
Safe and secure loans with ease
Simple online registration
Bad credit loan calculator
Mulah works out a plan that suits your finacial needs
You may be in urgent need of cash and have no patience for red tape - which is why a lender like Mulah is in a better position to help you out than a bank.
Should that be the case with you, please apply early and ensure that you have all documents ready for submission. If you're not in a hurry, you can apply during any time of the day or night and they'll process your loan application on the next day.
Repay your loan via debit order
People are usually busy with their day-to-day comings and goings. This is why Mulah makes use of a debit order system for the loan repayments to be made. You don't have to leave work to pay off your loan and Mulah will also get their money on time. This way, everybody wins!
Why was my loan application rejected?
There are a number of reasons why Mulah may have turned down your online loan application. Most of the time, it's due to the fact that you already have too much debt or you don't meet the minimum affordability requirements.
When Mulah has all your original documents, they'll be able to determine your affordability and whether or not you can afford to take out a short-term loan online.
How do I qualify for a Mulah bad credit loan?
If you'd like to apply for credit, you need to complete Mulah's loan application which is available on their website. After you've submitted the application form, they'll verify your details. Once everything has been completed and found to be accurate, you'll have to sign a contract before the money will be paid out.
Problems can happen that may result in you failing to pay your loan for bad credit on time. Please inform your lender if you're having difficulties with your loan repayment.
There will be charges incurred in the case of late payments but it's always best to be open and honest and to let the lender work out an alternative arrangement to suit your situation.
Adhering to the rules set out by the National Credit Regulator
The National Credit Regulator makes strict provisions for clients and brokers to abide by. If you're late on your payments, your credit profile will be affected and it may take years before you're back in the green.
It's better to only apply for credit only if there's a serious need, and once approved, remember to adjust your budget to fit the instant loan in.

Mulah is a trusted & reliable provider of bad credit loans
In our review, Mulah adheres to the compliance criteria in accordance with the National Credit Act, where the granting the loan will not cause financial distress to the consumer.
✅ Mulah is a registered credit provider in South Africa: NCRCP6092
Customer Reviews & Testimonials
"
March 2019
Mulah has been my preferred credit provider for many years! I was able to cut down on unnecessary expenses the minute I got a loan from Mulah
Max J
— Deneysville —
April 2019
As long as Mulah keeps giving us affordable loan offers, there's no reason to look elsewhere.
Thabitha L
— Cape Town —
Mulah Contact
Contact Number
E-Mail
Website
Physical Address
Block A, Waterkloof Rand Corporate Park 358 Buffelsdrift Rd, Erasmusrand

Pretoria

Gauteng

0181

South Africa
---
Postal Address
P.O Box 1614 Groenkloof , Pretoria , 0027, South Africa
Opening Hours
Monday

09:00 – 17:00

Tuesday

09:00 – 17:00

Wednesday

09:00 – 17:00

Thursday

09:00 – 17:00

Friday

09:00 – 17:00

Saturday

– Closed

Sunday

– Closed